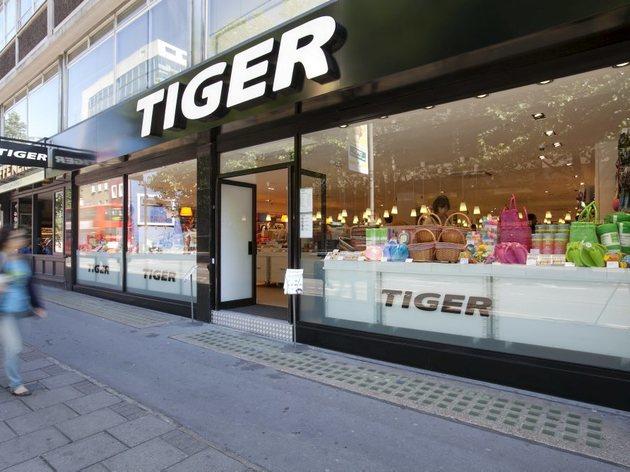 1/6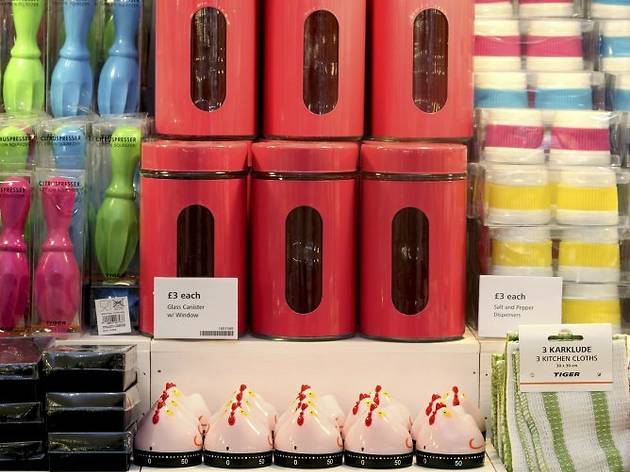 2/6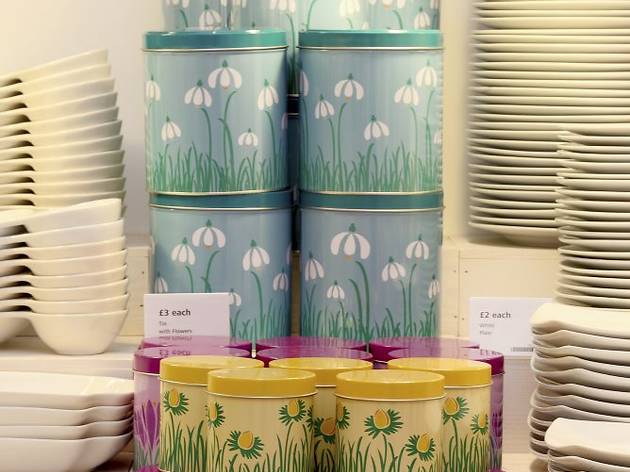 3/6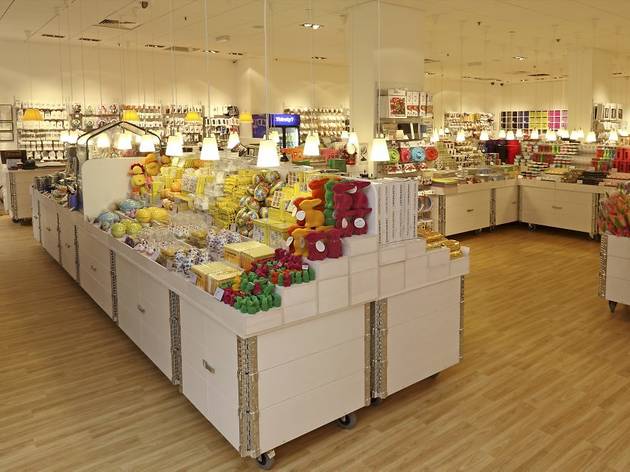 4/6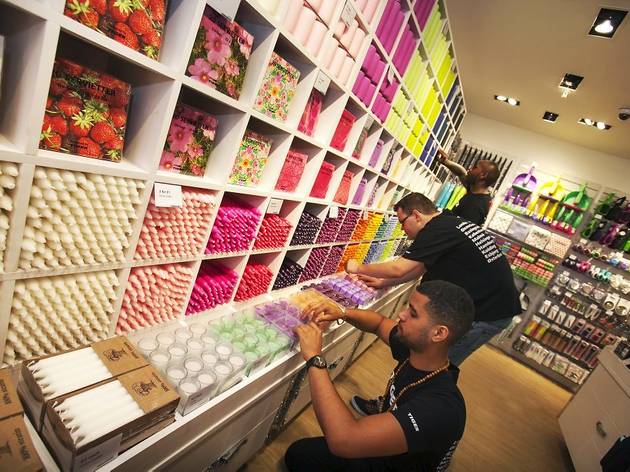 5/6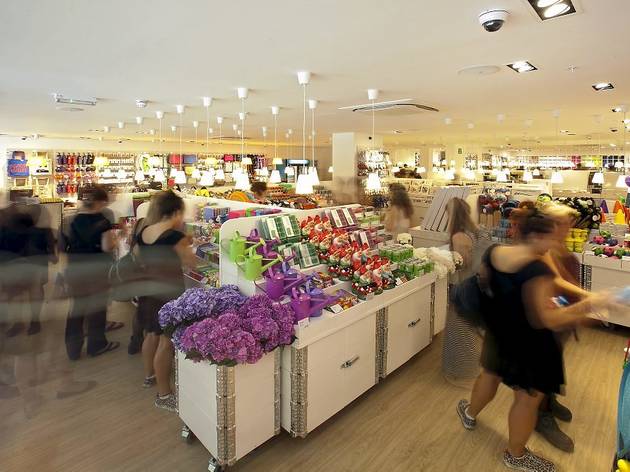 6/6
You like a bargain? Head to the insanely cheap new Tiger Store on Tottenham Court Road. Londoners living in Hammersmith, Wandsworth or Finchley Road may already be familiar with the delights this Danish brand peddling an eye-popping array of brightly coloured plastic things you never realised you needed. With 21 stores across the country (the first UK store opened in Basingstoke in 2005), this is the first central London store and we couldn't be more thrilled. Nor could the rest of central London – it's been rammed since it opened its doors on Aug 1. We can see why. Need a Red Indian head dress for that summer party? You got it for £3. Or how about a bow-tie with lights? Yours for £2. Not only is there a jolly range of home and kitchen accessories (apple shaped cutting board, £2, anyone?) but there's just about anything you could ever require for any kind of party you could imagine. It's especially brilliant for children with a vast range of toys, party bag detritus and back-to-school accessories (we love the Converse-shaped pencil case, £4). Everything here is super-cheap and just the right side of kitsch (squint and the bold prints are reminiscent of fellow-Scandi brand Marimekko). Look on it as a really posh pound shop.
Venue name:
Tiger
Contact:
Address:
241-242 Tottenham Court Road
London
W1T 7QX

Transport:
Tube: Tottenham Court Rd
Do you own this business?
You may be interested in:
Average User Rating
4.8 / 5
Rating Breakdown
5 star:

15

4 star:

0

3 star:

0

2 star:

0

1 star:

1
Horrible Experience- let down by staff.
Great products but nothing like any US,UK, or HK IKEA whatsoever!! Not in the same league. So please don't be misled.
I have had many pleasurable visits to various Tiger stores in and around the London area, however I just so happened to be in Central London and popped into the Tottenham Court Road branch opposite Waterstones.
A horrible exception to say the least! I was appalled by the rudeness of the black male members of staff (sorry one has to be 'specific') who delivered the most atrocious customer service whilst donning Santa Claus hats! (We all have a sense of humour, but this was buffoonery at its finest).
I don't make it a habit to write lengthy testimonials unless experience warrants it. But the condescending communication, tone, attitude was utterly inexcusable considering the store was completely empty on the brink of closing, in which case one would be led to belive (to a degree) to get a stellar service as the last remaining customer.
This definitely was not the case!
Service is on the whole, horrendous. Staff are generally more interested in chasing your daughters (take note) and providing toxic service to the general public. Heaven knows how this has gone unnoticed until now.
All these Google reviews waxing lyrical about this store as if this type of shop never existed.
There are tons of independents in the immediate vicinity and beyond that trounce both IKEA and TIGER but get no positive mention. All miss the point, support your independents, avoid chains where possible, and I hope this balances things for the 'discerning' out there. Yes those who value quality in both good and services not skullduggery by Bojangles & Co.
Pop in and see the circus act for yourself and you'd appreciate exactly what I am on about. TIGER on the whole is as only as good as moden day urban plantations (Sports Direct and Poundland to name a couple).
So...TIGER
TOUCH of integrity and consideration is not too much to ask for whilst shortlisting staff, in fact, probably goes a lot further than what's currently in those roles- so much for quotas! To hell with em!
If you've read up to this point!
Overall, give this one a miss, better alternatives in the area. You will not miss anything and if anything I'd advise you to avoid this particular branch if you have any self respect or value integrity in your daily engagements - I hope they fix up real quick i.e less undesirables, more staff!
Pros: Fantastic range of items unlike other branches.
Cons: I know it's festive season but please keep tabs on the level of service being delivered- especially by the fellas! Buy and run out ! Don't browse or bring daughters with you... I could have Called the police for the chaps in that store!
Room for improvement and replenish the flanks next year! Better still employ less animalistic male members of staff.
4/10 - Appalling staff, Bronson could have served better.
I LOVE Tiger ! I first came across it when visiting Copenhagen, and I am so happy that one opened in London! Great quality, Great prices, there is new stock every week, it is just brilliant !
Aside from their vast array of stuff, they sell tea and herbs. I've bought both and they are a) still cheap and b) very good!!!!
I love this shop and have told all my friends about it! Its like "Ikea" and a posh "Pound shop" all in one! Most, if not all, of this years Christmas stocking fillers have come from Tiger!
Good quality an great prices. I have been in their shop in Barcelona and I will definetely visit this one next November. Wide range of things that fullfill the needs of the whole family!!! Núria Arilla 41 minutes ago Report 5/5
I am only 11 but I safe money to buy erasers for my collection...i love this shop!!
,,,,Great things at lovely prices.Their shop in Barcelona is amazing and all the family members bought things!
Good quality an great prices. I have been in their shop in Barcelona and I will definetely visit this one next November. Wide range of things that fullfill the needs of the whole family!!!
what a brilliant shop. Loads of really good ideas for presents at very good prices. We were only in London for two days and visited the shop both days. Could have bought loads more but couldn't carry it all. Everything is well displayed and in good order ie. kitchen, bathroom, leisure etc. We just loved the moustaches for bicycle handlebars.
More venues
Sponsored listings