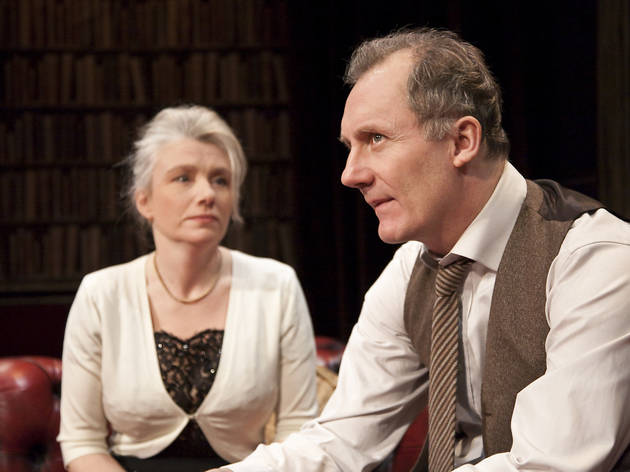 Did the Royal Court revolution of the '50s really render the closeted West End giants of the previous generation obsolete? Or were some of their best works still biding their time? Last year's National Theatre revival of Terence Rattigan's 1939 flop 'After the Dance' revealed it to be a bona fide classic, a devastating portrait of a frivolous generation stumbling towards doom. And in this superbly cast first revival for Emlyn Williams's 1950 drama 'Accolade', director Blanche McIntyre unearths a potent broadside directed at English prurience and hypocrisy.
Author Will Trenting has won the respect of the British establishment for a series of brilliant novels that explore the seamier side of human existence. As 'Accolade' begins, Will announces to wife Rona (Saskia Wickman) that he is to be knighted. Champagne and congratulations flow and things couldn't look peachier for the Trentings and their coddled son, Ian. But with higher station comes greater scrutiny, and details of a hidden side to Will – drunken nights spent at sex parties in Rotherhithe – begin to emerge. Should this be a surprise, when writing about such things is exactly what elevated Will to knighthood? And if Rona accepts this part of her husband's life, who is he really hurting?
Witty and sad, tense but chary of melodrama, 'Accolade' is an elegantly understated piece with a palpable fury in its depths. It's hard not to see what closeted bisexual Williams was really writing about; and it's all too easy to note that in 2011 the moral majority can be just as hypocritical. True, with the Lord Chamberlain gone, 'Accolade's various double meanings occasionally feel cumbersome.
But there's ample recompense in a detailed production that's blessed with just about the finest cast I've ever seen in a fringe show: Gillett shines as the quietly dignified Will, while Graham Seed – lately of 'The Archers' – is mesmerising as loathsome blackmailer Daker.