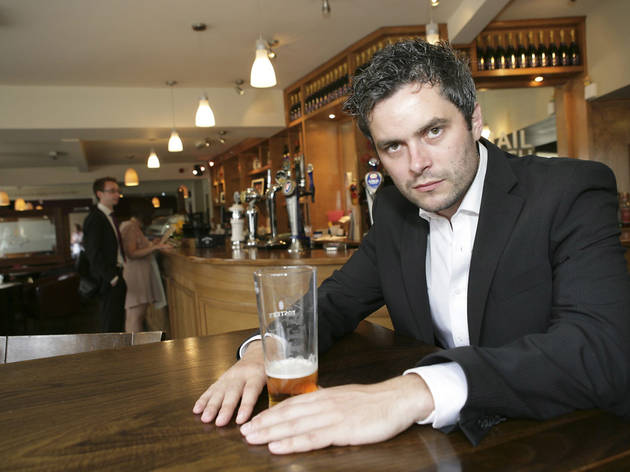 A bloke in the pub gives you a blow-by-blow description of his last bender: it doesn't scintilliate when summarised but DC Moore's monologue takes you on a 40-minute ramble from despair to hope, with bleary stops in late-night Stockwell and Clapham along the way.
Royal Court graduate Moore has a 'The Office'-style talent for turning jargon-laden cheap-suited ignominy into comedy with flair. Upstairs at The Queen's Head, a suited worker called Dave, sipping a pint among the audience in the bar, outs himself as a 'cunt' in the first line. His vice? Telling the un-euphemised truth. Given that he's a civil servant working on inclusion for a task force with neither force nor purpose, it's a poor career move. His downward odyssey begins on a painfully faux-friendly work night out, when he lures his boss into the gents and tells him exactly what he thinks of him.
Dave is more of a charmer than a creep in Trystan Gravelle's charismatic but overly-engaging performance. Moore's short monologue does pick some easy targets. But this is a tight piece of storytelling that frequently turns the cliché of a self-destructive, angry young-ish man into something more artful and touching.
Dave's rants about useless bureacrats and why wankers congregate in Clapham take those subjects beyond their usual back-of-a-black-cab level, because Moore and Gravelle create a character whose misplaced idealism is more touching than his honesty. It's easy to see why this was a hit at the Edinburgh Fringe. It's a cheap, short, sharp shot of drama, which leaves you free for the rest of the night but is still with you when you wake up the next day.
Rating Breakdown
5 star:

0

4 star:

2

3 star:

0

2 star:

0

1 star:

0
Yeah, liked it. Doesn't take off as a story until 10 or 15 minutes in - the opening is really just observational comedy, albeit well delivered and of a high calibre. But very compelling once it gets underway. Good use of eighty fitty.
Engaging, affecting, humorous. Back-handed compliment: it was slightly too short.