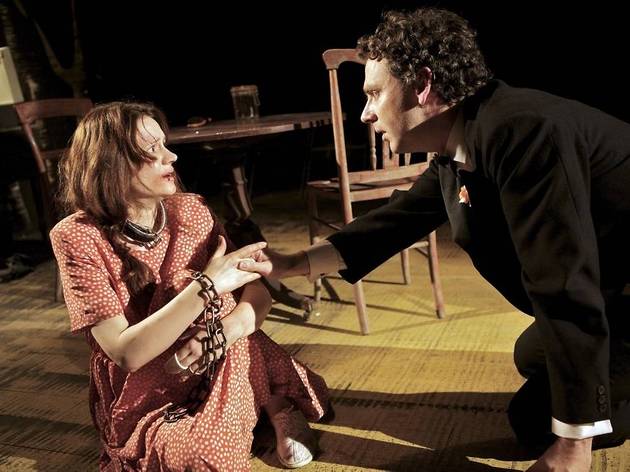 Lou Ramsden's latest play is a nicely dark-hearted piece of work about a desperate woman who goes to live on a remote farm with a creepy ice cream vendor. She, her goofy brother and the ice cream lover-man seem nothing worse than a bunch of middle-aged innocents, but the discovery of a human she-cat in the basement is a moment of horror that elicits nervous whimpers from the seen it all Soho audience.
What starts as a vision of childlike innocence steadily metastasises into a chilling parable of willful self-delusion.
Ramsden mugs you with a cheerful tone at the outset while Lorna our heroine sets out her collection of vintage dolls around the house. But these props, like a number of others, soon become sinister charms.
With Polly Sullivan's traverse design of a woodland cottage, the effect is to create a kind of fairy-tale realism mixing the folksy and the modern – David Lynch meets the Brothers Grimm, with ghastly echoes of Josef Fritzl.
Lisa Spirling's production deploys an unnerving sound design by Gregory Clarke which mingles eerie classical, synthesised chants and the murmur of children playing. Stuart Laing's ice cream man is a cheery beardy with a vicious soul and Sukie Smith as the morally compromised girlfriend is a well-judged frump caught between her ethics and her ovaries. Robert Wilfort is suitably pathetic as her worthy brother and Nadine Lewington is quite terrifying as the frightened, hobbling slave child.
Foreboding grips the audience and Ramsden certainly plumbs the depths, the only problem is that she seems unsure how to wrap it up and the ending holds out a doubtful fig leaf of hope.