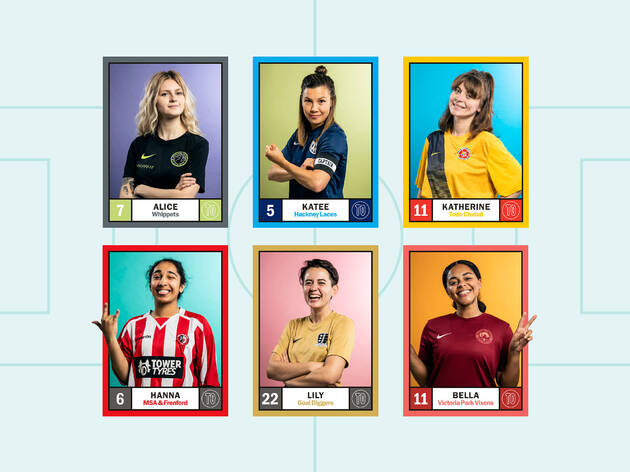 Meet the game-changing women of London's grassroots football scene
As the Women's World Cup kicks off, we shine a light on London's women's football scene, which is about so much more than sport
I was never into team sports. I was short, poorly co-ordinated and I used to get my mum to write me notes to get me out of netball (I couldn't get on board with the whole pivoting thing). But I've always loved watching football; I've been going to Arsenal games with my dad since I was a teenager. It just never occurred to me that I could play it. Then in 2017, a friend asked if I'd be interested in joining a women's football team. I was sold on the name alone: Goal Diggers. The first session was nerve-wracking: PE lessons all over again. What if I was rubbish? Well, it turns out… I was rubbish. But no one made me feel like that. And while I don't think Phil Neville will be signing me up, I've definitely improved in the 18 months since.
I thought playing football would be a good way of exercising, but it's become much more than that. I now play in a five-a-side league. Goal Diggers recently got a brand new kit – I get such a kick out of it and not just because I finally have women's football shorts that fit properly. I wear my GDFC jumper proudly to work. The team hosts a quarterly club night to raise money (it's quite possibly the best football pun ever: Murder on Zidane's Floor). I've met new people, something that's pretty hard to do in a city as big as London.
I'm not the only one who's discovered the joys of a kickabout. Groups of women and non-binary people are forming teams across London. Super 5, a women's league in Hackney, has gone from five local teams when it launched in 2017 to 32 teams from all over the city this year. East London-based Romance FC hosts a Spring Kicks tournament, which saw 28 women's teams in 2019. It's not a totally new thing, of course. Hackney Women's Football Club has been going strong since 1986, when it was the first female-run and out-lesbian team in London. Women's football has come a long way since. According to the FA, it's now the top participatory sport for women in England.
So why are so many women embracing the beautiful game? The fever surrounding the men's World Cup last summer definitely sparked interest. Professional women's football is more visible than ever (43,000 people attended the women's FA Cup final in May). But it's more than that. Through football, women and non-binary people are finding communities that are truly inclusive: it's bringing people together in a city that can be isolating and it's smashing gender stereotypes in the process. As the Women's World Cup kicks off this week, we're celebrating this diverse scene and what it says about London right now.
Bella, Victoria Park Vixens
'Our team started on Instagram'
'In January, I made it my new year's resolution to get back into doing something that I love. I've always been a bit of a tomboy and I played football when I was about 11 and at university. Our team started on Instagram: it's so 2019! It was set up by two creatives, Morgan and Maria – they both had big followings. I saw that Maria posted [about] it, I'd never met her in real life but I'd followed her for ever. I didn't know anyone before I turned up but I didn't feel like the new girl because everyone was new. When we started we were getting beaten double figures to nil. The improvement is amazing: it makes me so proud to see these girls better themselves. It's a great sense of achievement. We're not just teammates, I've made some absolute friends for life. It's a big part of my life – I'm very grateful for it.'
Team stats:
Established 2019
How many players?
Around 12-15. Next season they're looking to expand, with an A team and B team.
Where do they train?
Mabley Green in Hackney.
Can you join?
Yes. They're holding trials on June 9. Head to their Insta page for more info.
Insta
@victoriaparkvixens
Emma, Hackney Laces
'I bring my son to training'
'I was 14 when I first started playing for Hackney Laces. That was in 2014 and I've been going ever since. Back then there weren't a lot of opportunities for women or girls to play. In December last year I had to stop playing because I was pregnant with my son. Now I bring my son to training, he's eight months old. It's good for him to be involved – when he grows up he's going to know that football isn't just for men and boys. [Hackney Laces founder] Katee got us some football shirts made that say "mum" and "son". I've made good friends through Hackney Laces – two of the other girls have children as well so we spend a lot of time together. We're the Laces family.'
Team stats:
Established 2011
How many players?
300 players across three teams.
Where do they train?
Hackney Laces at The Petchey Academy, Limehouse Laces at Stepney Green Astroturf, South London Laces at Clapham Common.
Can you join?
Yes. Email hello@hackneylaces.co.uk.
Insta
@hackneylaces
Katherine, Goal Diggers FC
'When we started, half of us would have to play in the car park'
'I was shockingly bad at my first Goal Diggers session. I'd never played any sport before joining the team. My PE teacher called me the least motivated student she'd ever had because I daydreamed through someone trying to hand me the baton in a relay race. The team has grown so much: we used to play on a concrete pitch and half of us would have to play in the car park. I've progressed, too. I play around four times a week, I captain the team, I coach the beginners. Goal Diggers is all about removing the barriers that prevent women and non-binary people from being involved in sport. One of the founding principles is "availability not ability", so we don't pick teams. When I started we were shit. Getting beaten every week for two years taught me that you can work at anything and improve. It's transformed my life. Everyone has insecurities about their body – mine is that I'm really, really tall and not model skinny. Now I genuinely love my body. Before it was something that I was annoyed by and now I'm like, "It can do such cool things and I want it to do more cool things." '
Team stats:
Established 2015
How many players?
Around 200.
Where do they train?
Training is at the Bridge Secondary School in Holloway, but they play in six leagues all over the city.
Can you join?
Yes. Email goaldiggersfootballclub@gmail.com.
Insta
@goaldiggers_fc
Nafisah, MSA & Frenford FC
'There aren't many role models for Muslim women in sport'
'I saw that Muslimah Sports Association (MSA) ran sessions for women so I went along to one of the first football ones. There were only a couple of us there. It's grown so much. When we partnered with Frenford Clubs, they helped coach us and we entered the Super 5 League. I was nervous the first time, but I think we've surprised ourselves. We just played a tournament at Stamford Bridge – I never imagined that would happen. I scored a goal at Stamford Bridge – how often do you get to say that? MSA's focus is getting more Muslim women into sport. I don't think there are many other sessions that specifically engage with that community so that's one of the attractions for a lot of girls. It definitely played a part for me. There aren't many role models for women – especially Muslim women – in sport. These opportunities make it more comfortable for girls to get involved. As a team, I want us to be positive role models.'
Team stats:
Established 2017
How many players?
15.
Where do they train?
Training is on Thursdays at Frenford Clubs. The recreational sessions are on Fridays at Loxford Leisure Centre.
Can you join?
Yes. Email info.muslimahsports@gmail.com.
Insta
@muslimah_sports_assoc
Alice, Whippets FC
'It was a big deal for me to go out of my comfort zone'
'I played football in high school. I remember enjoying it so much but I got to an age where it just wasn't very acceptable for a girl to play. Last summer I'd been watching the World Cup with [Whippets founder] SJ. We started saying: Why don't we have a team? There must have been about 12 of us at the start. It was a big deal for me to turn up. I'm a bit of an anxious person and it's not really like me to go out of my comfort zone. But I'm glad I did. I've gained a huge group of friends from this and we're all super close. Once you've made that commitment to the team, you've got to be there. It's bad sportsmanship not to turn up. Being part of a group of women who will never ever let me put myself down, even if I have a really bad game, has made me appreciate female relationships so much. It's crazy to me that less than a year ago I didn't really know any of these girls and now they're such an integral part of my life. I'd play football every night if I could.'
Team stats:
Established 2018
How many players?
15 (plus dog mascots Seal and Mouse).
Where do they train?
Mabley Green in Hackney.
Can you join?
The team is at full capacity at the moment but looking to expand next year.
Insta
@whippets_fc
Noa, Todo Cuidad WFC
'We're doing all the things that women aren't supposed to'
'I'm a massive football fan, I watch a lot of football and go to a lot of games, but I didn't back myself enough to try for a team. It always felt like I was missing a piece. Ruth, who's the manager of Todo Ciudad WFC, is an old friend of mine. A lot of our friends play for the Todo Ciudad men's team and she decided to set up a women's side. The team has grown much quicker than any of us expected – we've got a WhatsApp group and there are about 50 women in it already. It's spread through word of mouth. Both teams support each other at games, which is lovely. It often falls to women to publicise and celebrate women's sport. Actually, we have so many of the boys come down to our games and they're celebrating us on their Instagram accounts: there's a real positivity there and a sense of community. We're looking sweaty, we've been wearing the men's kit – we're doing all the things that women aren't supposed to. Beyond my own club, I've met women from different teams through taking part in tournaments. I feel like a new community has been opened up to me.'
Team stats:
Established 2019
How many players?
More than 40.
Where do they train?
Whittington Park in Holloway.
Can you join?
Yes. Follow the team on Instagram to get details on their open sessions and message them for more information on how to get involved.
Insta
@todociudadwfc
Photos: Hannah Maule-Ffinch and Andy Parsons
From screenings in small, local pubs and bars, sports bars offering world cup themed pizzas and beers to football parties at major alfresco spots and huge events offering up panel talks, workshops and five-a-side matches at screenings - here's the score on the best places to catch kick off.
Support Time Out
We see you're using an ad-blocker. Ad revenue is Time Out's main source of income. The content you're reading is made by independent, expert local journalists.
Support Time Out directly today and help us champion the people and places which make the city tick. Cheers!
Donate now