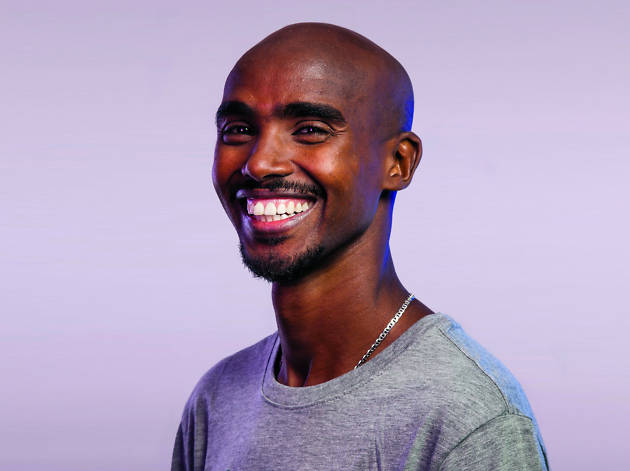 Mo Farah: 'It's great to be British'
If certain events of the past year have knocked you for six, take a leaf out of Mo Farah's book. We've found an antidote to 2016 in the company of the great London Olympian
This year has been relentlessly shit. It's hard not to feel like we've fallen flat on our faces over the past 12 months and might as well just lie on the floor and give up. But we really should pick ourselves back up again. And who better to help us do it than Britain's best ever long-distance runner? Mo Farah is the four-times Olympic champion who actually did fall flat on his face mid-race in Rio this summer then got back up again to win a gold medal.
'When I fell, it felt like the world was over,' Farah tells me as we chat at the Soho Hotel. 'I was thinking that my race was over, that my Olympics were over and that I'd let so many people down.'
It's a sentiment that comes up in forthcoming documentary 'Mo Farah: No Easy Mile' which follows him as he trains for Rio. The film shows the sacrifices the athlete has made for success: he's moved to America, runs 120 miles a week, sticks to a strict diet and sometimes plunges himself into -80C nitrogen tank to speed up injury recovery. Knowing how much work goes into being best in the world makes watching the footage of that fall during the 5,000 metres even more choking.
'I could have easily given up and thought: It wasn't my fault. Because it really wasn't my fault that someone tripped me up,' the 33-year-old says. 'But I thought to myself: Do I want to try and get up, see if I can correct it and see what I can come away with? I had to snap out of it, think about how hard I'd worked for the past four years and tell myself: I can't let this go.'
Getty Images
'I could have easily given up'
Both stubborn and cheeky, Mo has the grit of a true British hero and is the kind of warm guy who'd make a great 'One Show' presenter. He's always been someone who just gets on with things. Born in Somalia, he moved to west London to live with his dad when he was eight, leaving his twin brother in their birth country as he was too sick to travel. Mo was promised they would be reunited as soon as possible, but a decade went by before they met again. 'It was really tough for me,' he says. 'I remember day after day it was like "tomorrow, tomorrow", then ten years went by. When I did finally go back to Somalia he was still exactly the same. We were both like: "You look like me!" '
Mo's teenage years were spent getting sent out of class for being lippy and hanging around McDonald's in Feltham. 'Everybody would go there, you'd get a milkshake, talk to your friends, kill loads of hours or you'd go to the park,' he recalls. His milkshake preference? Strawberry, although he can't drink them any more because of his diet plan. He stayed in London for university, studying athletics at St Mary's, and had his first night out in Leicester Square. 'You know, we'd just turned 18 and got our IDs. We went to an arcade and Piccadilly Circus and stayed out until the clubs closed. I didn't drink then; I was on J2O.'
With so many memories in London, it's no surprise he views the city as home. 'I'd heard of London before I'd heard of the UK,' he laughs before explaining that having lived in three countries now, he's got good at adapting. 'You have to do what it takes,' he says, 'to try and understand and accept each place as what it is and get on with it.' His new life in Oregon with wife Tania and four children seems to have thrown up some interesting challenges, thanks to trivial things like missing Sunday roasts and less trivial things like finding himself a Muslim living in a land of Donald Trump rhetoric. When I ask what he thinks of the President-Elect, he replies: 'You know what? It's great to be British, really. If anything happens, I'm back to my country. At least I have a country.'
Which brings us back to his advice to anyone who feels like giving up right now. 'What do you want to be?' he says. 'If you don't put the work in, you're not going to be able to be it. It's important you think positively not negatively. Think about your loved ones and all the people who are behind you.' It's advice he follows himself.
'I'm as much of a human being as the rest of the world,' he explains. 'But if I don't train, I don't win. If I don't focus, I don't win. So I don't have a choice: I just have to run.'
'Mo Farah: No Easy Mile' is out now on DVD and digital download.
Feeling inspired?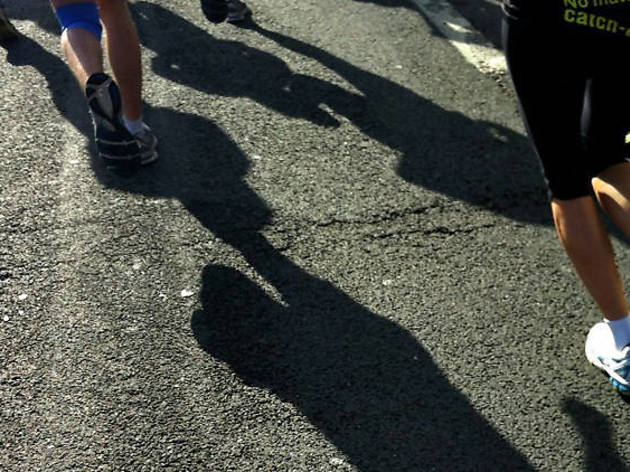 Your guide to sporting events, health and fitness in London
Support Time Out
We see you're using an ad-blocker. Ad revenue is Time Out's main source of income. The content you're reading is made by independent, expert local journalists.
Support Time Out directly today and help us champion the people and places which make the city tick. Cheers!
Donate now