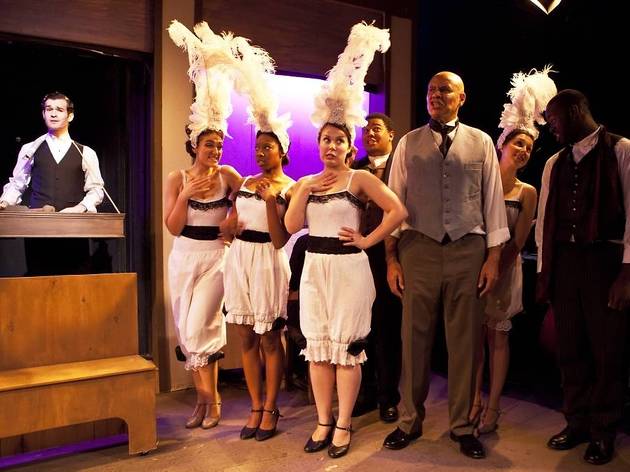 Clutching the baby she has recently tried to bury alive, young black girl Sarah sings 'Your Daddy's Son'. Her face is etched with pain and her voice with sorrow and confusion. It's one of many electrifying moments in Robert McWhir's skilful and hugely evocative re-staging of 'Ragtime', first performed on Broadway in 1998.
Based on the novel by EL Doctorow, this musical is well suited to the intimate space of the Landor Theatre. Showing us the birth pangs of early-twentieth-century modern America through the eyes of a well-heeled white family, a Harlem pianist (Sarah's lover) and a Latvian Jewish immigrant, it weaves its strands together without confusing them. We never lose sight of the moving personal stories amid the singing and tightly choreographed dancing.
Designer Martin Thomas's simple yet striking use of background silhouettes allows the impressive ensemble cast to shine during foot-tapping set-pieces such as 'Ragtime' and 'What a Game!', a deeply funny ode to baseball and social hypocrisy. But these stark outlines of cityscapes and Henry Ford cars also evoke the aching difference between hope and reality in the most poignant scenes.
Confidently directed, orchestrated and performed, this production moves with the syncopated energy of ragtime and the urgent beat of a real heart.
Rating Breakdown
5 star:

1

4 star:

0

3 star:

0

2 star:

0

1 star:

0
Doing Ragtime at the tiny Landor Theatre is like doing Les Miz in a cupboard. The sweep of the story is so epic, the cast so large, the physical production requirements so intimidating, that you think there's no way this could work. But it does, and spectacularly so. Because what the intimate space does is put emotional force front and centre. Truthful, powerful, microphone-free performances more than make up for lack of scale (which, in any case, is compensated for by clever production design and innovative use of the facilities available). The two dozen members of the cast and orchestra do full justice to the demands of Ahrens & Flaherty's score and McNally's book and none would be out of place showing off their talents on a West End stage (as indeed some have). Do I have the odd quibble? Sure, no production is perfect, but there's nothing that took away from the unadulterated pleasure of seeing the story unfold. I'm an avid theatre goer who's only in London for a short time, and am so glad I found this Ragtime (one of my favourite musicals) because it's a gem: entertaining, engaging, emotionally draining, stunning.