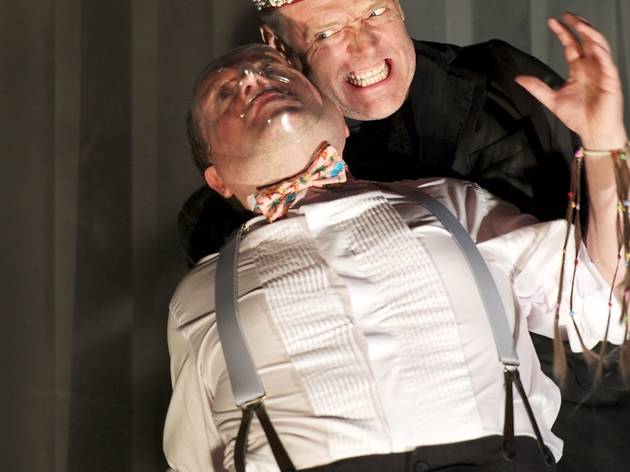 Men playing women bring extra discrepant humour and contrast to Propeller's 'Comedy of Errors', but contribute to a subtle lack in 'Richard III'. The scenes with the Queens, mothers of Richard's victims, are the only flat moments in this cynical, violently funny production.
The action's confined within the sinister idea of a Victorian madhouse and facilitated by mask-faced orderlies, plastic curtains and extra-large syringes. The murders are so numerous they can get repetitive but director Edward Hall borrows the slasher-movie tactic of making each execution more grisly than the last.
Chainsaws, scythes, entrails and cherubic puppet princes in the Tower are more than grisly gimmicks, they're part of a 360 degree aesthetic whose heart is in the tightly arranged surroundsound of the men's choral singing, which takes us, a capella, from 'Pie Jesu' to 'Down Among the Dead Men'.
Richard Clothier, an albino-haired, leather-humped Bond villain with a hook for a hand, gets better as he gets madder – he gets off on the killings with extravagant glee then slumps into a teary tantrum when he's caught short without a horse.
Some nuances are bloodily sacrificed but the company more than makes up for that with thrills, gore and imagination. It's a vindication for Hall's decision to book his own company to end his first season in charge of Hampstead – and a fittingly sinister end to the 'Rose Rage' trilogy which put this director and his men on the map a decade ago.