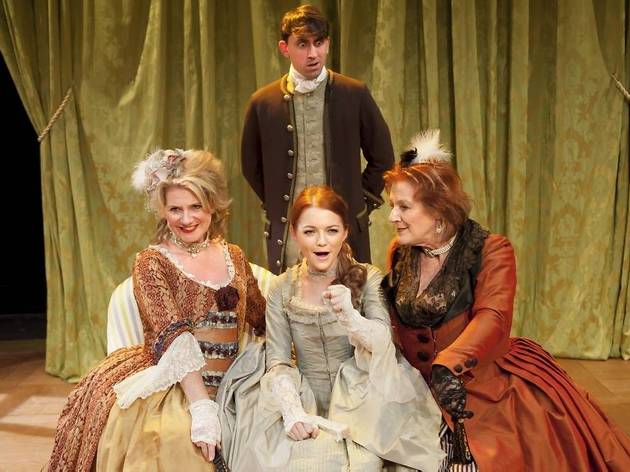 Spice Girls songs, gay best friends, psychological warfare and a slew of fiercely independent, single women. It sounds like 'Sex and the City: The Musical' but Hannah Cowley's 'The Belle's Stratagem' was penned in 1780.
This is the first revival since 1888 and Red Handed Theatre Company are making up for lost time with an impressively irreverent and coherent production.
The action still unfolds in eighteenth-century London, with ladies swirling around in their finery and cut-glass-accented men bounding about in breeches. Director Jessica Swale also stays faithful to Cowley's plot, which sees Letitia Hardy, with the help of her wily widowed chums, scheme her way into her fiancé's favours.
Where Swale departs from the original is with her cheeky, contemporary flourishes and bonkers musical numbers composed by Laura Forrest-Hay. Four girls dressed in white, washer-women caps perched primly on their heads, form an impromptu girl band. It's like watching a nutty 'X Factor' audition, as the group shimmy along to the strains of Lily Allen and Sugababes.
Unsurprisingly, it's the ladies who get the loudest laughs. Maggie Steed's Mrs Racket, encased in a puffy dress as bold as her bright red hair, is a kinder Cruella de Vil. Gina Beck's Letitia Hardy is wonderfully reckless.
But the biggest lady of them all is camp friend Flutter (Christopher Logan), whose gasps of delight at each new dotty development mirror our own.
Rating Breakdown
5 star:

3

4 star:

0

3 star:

0

2 star:

0

1 star:

0
Excellent play! I think I'll go and see it again, I enjoyed it so much! Superb acting from Maggie Steed et al. Refreshing to have well rounded, witty female characters for a change! A really inspiring and original production of this play - hats off to the director, Jessica Swale, for bringing this master(mistress?!)piece back to life after it has been neglected for so long! A very enjoyable evening.
This is by far the best play I have seen this year and it wipes the floor with the two plays I have seen at the globe effortlessly. The direction and acting was superb and the characters well rounded. A true joy. Such a shame it took more than 100 years until it was revived and I sincerely hope that this wll get an additional run. For those who have an evening free until october first - run and see this!!!
Fabulously funny and eminently enjoyable! This show is a MUST SEE!