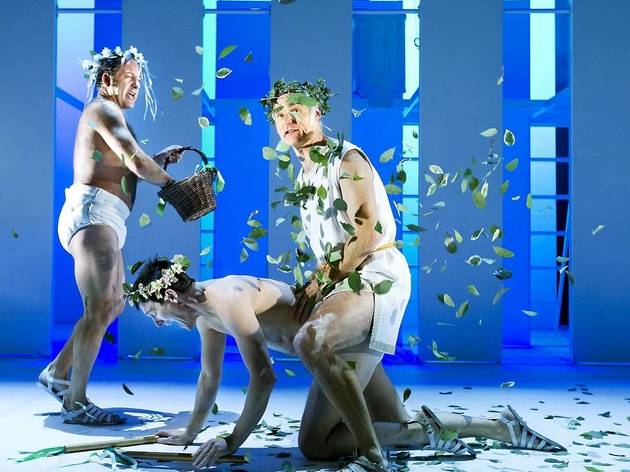 Commencing with a scene in which veteran physical comedy troupe Spymonkey voice their dismay at a Scotsman review that described them as 'middle aged' (which they are), 'Oedipussy' is a likeable but frustrating show that could be subtitled 'Spymonkey are getting too old for this shit'.
On the face of it it's business as usual: two fingers to their detractors as the limber fortysomethings launch into a gleefully silly retelling of Sophocles's 'Oedipus Rex'. But the show's heart lies in the genuinely poignant (and funny) moments in which the quartet vent their concerns that maybe they have made the wrong choices in life: Petra Massey amusingly attempts to compare her falling arches to Oedipus's 'issues'; Toby Park skewers himself viciously as he explains how far he currently is from living up to his absurdly high-flying father and grandfather.
I'm sure director Emma Rice and co-writer Carl Grose – both of Kneehigh – deserve a chunk of credit for steering Spymonkey down this self-interrogatory route. But the problem with 'Oedipussy' is that, while the asides are brilliant, the main story flounders.
Funny as Kneehigh can be, Rice's speciality is black-tinged whimsy, not crisply drilled physical comedy, and the sword, sandals, sphinxes and sodomy of the 'Oedipus' parodying sections feel overlong and underpowered next to what Spymonkey are capable of with regular director Cal McCrystal.