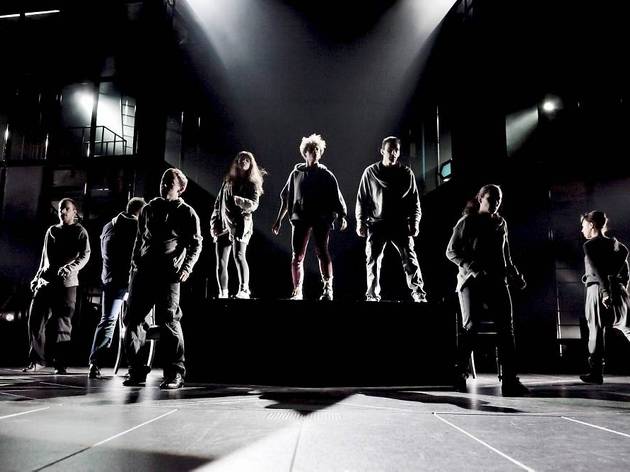 It is to the credit and detriment of Mike Bartlett's new play that it feels so startlingly 'now' that I half-imagined the writer standing behind the giant revolving cube of Tom Scutt's astonishing set, handing out freshly-written lines to the cast as they spun gently past.
A brooding successor to last year's magical realist odyssey 'Earthquakes in London', '13' is a sprawlingly ambitious state-of-the-nation sci-fi, set in a stygian parallel London. It's a messy world away from Bartlett's ultra minimalist 2009 Royal Court smash 'Cock', yet there's much that's recognisable as the same writer. For all the characters' protest camping, rioting, tweeting, iPadding and YouTubing, and despite the portentous use of apocalyptic dreams as metaphor for our generation's sense of unease, Bartlett's glib, hip, incisive style remains in place.
The longer first half is splendid: 13 character studies wittily woven together to imagine what might happen if our nation's disquiet were to be galvanised into direct action by a messianic leader, in this case Trystan Gravelle's scruffy, likeable John, back from exile to oppose pragmatic Tory PM Ruth (Geraldine James).
Unfortunately the second half mires in a lengthy ideological argument between John, Ruth and nihilistic Dawkins-esque philosopher Stephen (Danny Webb). Here the play's aggressive freshness becomes a weakness: this should have been '13's painstakingly crafted, shatteringly persuasive centrepiece; instead it's static, charmless and slapdash, a wholly inadequate vehicle for the big ideas being expressed.
Both Bartlett and director Thea Sharrock must share the blame. But it feels wrong to condemn Bartlett for writing a work with its finger so firmly on the pulse of gloomy modern Britain that it only comes unstuck when he tries to suggest a solution to our modern malaise. And if period revival specialist Sharrock is an odd choice of director, she does some truly impressive things with Scutt's audacious, dystopian set (worth admission alone).
A flawed play for flawed times, '13' demands to be criticized but it also demands to be seen.
Average User Rating
2.6 / 5
Rating Breakdown
5 star:

1

4 star:

0

3 star:

1

2 star:

2

1 star:

1