A Midsummer Night's Dream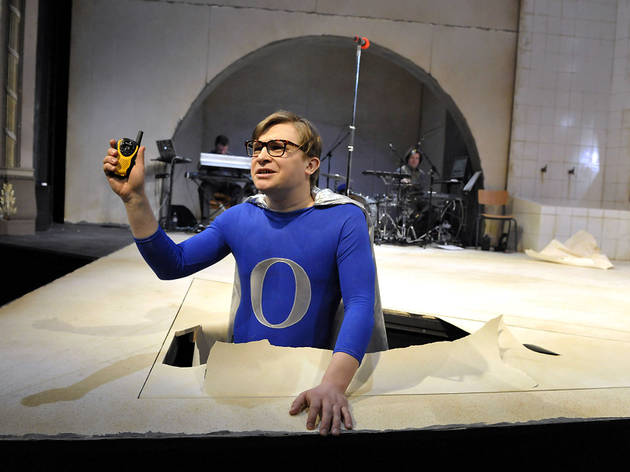 Filter's joyously mental 'Dream' gets a second run at the Lyric
This review is from the original 2012 run of 'A Midsummer Night's Dream' returns to the Lyric for 2016.
This exuberantly bonkers fourth collaboration between Filter theatre company and Lyric boss Sean Holmes frequently feels closer to a madcap riff on Shakespeare's comedy than a revival. There's certainly not a lot of Bard in the first half hour, in which a nervous Peter Quince – aka Ed Gaughan from oddball musical collective London Snorkelling Team, an inspired choice to play Shakespeare's group of amateur actors, the mechanicals – warns us at length that this show isn't as good as 'One Man, Two Guvnors'.
Kicking off with a half-hour stand-up routine is over-indulgent. But it's an affable warm-up for the real action, in which Filter and Holmes thrillingly catapult us through the entire plot in the remaining hour.
This is no enchanted wood in which mortals can be fooled by fairies, just a drab cream set which gets comprehensively demolished over the play's course, mostly by Ferdy Roberts's hulking roadie of a Puck, who stomps through walls with morose satisfaction. Jonathan Broadbent's Oberon is magnificent, a petulant nerd in an unflattering superhero outfit. But in this anarchic 'Dream', each character and every minute of every scene crackles with care and invention.
It is pyrotechnically silly, and though the cast are all excellent verse speakers, the turbocharged pace and glut of sight gags will probably leave anyone unfamiliar with the plot a little confused. They should still laugh, however: highbrow this is not, but it's the funniest and maddest 'Dream' I've ever seen, and the truest to the spirit of those rude mechanicals.