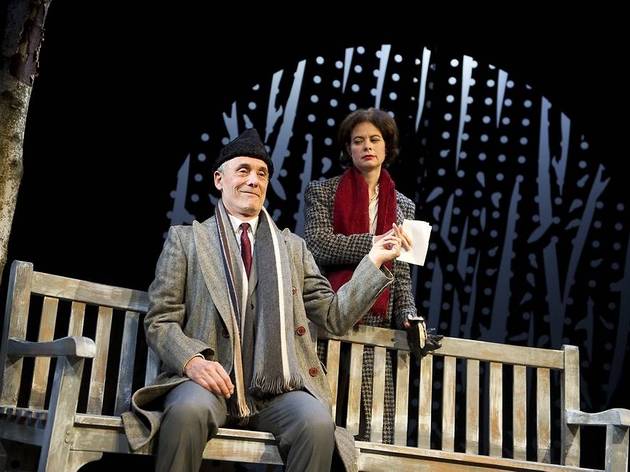 Trike boss Nicolas Kent has announced his departure. But his production of Lee Blessing's 1985 drama demonstrates the dry clarity and sense of political purpose which has defined this Kilburn theatre under his leadership, as a place where states and officials are called to account.
Lee Blessing's two-hander about US and Soviet arms negotiators who exceed their official brief, is neither verbatim nor current, but it still has relevance in a world where the potential of mass destruction has been diversified rather than removed.
Blessing took inspiration from an actual event in 1982, when US negotiator Paul Nitze and his Soviet counterpart Yuli Kvitsinsky went for an informal walk during missile reduction talks in Geneva. He reversed the men's ages, and Kent switches the gender of the younger American, making John Honeyman into Joan. A good move, not least because Myriam Cyr is so potent in the role, coming over as a single-minded cross between a female Superman and the Statue of Liberty.
Steven Crossley, as elegant, circuitous Russian old hand Andrey Botvinnik, takes longer to make an impression. But there's texture and poignance in their friendship, which grows despite Honeyman's comical reluctance to talk about anything but work.
'A Walk in the Woods' will be too wordy and static for some: 'Four Arguments on a Bench' would have been a more literal title. And the characters' inability to achieve anything politically or open up personally is a big handicap. But this is an interesting debate-play in which the ability of humans and nations to act morally is examined, and found wanting.