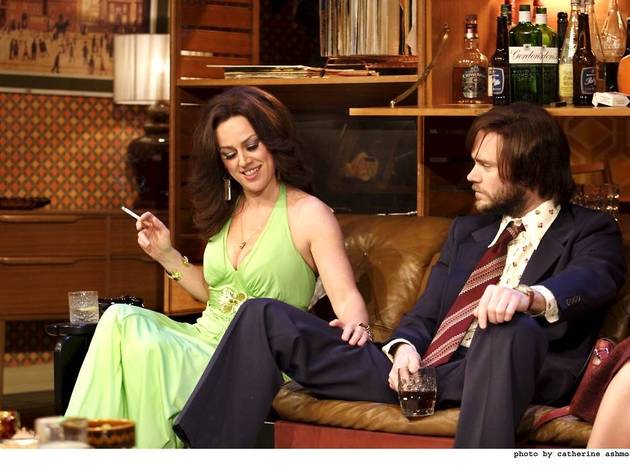 Here she comes, the monster in a maxi-dress, grinding her husband and hapless guests beneath her platform heels. Mike Leigh's landmark 1977 play 'Abigail's Party' isn't revived as often as it should be – probably because every actress who takes on its dominant hostess Beverly must labour in the gorgeously ghastly shadow of Alison Steadman, who achieved cult status via the BBC recording of the original production.
In this triumphant transfer from the Menier Chocolate Factory, Ex-'Eastender' and onetime 'Strictly' victor Jill Halfpenny shimmies into Steadman's role with aplomb. Sexy and snake-eyed in her clinging green dress, she puts the toxic into intoxicated, forcing gin and tonics, cheesy pineapple and malice down her guests' throats until they're sickened or actually sick. Halfpenny doesn't entirely reinvent Beverly (who could?) but she does refresh her; this bored, sensual man-eater, whose hair and make-up are clearly what she does instead of a full-time job, wouldn't look out of place in 'Towie'.
Thirty-five years on, the brown leather, wood and shag pile environment in which Beverly tortures her guests looks gloriously retro. But 'Abigail's Party', co-created by Leigh's original ensemble, has proved to be much more than a cringey Essex period piece. There is a penetration and sympathy in Leigh's play that is often lacking in Alan Ayckbourn's forced and heightened suburban farces from the same era. It is not, as has sometimes been said, a snooty giggle at the expense of lower middle-class aspirations. As Lindsay Posner's finely judged revival makes clear, it's a classic study of material progress and spiritual despair via the recognisable medium of loveless, childless marriage.
It's also horribly funny. Beverly and her hardworking henpecked husband Laurence (Andy Nyman) are the lead couple. But it's their neighbours, tongue-tied computer worker 'Tone' (Joe Absolom) and his charmless wife Angela (Natalie Casey) who are articulated with the greatest originality here. Casey, who has erased her usual good looks, all but steals the show as nurse Angela. With a gob like a bedpan and a dress like a patchwork bedspread, she hunches on the sofa, doling out monotonous revelations which humiliate her husband and delight the audience in equal measure.
Susannah Harker is also a treat as their posh, wet, polite neighbour Sue: she doesn't say much except 'Thank you', but she whinnies it with such elegant fatigue that it seems to sum up an entire class position.
Ultimately, Leigh's genius is for naturalistic character and this is rightly the fount of all laughter in Posner's sympathetic production. Pricelessly funny and painfully accurate, this is a vintage 'Party' which – despite its many cruelties – doesn't leave you with a sour taste in your mouth.
Rating Breakdown
5 star:

1

4 star:

0

3 star:

0

2 star:

0

1 star:

1
We loved it , we saw the original and thought this one was as good , well done to all the cast for a fabulous performance
This show hurt. Great cast but both my partner and I wanted to be at Abigail's party...