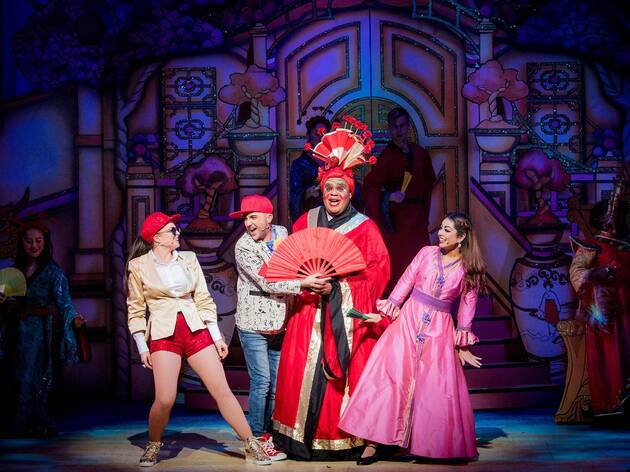 1/9
© Robert Workman
Clive Rowe as Widow Twankey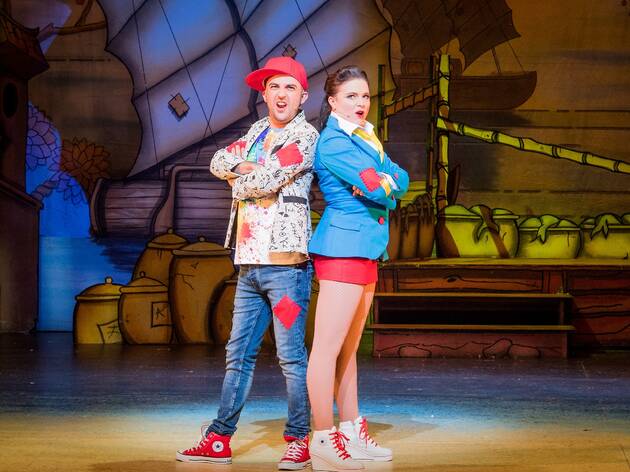 2/9
© Robert Workman
Alim Jayda as Dishi and Gemma Sutton as Aladdin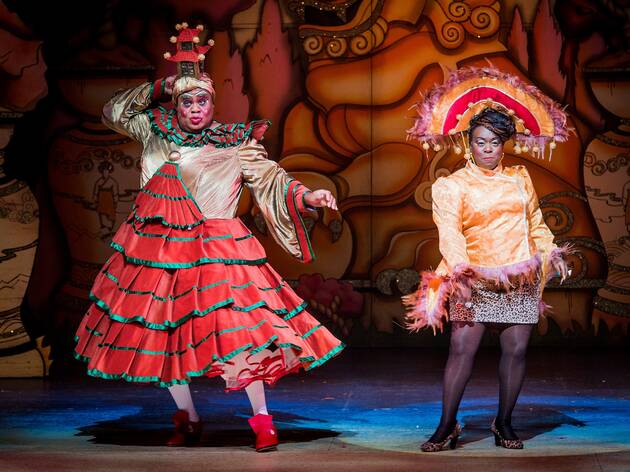 3/9
© Robert Workman
Clive Rowe as Widow Twankey and Tameka Empson as The Empress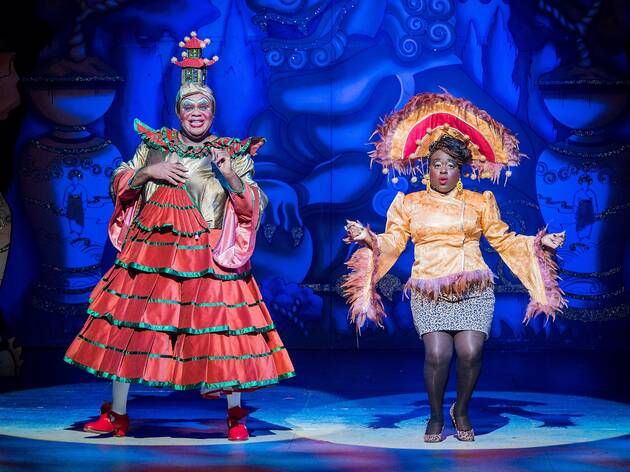 4/9
© Robert Workman
Clive Rowe as Widow Twankey and Tameka Empson as The Empress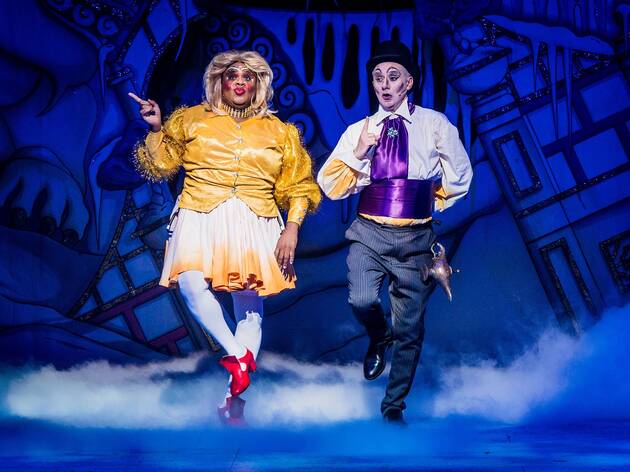 5/9
© Robert Workman
Clive Rowe as Widow Twankey and Tony Timberlake as Abanazar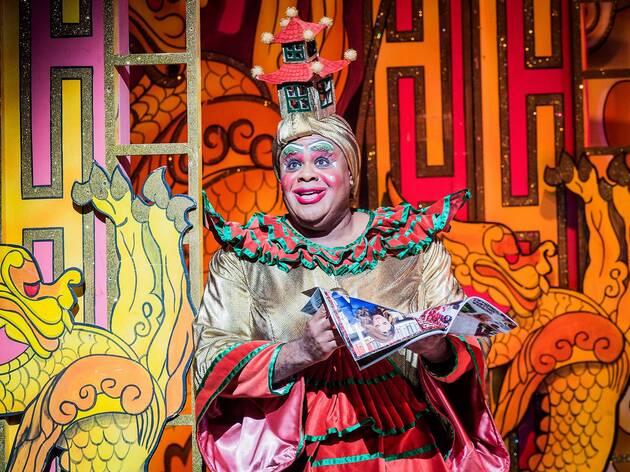 6/9
© Robert Workman
Clive Rowe as Widow Twankey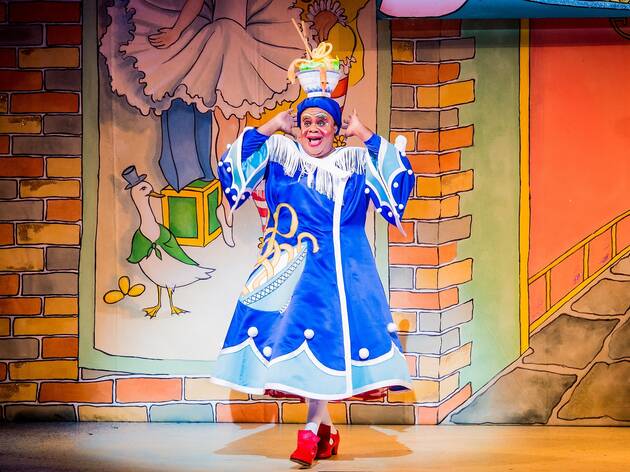 7/9
© Robert Workman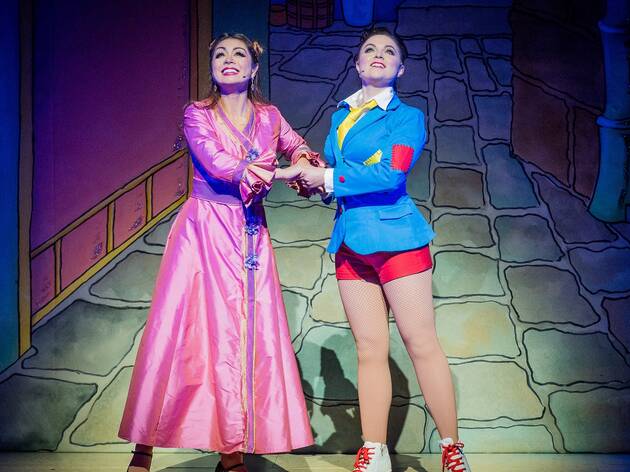 8/9
© Robert Workman
Julie Yammanee as Princess Ling Mai and Gemma Sutton as Aladdin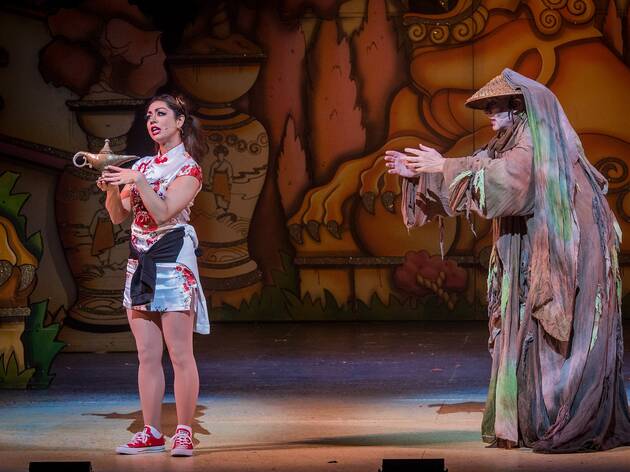 9/9
© Robert Workman
Julie Yammanee as Princess Ling Mai and Tony Timberlake as Abanazar
Time Out says
Clive Rowe and Tameka Empson's dream double act powers the Hackney panto back to its best
After their absence from last year's decidedly tepid 'Cinderella', Hackney Empire has got two of its best panto performers back for its twentieth festive extravaganza: the dame of dames, Clive Rowe, and 'EastEnders' star Tameka Empson.
A Hackney Empire panto without Rowe is kind of like Christmas without Santa. Here, as Widow Twankey, he twinkles and flirts with the audience, keeping it family-friendly with just enough of a raised eyebrow to tickle adult ribs. The stage springs into life whenever he's on it in his endless procession of costume changes.
Empson, though, almost steals the show as the Empress of Ha-Ka-Ney. She's desperate to marry off her daughter, Princess Ling-Mai, to someone rich after an ill-conceived decision to leave the 'Eastern Union' has bankrupted the Far East End province. (There's your contemporary relevance and groan-worthy puns in one go.)
Empson struts and throws eclipse levels of shade. She's a comic delight, whether flicking open a fan full of blunt messages for her subjects or trying to get back into her high heels after clashing with Twankey. For this, Hackney's resident panto writer and director Susie McKenna wisely clears the stage for Empson and Rowe to go head to head.
Their post-interval scene together is the highlight of a production that massively benefits from their presence in general. They help 'Aladdin' power through a decidedly shaky plot about the goddess Gaia (a vaguely creepy, monkey-headed character voiced by physically absent panto regular Sharon D Clarke).
Empson and Rowe also distract from the perky, Butlins-shaped hole where, in spite of Gemma Sutton's committed performance, Aladdin's character should be. Tony Timberlake, meanwhile, is a little underpowered as bad guy Abanazar – aka 'Jacob Peas Bogg'. But it's a tough job being as much of a panto villain as your real-life, rhyming namesake.
That said, the Hackney panto is very much back on form. There's some lovely puppetry, including a flying dragon, and Richard Roe's choreography matches the vibrancy of Lotte Collett's set design, with its heightened, cartoon vividness. Steven Edis's music hits the right Disney-esque notes and there are fun versions of modern (and not so modern) pop hits to get young and old singing along.
Staging 'Aladdin' can be a cultural minefield these days, but this production largely pulls it off by acknowledging the mishmash of the original fable and everything else chucked into the mix. The result is an entertaining bubble-gum mix of pop culture, blessed with – just in case I haven't made this clear – one of the best double-acts of this panto season.
Details
Best selling Time Out Offers