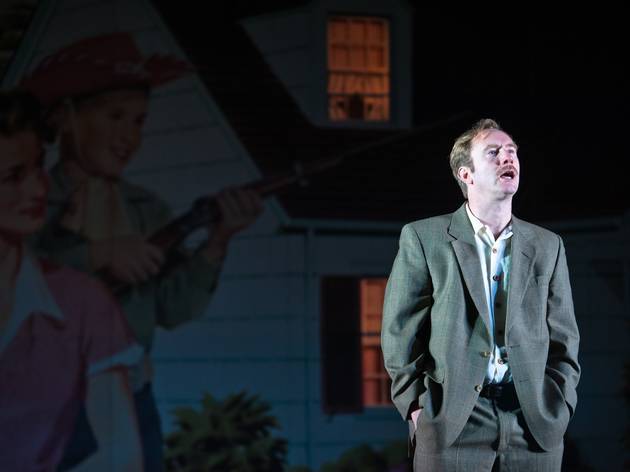 1/8
© Tommy Ga-Ken Wan
Simon Wilson (Dr Jim Bayliss)
2/8
© Tommy Ga-Ken Wan
Amy Nuttall (Ann Deever), Charles Aitken (Chris Keller) and Brid Brennan (Kate Keller)
3/8
© Tommy Ga-Ken Wan
Amy Nuttall (Ann Deever)
4/8
© Tommy Ga-Ken Wan
Brid Brennan (Kate Keller)
5/8
© Tommy Ga-Ken Wan
Charles Aitken (Chris Keller) and Brid Brennan (Kate Keller)
6/8
© Tommy Ga-Ken Wan
Amy Nuttall (Ann Deever) and Andy McKeane (George Deever)
7/8
© Tommy Ga-Ken Wan
Matt Cross (Frank Lubey) and Tom Mannion (Joe Keller)
8/8
© Tommy Ga-Ken Wan
Tom Mannion (Joe Keller) and Ewan Harris (Bert)
If it's not quite up there with the reckless gamble taken by Joe Keller, the patriarch protagonist of 'All My Sons', it's still bold of Open Air Theatre artistic director Timothy Sheader to revive this Arthur Miller classic just a few years after the towering West End version starring David Suchet and Zoë Wanamaker. Not only that, but across town at the Young Vic is surely one of the all-time greatest productions of another Miller tragedy, 'A View from the Bridge'.

By these lofty standards, Sheader's production is a no-frills, straight-down-the-line affair. And keeping it simple isn't a terrible idea. 'All My Sons' takes place over a single night, as factory owner Joe's secrets unravel after son Chris announces he's to marry Ann, former sweetheart to his dead brother Larry, daughter to Joe's former business partner Steve, jailed for selling cracked cylinder heads to the US Air Force. The simple effect of darkness descending upon the Open Air Theatre as the action become more oppressive is palpable, powerful stuff.

But all in all it just doesn't hit as hard as Miller should. Sheader's cast, led by Tom Mannion's affable Joe, Charles Aitken's goody two-shoes Chris and Amy Nuttall's bubbly Ann, emphasise the gee-whizz all-American side to their characters – in line with the cheesy '50s backdrop of Lizzie Clachan's neatly symbolic set.

Which is nice, but it doesn't really move into gear until Andy McKeane's George arrives – his weird, conflicted performance as Ann's brother is a welcome disruption to a hitherto sedate production. As night swallows the stage and the Kellers are torn asunder, the cast bite into their roles with more spleen and vigour. But the family-next-door regularness of the performances persists, and it never quite takes on that Greek roar that you get with Miller at his most devastating.
Rating Breakdown
5 star:

0

4 star:

1

3 star:

0

2 star:

0

1 star:

0
Two first for me in this one. First visit to Regents Park Open Air Theatre and first play by Arthur Miller. Gotta say I was disappointed by either. The theatre itself is absolutely beautiful, a magnificent setting in every way. Whether this play is in the right place is a matter for debate as, to my mind, it would have been better suited to a regular theatrical space. Even though all of the action was set in a back garden, there was still something that didn't feel quite right in the setting itself.
Not to take anything away from the actual performance though. The start was a bit hesitant and the story slow to build - which I've since been told is typical of AM. But we quickly came to know the main protagonists and were almost lead into deciding on our own particular favourite character. The two, for want of a better term, leads Tom Mannion (Joe) and Brid Brennan (Kate) managed a sparkling performance with my own position on both of them changing completely very early into Act II. Reading the Time out review above, is interesting as it is very honest yet simplistic. This play may start slowly but by God we are taken on one hell of journey through the second act where truths are told and lives changed forever, culminating in one small but highly significant scene for which the Director, Timothy Sheader, should be justly applauded in his use of the staging, the cast and the emotions of the audience.
So, all in all a really great evening out. Word of advise, take your own picnic, fizz, etc and if you suffer from hay-fever don't make the mistake of forgetting your anti-histamine tablet.