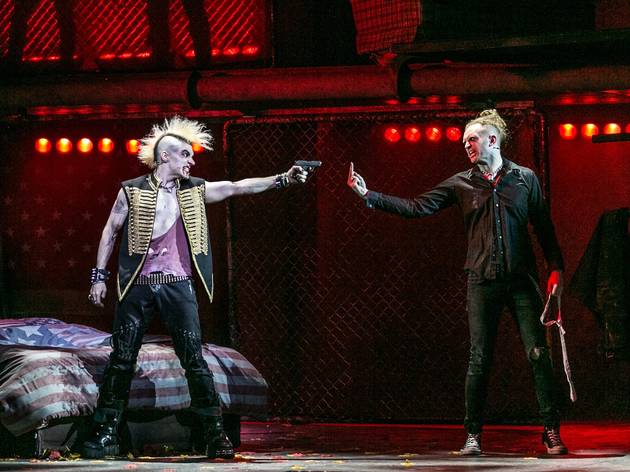 1/6
© Darren Bell
Lucas Rush (St. Jimmy) and Newton Faulkner (Johnny)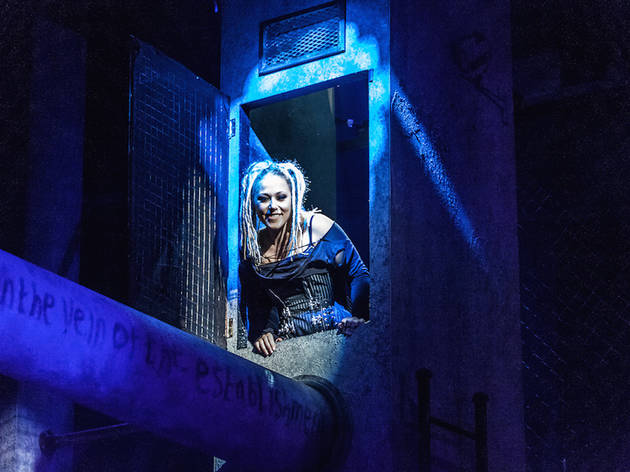 2/6
© Darren Bell
Amelia Lily (Whatsername)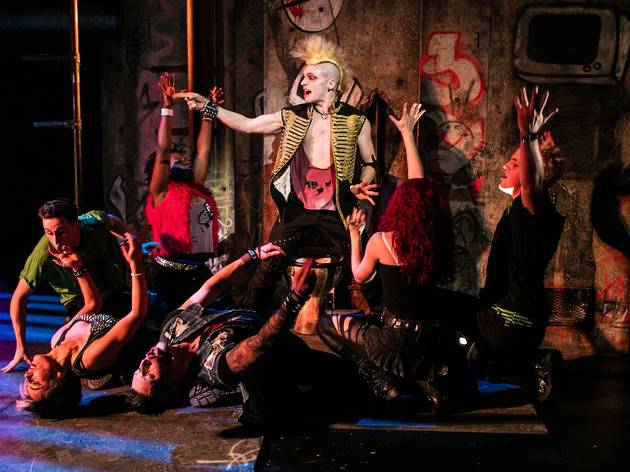 3/6
© Darren Bell
Lucas Rush (St. Jimmy)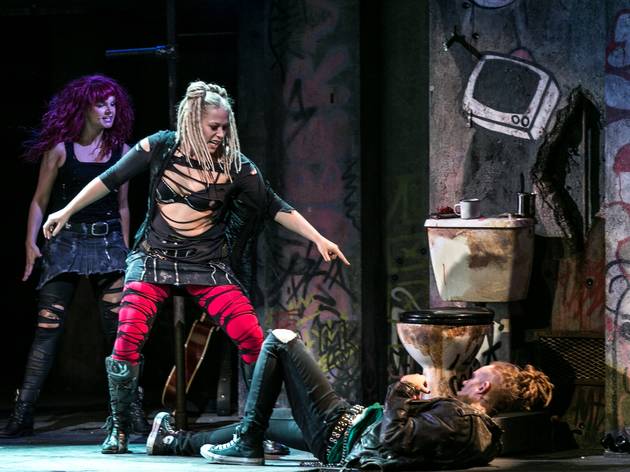 4/6
© Darren Bell
Alice Stokoe (Extraordinary Girl), Amelia Lily (Whatsername), Newton Faulkner (Johnny)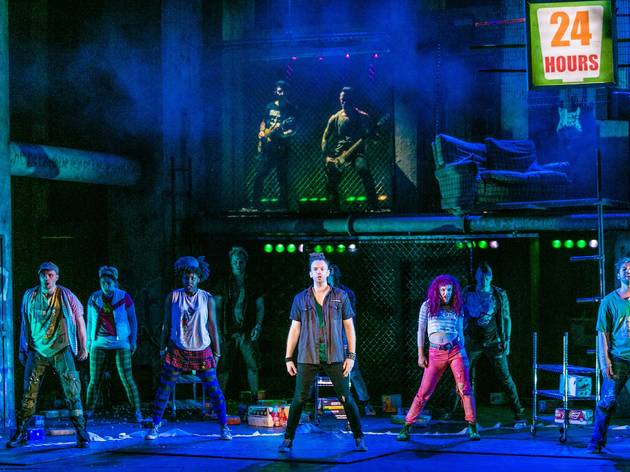 5/6
© Darren Bell
Newton Faulker (Johnny) and cast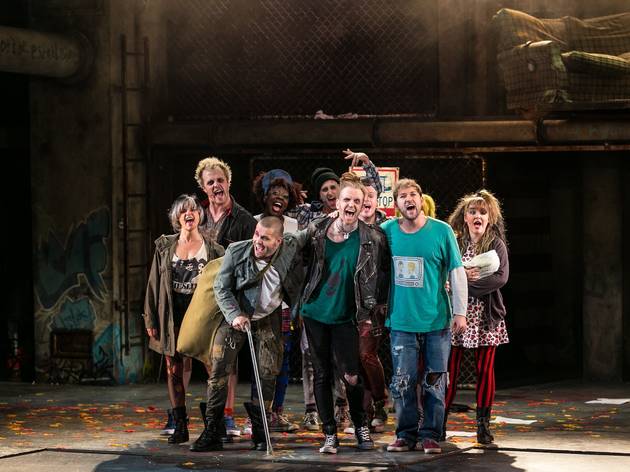 6/6
© Darren Bell
Newton Faulkner (Johnny) and cast
Green Day's musical finally gets a low key West End run… but they shouldn't have bothered
Watching clips of George Bush and his War On Terror give way to the opening power chords of Green Day's 'American Idiot' makes 2004 feel an awfully long time ago. That was the year the US handed Dubya a second term – inexplicable to most of the rest of the world – and the Berkley pop-punks make an only slightly more creditable comeback with a rock opera of adolescent suburban inertia. Brought to Broadway as an all air-guitaring musical in 2010, it now returns to the Arts Theatre following a hit run in 2015, in a snare-drum tight production from Sell A Door and director/choreographer Racky Plews.
Rattling chronologically through the titular album, geed up with a few B-Sides and floor-fillers, it's a superficially gritty but conceptually conventional story of three friends battling their way to adulthood and responsibility through a haze of narcotic and military misery. Billie-Joe Armstrong's lyrics are bland and sentimental, and his songs fall into the two familiar pop-punk categories of angry anthems and acoustic navel-gazing, but there's energy and empathy in his writing that's frequently irresistible.
Plews has done a stunning job, blasting through the story at ear-splitting volumes and in a single act. Her choreography is electric, and her cast, led by the superb Newton Faulkner as Johnny the 'Jesus of Suburbia', attack every number with raucous muscularity. It's hard to imagine 'American Idiot' receiving a better, bolshier treatment, but only you and your misspent youth can decide if that's enough.
Average User Rating
2.8 / 5
Rating Breakdown
5 star:

0

4 star:

2

3 star:

6

2 star:

3

1 star:

1
So... I was really stoked I was not in the front row for this... it's super loud for the most part and there is a lot of spit, sweat and tears which I didn't want to be that close to. I'm not even a fan of Green Day but at the end of this, it makes me want to revisit their back catalog as so many of the songs were pretty deep and meaningful! I am only giving it three stars because the set never changes and the story is told thru 95% music, i.e. very limited dialogue. I wasn't too keen on the dance sequences or any of the loud bits... I liked it when the key casts sang on their own, especially the ballads as they really held their own and you could hear the words. In the end, I quite enjoyed it, despite how grim parts of it was. It ended on a high with almost everyone standing up and clapping along. I also noticed one of the main cast - Steve Rushton was emotional (crying) from start to finish, only at the end I realised it was cos it was his last night in the show! Lucky me! He made the whole thing feel a lot deeper! Check him out and look out for him, super talented and definitely one of my favourite solo performers in the cast.
This show is energetic, but exhausting. It's essentially sung-through, so if you do choose to check it out, be prepared for minimal dialogue, but I really can't recommend it. Hardcore Green Day fans might be content to simply hear the band's songs back to back with a poorly cobbled together excuse for a story, but casual fans will be driven crazy.
Well I shouldn't like this at all and by the end of the night I had a raging headache a ringing in my ears but, strangely, a new found appreciation of Green Day. The audience were all on their feet and this audience wasn't your usual west end crowd. This crowd filmed the show, sung the show but also were completely drawn in by it. This is a nipple squeezing, butt revealing, hard drug taking, sex fuelled show full of angst and the people loved it and wanted more. Aaron Sidwell was superb. I agree with the reviewer the story doesn't really resonate with the audience in fact I hated the characters so much I would have been happier to see them all dead by the end of it. If you loved Spring Awakening and are a fan of Rent then I'd say give this a go. You will enjoy. Fans of musical theatre be prepared... there is no interval so you are in it for the duration once monster sound starts