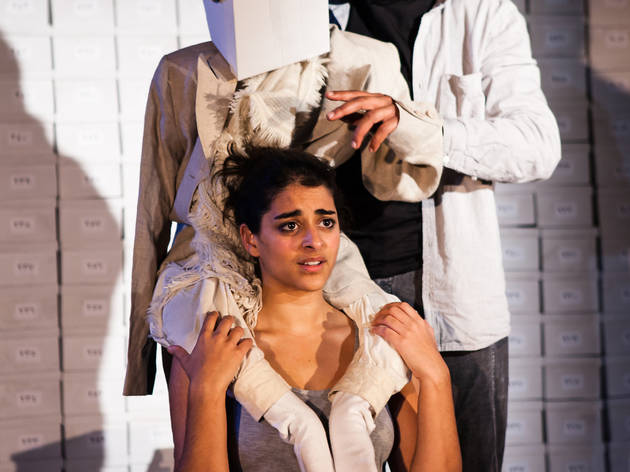 'Theatre is a kind of demonstration in disguise,' says a young writer from Damascus, one of the many characters in this series of seven short plays. That could stand as the show's mission statement.
Director Poppy Burton-Morgan asked six writers from across the Middle East to find resonances between the fantastical tales of 'A Thousand and One Nights' and the events of the Arab Spring. Echoing the framing narrative of the book, each play is presented to the audience by Shahrazad (Dina Mousawi) as a story to stay her execution.
It's an excellent concept, but the quality of the short plays varies widely, and the performances of the three-strong cast don't always pack enough of a punch. The best pieces, however, have real impact: a piece by an anonymous Iranian playwright asks the audience to close their eyes, link hands and imagine they're walking towards a line of armed police in Tahrir Square. It's a powerful, charged moment.
The Lebanese live artist Tania El Khoury's tale of a shoe-obsessed dictator's wife who speaks only in 140-character tweets also stands out. Particularly with its closing statement: a video of a real-life Bahraini journalist describing being forced to eat her own shoe while in police custody. There, perhaps, lies the show's central issue: that when it comes to the Arab uprisings, reality is ultimately more compelling than fiction.