Heads up! We're working hard to be accurate – but these are unusual times, so please always check before heading out.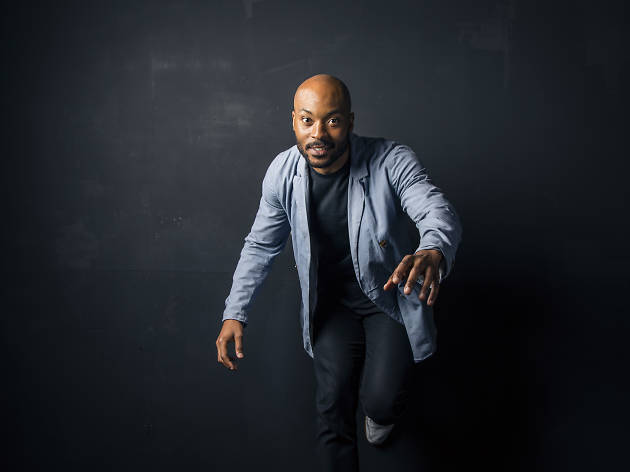 Arinzé Kene: 'Sometimes I feel I should embrace the responsibility'
The actor-writer becomes the second black British playwright ever to write a West End play with 'Misty'
Just a few months on from starring in hit Bob Dylan musical play 'Girl from the North Country', Arinzé Kene returns to the West End. And this time it's as the star of his own show. 'Misty' is part gig-theatre, part self-lacerating autobiography, and it features an awful lot of balloons. It transfers to Trafalgar Studios from the Bush Theatre on a wave of acclaim.
You're the second ever black British writer (the first being Kwame Kwei-Armah) to have a play in the West End – does that feel like a responsibility?
'Yes, and I'm still battling with this idea. Sometimes I feel like I should embrace the responsibility and the duty, and sometimes I feel like it's restricting me as a creative. It's something that always comes up in my work: people taking responsibility for things they don't have to.'
It follows a struggling actor-writer called Arinzé – so it's autobiographical?
'There are two characters that I play: the Blood Cell Virus [a rapper/poet] and Arinzé, and Arinzé's experience is definitely a version of me, 100 percent. When I first started writing plays I had to take myself out of the equation to figure out what I enjoyed about writing, but I was finally ready with "Misty".'
It's a pretty leftfield play, right?
'There's not much about "Misty" that you can go: seen all that before. It's a meta play, it discusses what's happening in the inner cities in London, it discusses gentrification, it discusses working as a creative in this industry as a black artist, and it's coming into the West End. We don't have any stars: it's the play that brought itself here.'
You've got a female understudy, Kibong Tanji. That's pretty interesting…
'I was adamant that this was an opportunity to think quite open-mindedly. I try and be actively conscious about ways we can improve in the industry. The actual story is not specific to a man's experience, the stories are about a person from the inner city and a creative person. She's going to give me a run for my money: the understudy run is going to shut down the West End!'
Why is it called 'Misty'? The word isn't actually in the play at any point…
'I can't say! I nearly said once. And then I decided that I'm not going to and I'll see how long things can go on with nobody finding out. It's a secret, I've decided to keep one, just one.'
'Misty' is at Trafalgar Studios, until Oct 20. Buy tickets here.
The best new theatre this month
London's theatre calendars are flooded with acclaimed shows, big names and hotshot directors, and there's no way anyone can see them all. As a starting point, the Time Out theatre team have picked ten shows opening in London this month that you won't regret booking for.