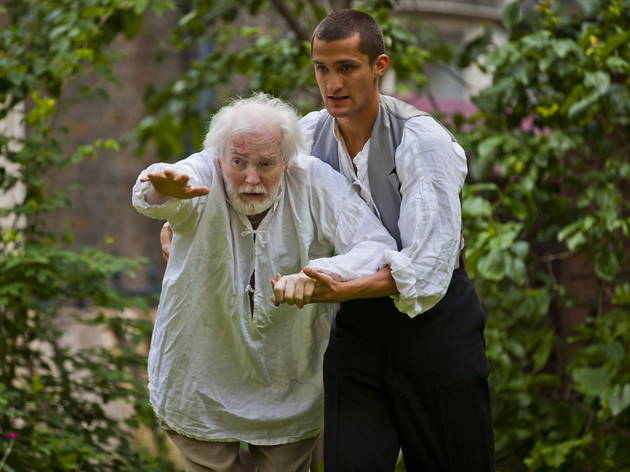 If George Osborne were really serious about refilling the country's coffers, he could do worse than impose a tax on open-air theatre:?at this time of year, every lawn in England seemingly sprouts a Shakespeare play.
Most such shows rely on generic geniality, and Iris Theatre's 'As You Like It' is no exception. It is a forward defensive stroke of a production; ploughman's-lunch Shakespeare with flat caps, floaty shirts and blank verse at its blankest. That's a shame, because it starts intriguingly, with a Victorian toybox aesthetic that disappears by the time persecuted heroine Rosalind has fled to the Forest of Arden.
Emily Tucker and Fiona Geddes are spritely enough as Rosalind and her cousin Celia, while Joe Forte is a chiselled, Hovis-ad style love interest, Orlando. Mostly, though, this is toothless stuff.
Still, Tessa Battisti's sculptural designs of wilting wicker and looming flowers compliment the attractive blooms of the Actors' Church gardens and you could easily spend a harmless three hours in the company of Daniel Winder's production.
Average User Rating
4.7 / 5
Rating Breakdown
5 star:

2

4 star:

1

3 star:

0

2 star:

0

1 star:

0
What an amazing performance! Never seen anything like it... The cast did an amazing job and had me hooked on every word. Beautiful setting and costumes and a thoroughly enjoyable evening! Well done to all cast & crew!!! P.S Glad I didn't read Time Out's review on this as I would have missed something so special!! Go see!
What a load of rubbish!! This play was amazing! I was given a flyer in the piazza and went on a whim and I was truly astounded by the virtuosity of the cast and music. Big thumbs up for putting on a wicked show! GO SEE IT!
Don't know what this buffoon is on about. This production was f****ing fabulous. Totally immersed in the play, I've never seen a finer production and this review is a load of nonsense. Readers please ignore the timeout review, this production is wonderful and you don't want to miss out on a great summer promenade!