Heads up! We're working hard to be accurate – but these are unusual times, so please always check before heading out.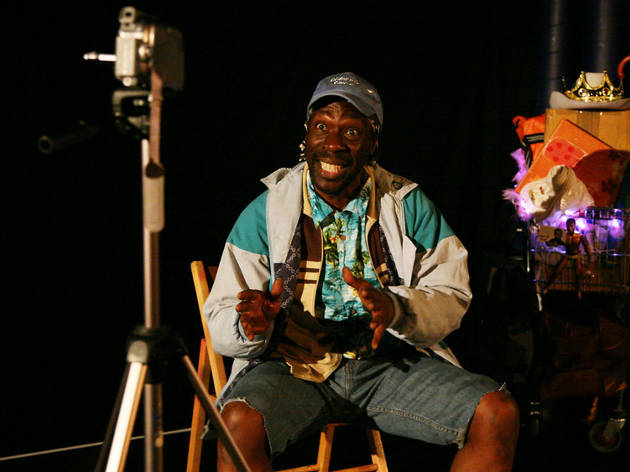 Banksy: The Room in the Elephant review
Pleasance Courtyard
It seems that everywhere he goes, the Bristol-based street artist Banksy leaves a trail of strange characters in his wake. In his Oscar nominated 2010 film 'Exit Through the Gift Shop' we met one such character, Mr Brainwash, an unheard-of self-proclaimed filmmaker who reinvented himself after meeting Banksy and rose from nowhere to become a high profile pop artist-of-the-moment.
Tom Wainwright's script 'Banksy: The Room in the Elephant' concerns another character whose life has been changed by an encounter with the anonymous graffiti artist. Tachowa Covington had been living for seven years in a disused water tank on a hillside in LA when he was visited by the artist in 2011 and was asked if he would let him paint the words 'This looks a bit like an elephant' on the side of the tank.
Covington, who had no idea who Banksy was, didn't see any reason why not and so said yes. Soon though, he was kicked out of his home, which was then ripped from the landscape by fortune-hunters who took it to sell on the art market.
Wainwright's play is a monologue spoken by Covington, played by a warm and casually entertaining Gary Beadle. He's a Hawaiian-shirted free spirit, who, on the basis of his rambling speech, has been living on his own for too long. With his friend Bee - a toy rat - and his shopping trolley full of stuff, he relays his troubling story.
It's undeniably an important and fascinating tale to tell and one which would make a good play, but there's too much going on in this one. Is it the story of one intersting guy, or of the cynical nature of the art world, or of man's capacity for greed? The script tries to be each of these things, but in doing so fails to exactly be any of them.
The latest Edinburgh Fringe theatre reviews