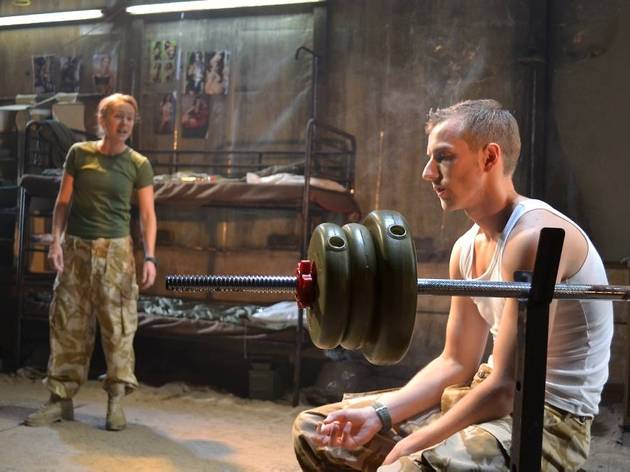 She's back in Chippenham from a tour of duty in Afghanistan, but Deb (Joanna Horton) is still fighting a war on the home front. Her mum, for many years a depressive, has disappeared; her dad, Jim (Ian Bailey), is shacked up with her old school friend Jo (Kirsty Bushell), for whom Deb herself nurtures a hopeless, helpless passion. What's more, Jim is now making a living as an internet pornographer, peddling images in which Jo sometimes unwittingly features.
With an exterior hardened and honed, like her body, by the exigencies and sexism of the field of combat, Deb resolutely attempts to tough the situation out. But a series of flashbacks to her scarring experiences in the desert, and intensely charged scenes with the father who can't fathom her and the woman she longs for, but who chooses instead sexual humiliation in Jim's bed, peel away the protective layers of khaki and bravado.
A play offering the perspective of women in the armed forces is welcome and long overdue. Happily, though, emergent writer Morgan Lloyd Malcolm's piece, in a scorching production by Maria Aberg that transfers from the Hampstead Theatre Downstairs, offers very much more than that, examining familial and sexual politics in dialogue that is jagged with wit, pain and confusion.
Lloyd Malcolm somewhat flunks the ending, with a violent scene that doesn't feel quite adequately prepared for, and an eventual resort to slightly limp monologue. But this is a rich, complex work of considerable promise.