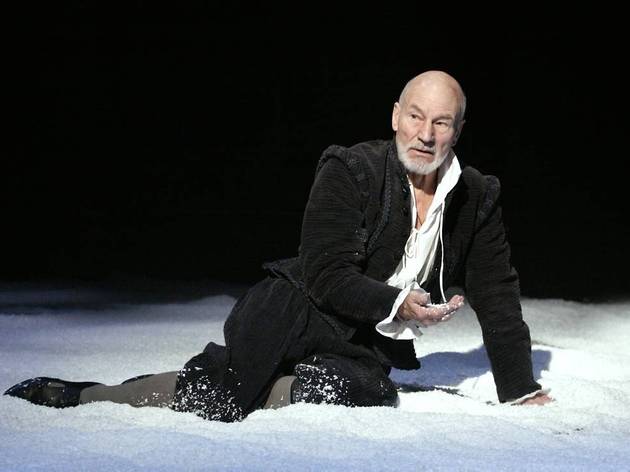 Don't be fooled by its title: Edward Bond's 1973 play imagines Shakespeare's retirement years, but at no point does the ageing bard call 'Full House' in a jolly card game in Stratford-upon-Avon town hall.
Bond's vision of the man is less cosy but no less singular: Shakespeare is a taciturn, suicidal proto-animal rights protestor, hounded to death by his mad wife and daughter. He is played with great subtlety and force by Patrick Stewart, a fine actor at the height of his powers. But his longest and most impassioned speech act, in a play in which he is the silent witness and cause of other people's tragedies, is a horror-struck rant about bear baiting.
As Stewart makes poignantly clear, all the dying writer wants to do is sit in his garden and watch the seasons turn. But, after he absent-mindedly agrees to enclose common lands, the local peasants rage and suffer; a beggar girl whom he tries to help is strung up in the town; and his most sympathetic companion – his elderly halfwit gardener – is murdered by his own puritanical son in the ensuing violence.
Director Angus Jackson's Chichester production responds powerfully with tableaux of life and death, strewing the stage with old leaves, thin sunlight and snow, and darkening it with the weirdly beautiful figure of the dead beggar girl, hoisted above us on the town gibbet. This is a portrait of a village, not a genius.
Bond, a self-taught man, lets the rural poverty, cant and natural cycles which are glimpsed in the imagery of Shakespeare's courtlier plays take centre-stage. And it's flawlessly acted and voiced here: from the soft alien burr of the local yokels, to the monotonous nagging of Shakespeare's despised spoon-counting daughter Judith, to the envious drunken bitchery of Richard McCabe's fabulous Ben Jonson who comes to Stratford, in the play's funniest and most honest scene, to touch the rich old man for money and ideas and to find out, if he can, the secret of his brilliance.
As biography, Bond's play is reductive, judgmental nonsense: there is little in the meagre historical evidence and far less in Shakespeare's broad, compassionate and humorous work to suggest a life of such unmitigated selfishness and tragedy. Shakespeare is the most generous of writers and Bond, who writes in bare bones, has a very different rhythm. At least there's no Fakespeare versifying to suffer – although on the rare occasions Stewart's Shakespeare breaks into speech I didn't believe a word of it.
But this isn't really about Shakespeare: it is, like all of Bond's apocalyptic work, a nightmarish landscape where humans are half-mad with rage and pain and the clock is always a few minutes away from midnight.
Average User Rating
3.7 / 5
Rating Breakdown
5 star:

2

4 star:

0

3 star:

0

2 star:

0

1 star:

1
I absolutely loved this play, I go to the theatre a good few times each year and always try to see a variety of stuff but I'm the first to admit that I'm no learned theatre buff. I'm sure the fact that I'm a Marxist had a good deal to do with me liking this play. It was written by a Marxist and it is arguably more about socio-economic change and the first shoots of capitalism emerging from feudalism, and the beginnings of what would later evolve in to socialism, than about Shakespeare. I thought it was generally well written, the characters were relatable and well performed and I thought the stage worked well. Congrats to the Young Vic!
Once a fan of Patrick Stewart, it would seem that he's less able to carry a play than at first sight. Or perhaps it's the play that he must carry, for Bingo is certainly a heavy burden - heavy with dramatic boredom. With a disappointing set and technical, the lacking tones of light and dark in the narrative, an undefined plot structure and the horrific misinterpretation of the characters and their interdependency, Bingo is an absolute dramaturgical catastrophe!
Brilliant. Patrick Stewart is tremendous and truly gives you an insight of what it was like to be the great bard in the last years of his life.