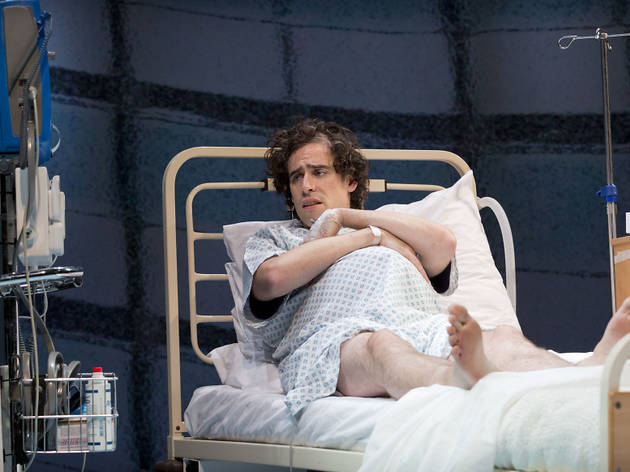 In the hands of a lesser writer, you might need an epidural to sit through this suppositories-and-all depiction of childbirth. Yet in his tenth play, Joe Penhall delivers an unsparing black comedy that penetrates well beyond its over-familiar central twist – that the character giving birth is a man.
It's no small irony that Roger Michell's production opens round the corner from the Saatchi gallery – 42 years after the Saatchi & Saatchi agency's 'Pregnant Man' poster first gave men a womb with a worrying view. Here, in an NHS labour ward, Stephen Mangan's Ed is subject to all the humiliations that are normally a pregnant woman's prerogative.
As well as the no-orifice-is-sacred approach, he experiences the multiple cock-ups endemic to an overstretched health service. Despite the staff's best intentions, low resources mean inadequate pain relief, callously imparted information, and long gaps with a complete absence of medical staff: the 'miracle' of modern-day childbirth.
For this is the real shock factor of Penhall's script: that while of course we get some enjoyable war-of-the-sexes gags, which trade off the humour that it is a man mainlining raspberry leaf tea or begging for the TENS machine, it is the NHS that comes under attack. As a result, the most interesting question we ask ourselves is, do we find this more shocking because it is a man dealing with the powerlessness inflicted by public health service childbirth?
Michell hands the shifts from high comedy to trauma deftly. Mangan's tousle-haired, wide-eyed 'delivery' is both moving and funny, and Lisa Dillon is heart-breakingly credible as his exasperated wife. Sometimes Penhall's script juggles too many arguments – a surgeon's scalpel wouldn't go amiss. But this is a compelling evening and – in a week where an NHS spokesperson has admitted that childbirth is a 'problem area' – almost as traumatic as going through the real thing.
Rating Breakdown
5 star:

0

4 star:

0

3 star:

0

2 star:

0

1 star:

2
This was absolutely dreadful... bad script, bad (non) jokes and awful acting... quite a lot of people left last night about 10 mins in - I wish I had joined them! Just goes to show that reviewers know nowt!
A lot of people thought that this play was funny, but I had started to count the people in the stalls reading their texts etc. well before half time. One joke dragged over 90 minutes. No real punchline.