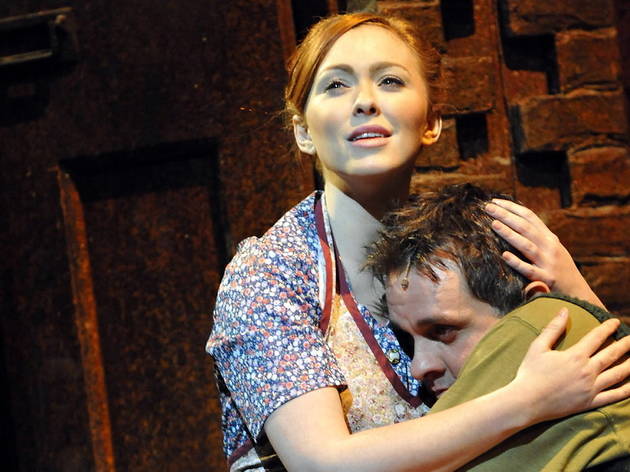 Now in its second decade at the Phoenix Theatre, Willy Russell's 'Blood Brothers' is one of our country's foremost MOR institutions. The archetypal 'weepie', it lives off weekly infusions of coached-in tourists and school kids.
Yet for all its intrinsic naffness, 'Blood Brothers' possesses a working class ire and regional pride that remains refreshing to this day. Certainly it's hard not to see a resonance with David Cameron's Britain as rough diamond Mickey (Stephen Palfreman) falls from grace, abandoned by a society uninterested in the poor. So that's nice. But with 'Billy Elliot' saying the same things more forcefully, there's surely only so much goodwill to extend towards 'Blood Brothers', a show that is, at the very least, desperately in need of a new score.
Set in and around a pair of Merseyside council estates, 'Blood Brothers' charts the entwined lives of twins Mickey and Eddie, separated at birth after their mother Mrs Johnstone gave Eddie up for adoption to a wealthy family. The early scenes of childish hijinks in a dilapidated Liverpool remain fresh, funny and pleasingly low key. But the book's earthiness is continually undercut by a lurid synthetic score that gets more inappropriate with each passing year.
In 2009, erstwhile Spice Girl Melanie Chisholm (aka Sporty Spice) won plaudits for bringing fresh life to 'Blood Brothers' as Mrs Johnstone. I can see that: she has a powerful voice, capable of shearing through the score's gauche onslaught of sax, synths and pinging bass drums, restoring the likes of 'Marilyn Monroe' and 'Easy Terms' to torch song glory. Perhaps the show should have ended when she left: present Mrs Johnstone, Natasha Hamilton (formerly of Atomic Kitten), brings a homely sweetness to the role, but she doesn't have the charisma or lungs to shake 'Blood Brothers' back to full alertness.
Russell's book still charms in places, but it is sentimental and schematic, and lacks bite until the very end. And as an exploration of nature vs nurture, it's positively crude next to the author's 'Educating Rita', superbly revived by the Menier in 2010. It would be mean-spirited to suggest that a show that has brought pleasure to so many should be shelved for good. But this is a painfully dated production: its obstinate refusal to exit the '80s leaves book and cast mired down in needless kitsch.
Rating Breakdown
5 star:

4

4 star:

0

3 star:

0

2 star:

0

1 star:

0