Heads up! We're working hard to be accurate – but these are unusual times, so please always check before heading out.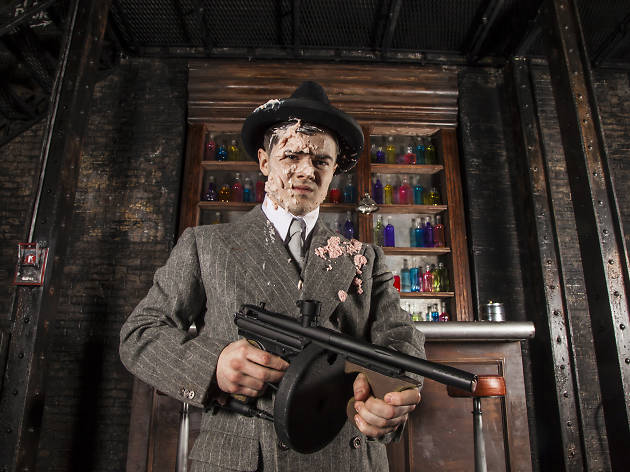 'Bugsy Malone' director on a 'splurge breakthrough' at the Lyric
The Lyric Hammersmith is reopening with gangster classic 'Bugsy Malone' and director Sean Holmes is making sure it's far from twee
One does not simply revive 'Bugsy Malone'. Alan Parker's 1976 musical film about singing kiddie gangsters in Prohibition-era Chicago is one of the all-time greats, a mad, unforgettable concept tied to genuinely glorious songs. It's been adapted for the stage, but Parker has virtually banned revivals.
It's not been seen in London for aeons, and Sean Holmes knew it was a longshot asking Parker for rights to mark the reopening of his theatre – the fearless Lyric Hammersmith – after a two-year makeover. 'Alan Parker's found it too twee on stage in the past,' says Holmes, 'so he was adamant he wouldn't give away the rights to anyone. But because I spoke to him about the Lyric and young people, rather than the money, he really got it.'
The last two years in the Lyric's life have been a fascinating diversion. With the Victorian main theatre shut, Holmes set up an avant-garde rep company, Secret Theatre, to play in the building's other spaces. 'After two years of mad experimental theatre, I've got no qualms about doing something that might bring people in,' he says.
The massive upgrade has populated the Lyric with everything from rehearsal rooms to recording studios, and will be of particular benefit to the Lyric's younger crowd, including those starring in 'Bugsy', many of whom came up via the Lyric Young Company.
But what of the iconic splurge guns wielded by the pint-sized crims? 'It's complicated because to shoot something at somebody hurts.' says Holmes. 'But I think we might have had a splurge breakthrough.' So it has proved, though 'Bugsy' purists may be horrified to discover that this splurge is pink (and tasty: it's Angel Delight). But if there wasn't a twist, it wouldn't be the Lyric. It's great to have both of them back.
'Bugsy Malone' is at the Lyric Hammersmith until Aug 1.