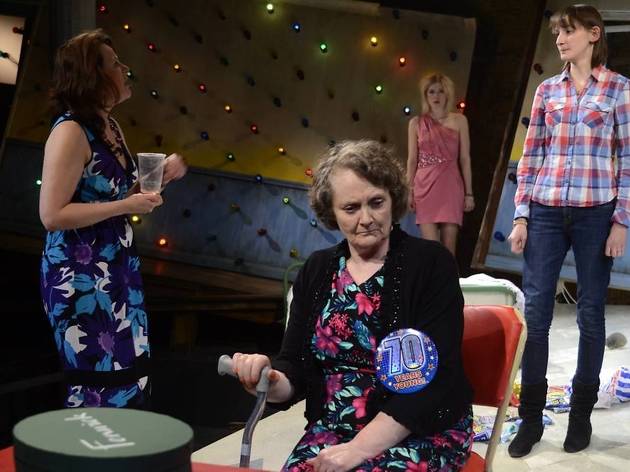 It's preferable to be optimistic about theatrical regime changes, but the Bush's new artistic director Madani Younis doesn't get off to the most promising start with Lee Mattinson's crude play.
A time-shifting series of pitched battles between the female members of an unhappy Newcastle family, it's indebted to Charlotte Keatley's far superior 'My Mother Said I Never Should', and its broad humour recalls Jim Cartwright. But it lacks tenderness and complexity; Mattinson's dialogue crams a string of coarse one-liners into the mouths of characters to whom his attitude is more sneering than sympathetic.
The action takes place in a Skegness Butlins chalet on landmark occasions that should be celebratory, but descend instead into confrontation and cruelty. The unpleasantness is relentless – until the writing takes a dive into equally unappealing sentimentality.
Younis's slightly clunky staging is rescued by stellar performances from Gillian Hanna as miserable Nana and Laura Elphinstone as a gawky daughter unable to please her poisonous mother. But the piece leaves a sour taste. Better things are, surely, to come.
Rating Breakdown
5 star:

0

4 star:

1

3 star:

0

2 star:

1

1 star:

0
Couldn't disagree more with this review. I saw it in preview and it is properly funny and am really suprised that it would not get a good review. Some of the one liners are hilarious and the Bush is all good news.
It gets 2 stars as the director managed to get a couple of decent performances from a couple of the actresses (poor souls; I don't know where they found the emotion from in this stolid script), otherwise it'd be a one star. Oh my... Only half my lifetime out of date and like a bad ep of Coronation Street - you know, the Jonathan Harvey ones with the 'aren't I clever' one-liners pouring from the gobs of the caricatures he can't help smuggling into the series. Well Chalet Lines is chock full of caricatures and cliché. If you laugh at mother-in-law jokes and sit round in a mustard tank top in your northern working-class, beer-stained hovel, then you may enjoy it. I nearly stabbed myself in the ear and if I hadn't come along with folks, I'd have been on that London Overground and away off home at the interval. Camp claptrap in dire need of dramaturgy and time travel fifteen years into the past for it to have any relevance for an un-lobotomised audience. And, please tell me why the second daughter is the loved one? She is from the man the gran didn't love. Surely the first daughter - from the man she loved - would be the favourite? Or was it so damned important that she got one of them Paula the sole reason this whole sorry affair started? Convoluted old pants. And I've seen so much poor theatre lately, I'm having a break from it for a while.