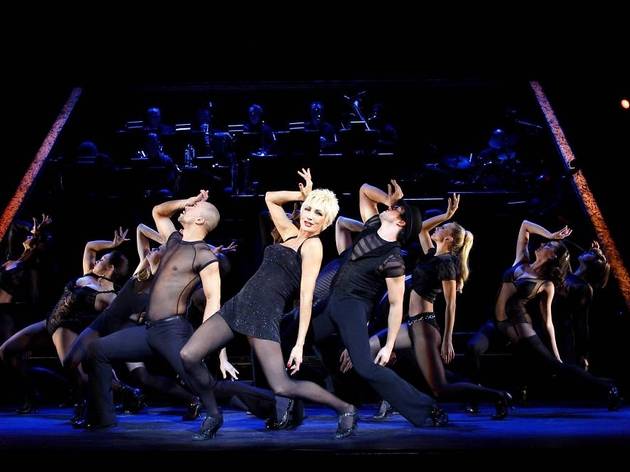 Shabby ennui has set in at 'Chicago', the musical which has been keeping the West End's fishnet suppliers in business since 1997. It doesn't spoil it. This gorgeously cynical old hit wears that air of shabby ennui like a vintage stiletto.
John Kander and Fred Ebb's show, which first opened on Broadway in 1975, is based on a 1926 play by sensational Illinois crime reporter, Maurine Dallas Watkins. In speakeasy-era Chicago, media-savvy murderesses Roxie Hart and Velma Kelly get off scot-free from their crimes by dispensing high kicks and low revelations to an eager press pack – one story that will never go out of fashion.
In London, 'Chicago' has been a revolving door for B-list celebrities and genuine show-talent. Marti Pellow, Jerry Springer, Gaby Roslin and Claire Sweeney all made their West End debuts in Mama Morton's slightly Sapphic all-girl cellblock. Current Velma Kelly, Lisa Donmall is a queen of the chorus line, leggy and louche, who croons the show's opener, 'All That Jazz', with the nonchalance of a jaded old pro. But her Velma is quieter than fans of the glamorous superbitch (an Oscar-winning role for Catherine Zeta Jones on film) might expect.
David Bedella plays the girls' big-time lawyer, Billy Flynn, to whiter-than-white perfection: his grin could advertise toothpaste and he couldn't be smoother if he had a full personality wax. But it's Sarah Soetaert as crafty little fake-ingenue, Roxie, who steals the show. In 'We Both Reached For The Gun', the witty press conference number in which Flynn manipulates her like a ventriloquist's dummy, she's a fantastic cartoon sexpot: flopping about on his lap like a blow-up doll and lisping her dubious claims as innocently as Tweetie Pie.
Fred Ebb and Bob Fosse's book is knowing, witty and totally unsentimental. The only hint of true love is imprisoned, quite sweetly, beneath the pudgy moobs of Roxie's clueless hubby, Amos – a cardigan-wearing cuckold who is so invisible to everyone around him that he nicknames himself 'Mr Cellophane'.
In a West End full of movies-turned-musicals, 'Chicago' was made for the stage and it shows: the action wraps around the on-stage band as flexibly as a pair of long, stockinged legs. Kander and Ebb's score is a smoking tribute to the great age of vaudeville. And Ann Reinking's choreography makes love to the audience, paying tribute to original dance-master Bob Fosse.
Fifteen years into its West End run and nearly 40 years after its Broadway premiere, 'Chicago' is no longer criminally glamorous. But it still has legs, dirty brass, and attitude – enough, as any burlesque act will tell you, to leave a willing audience hot for more.
Average User Rating
1.5 / 5
Rating Breakdown
5 star:

0

4 star:

0

3 star:

0

2 star:

1

1 star:

1
It was terrible... Poor costumes... lame directing and senography...
Was Roxie a blond lady or I am making a mistake?!