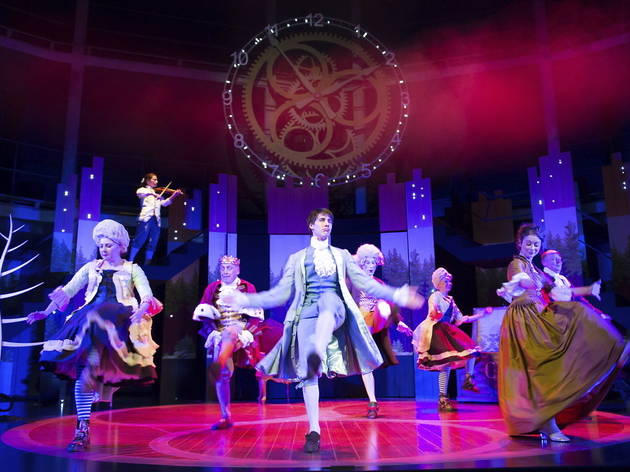 There's no panto dame in sight at the Rose Theatre's resolutely tasteful fairytale, and you'll need to buff up on your opera if you're planning on singing along. 'Cinderella the Midnight Princess' is a visually impressive if slightly stuffy Christmas show.
Here Cinderella is a clock maker's daughter, and the theme of time (time frozen, wasted or seized) is everywhere, from Charles Way's adaptation to Ruari Murchison's striking clock-tower set. A convincing central performance from Faye Castelow emphasises Cinderella's grief, laying a melancholic haze over the early scenes and rendering her eventual triumph all the more touching.
Director Rachel Kavanaugh would do well to pick up the pace a little, particularly with younger audiences in mind, but her use of an onstage violinist to deliver the Mozart-centric score is a winner. The introduction of Mozart as a character, however, is an uncomfortable imposition, made worse by William Postlethwaite's smarmy performance.
Similarly teeth-clenching are Laura Prior and Jenny Bede as the Ugly Sisters. They may be intended to annoy, but with their repetitive screeching and misfiring jokes about their mother's sexual exploits, I'd have happily cut their toes off myself.
Average User Rating
2.3 / 5
Rating Breakdown
5 star:

1

4 star:

0

3 star:

0

2 star:

0

1 star:

2
I thought it was absolutely crap. It wasn't a pantomine, and it wasn't a proper play. We went on Saturday evening and the auditorium was about a quarter full. People are voting with their feet.
My goodness - well I would seem to be in the minority - to whom would this production appeal - I thought it pretentious - acting, singing and dancing of a very average standard - the fairy godmother doubling as the bird looked like a large white meringue flitting about the stage-I think Wolgang and the prince would have been better cast as the ugly sisters!
Superb, superb, superb. So different to other Christmas plays Whole cast were very good but the ugly sisters were a total hit