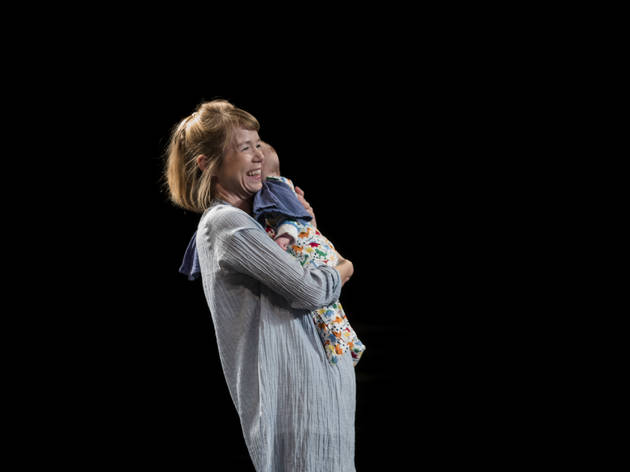 1/8
© Sarah Lee
Anna Maxwell Martin (Kitty) Finn West (baby)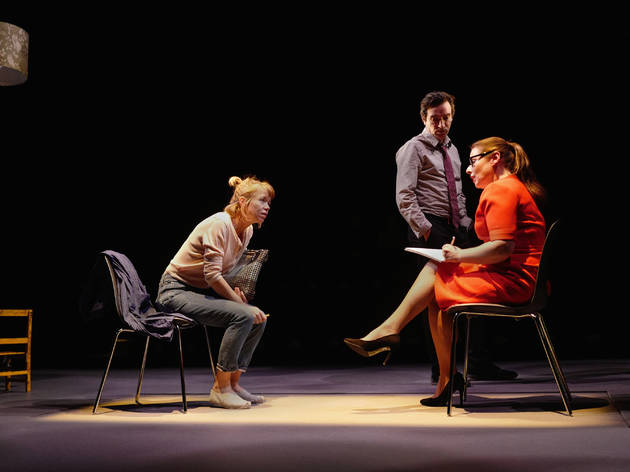 2/8
© Sarah Lee
Anna Maxwell Martin (Kitty) Ben Chaplin(Edward), Heather Craney (Laura)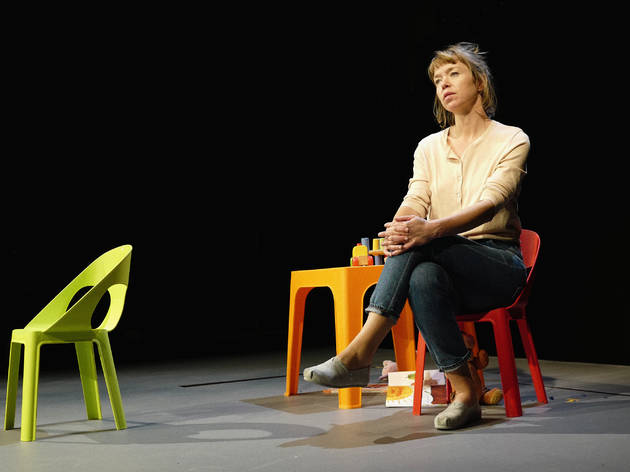 3/8
© Sarah Lee
Anna Maxwell Martin (Kitty)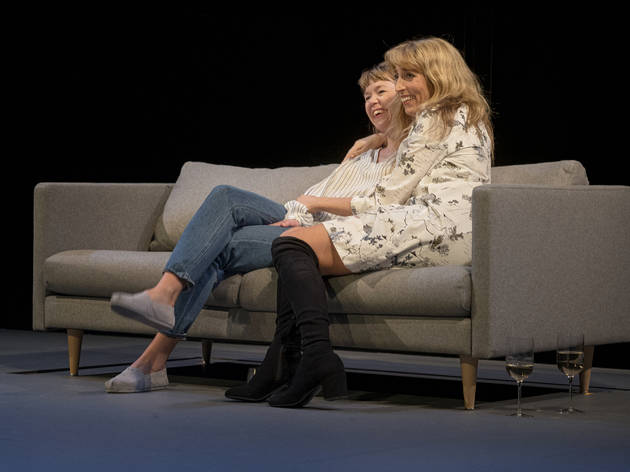 4/8
© Sarah Lee
Anna Maxwell Martin (Kitty) Daisy Haggard (Zara)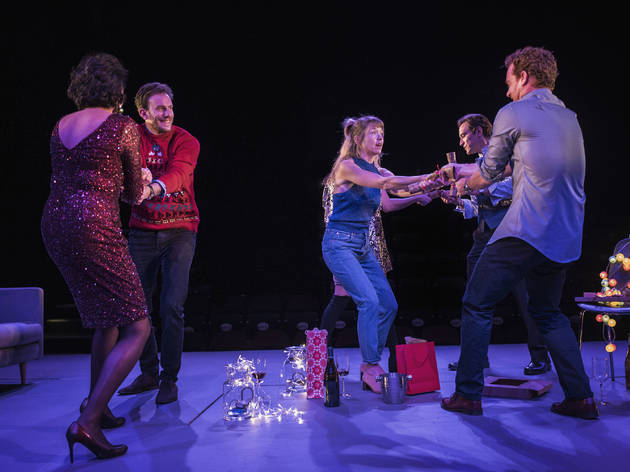 5/8
© Sarah Lee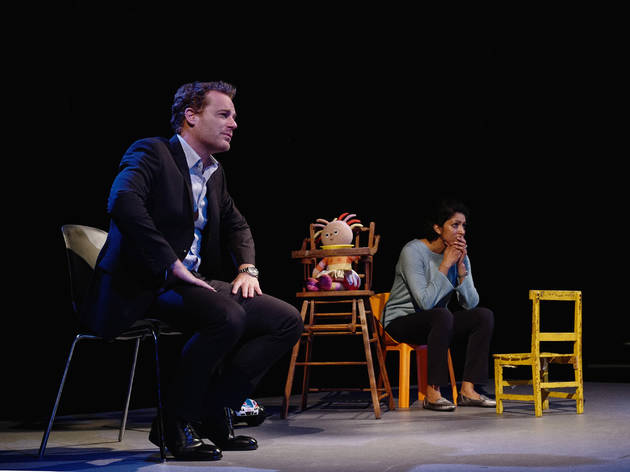 6/8
© Sarah Lee
Adam James (Jake) Priyanga Burford (Rachel)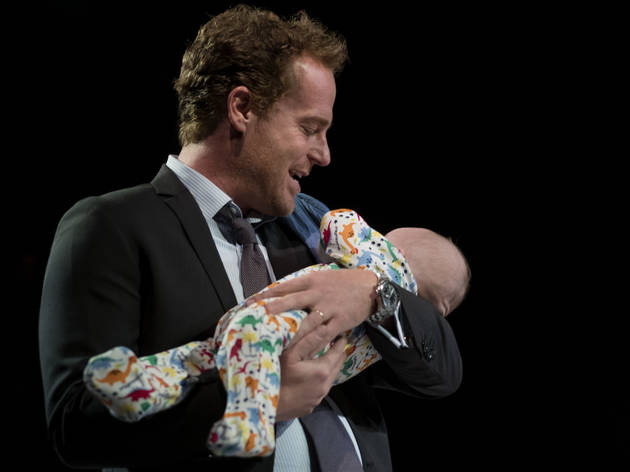 7/8
© Sarah M Lee
Adam James(Jake), Finn West (baby)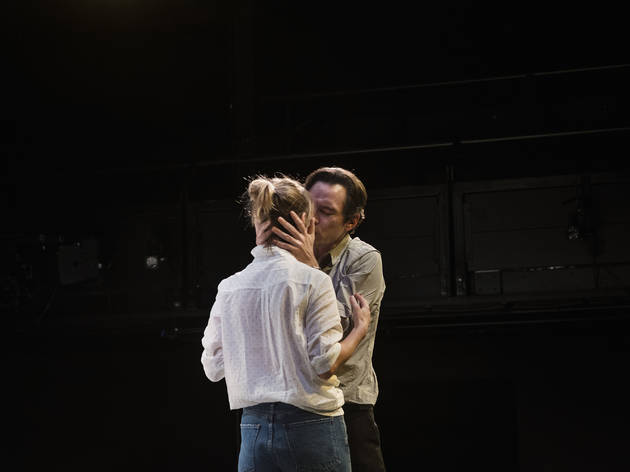 8/8
© Sarah Lee
Anna Maxwell Martin (Kitty) Ben Chaplin(Edward)
Anna Maxwell Martin stars in Nina Raine's brave new play about justice, empathy and consent
Nina Raine's new play is so emotionally bruising that it feels almost glib to describe it as 'a black comedy'. It is a domestic drama about empathy, justice and – of course – consent that wallops the shit out of you for two-and-a-half hours. It is a play about things we prefer not to talk about; it is like going ten rounds with the elephant in the room, and at the end both of you are crying. There are also some good jokes.
Ed (Ben Chaplin, fresh off our screens as a suave fantasist in 'Apple Tree Yard') is an almost fanatically rational (albeit wildly smug) lawyer, whose insistence on dissecting and debating every interaction outside the courtroom – as well as in – infuriates his wife Kitty (the always brilliant Anna Maxwell Martin).
Early on, the play's name seems to allude to a rape trial, in which Ed has taken an opposing brief to his dull frenemy Tim (Pip Carter). The trial and the men's treatment of the vulnerable alleged victim Gayle (Heather Craney) will come back to haunt them. But it is only a foreshadow of what is to come, when Ed and Kitty's marriage disintegrates and the questions of consent fall much closer to home.
What Raine and director Roger Michell set up is an almighty clash between justice as a human conceit and empathy as a human reality. Raine shows us how cold and unfeeling British law is to alleged rape victims in its obsessive striving towards fairness (in a way that can seem incredibly unfair). But she also dares explore the converse idea, that consent does not exist as a stark, technical 'yes' or 'no', that humanity, empathy and circumstances can muddle it endlessly.
'Consent' is certainly not a piece of rape apologia – but it is not shy about getting stuck into one of the more painful moral debates of our time. Raine suggests that the rules we have drawn up to attempt to order our lives may be an inadequate articulation of human nature. Which stands to reason, but it can be painful to hear.
The play is hard to watch at times, but an exemplary cast keep the characters big, brash and colourful. Chaplin is great as a giant, wounded man-child, while Maxwell Martin is just superb as a fierce, brilliant woman wilting under the weight of her marriage and stay-at-home motherhood. It is also packed with withering one-liners, which stops us being totally alienated by the gloom. Though that said, much of the humour comes from the public-school banter of the men. These are universal themes, but Raine's posh lawyers come from a very specific strata of society and, ironically for a play about empathy, it sometimes feels more like it's about Them than Us.
Nonetheless, if it's not problem-free it's gutsy and supremely well performed. Playwrights should be talking about this stuff, and Raine doesn't hold back.
This review is from April 2017. 'Consent' transfers to the West End in 2018 with a new cast including Claudie Blakley, Stephen Campbell Moore, Heather Craney and Adam James. A new review will follow in May
Venue name:
Harold Pinter Theatre
Contact:
Address:
6
Panton Street
London
SW1Y 4DN

Transport:
Tube: Piccadilly Circus/Leicester Square
Price:
£15-£95. Runs 2hr 20min
Average User Rating
4.7 / 5
Rating Breakdown
5 star:

4

4 star:

2

3 star:

0

2 star:

0

1 star:

0
For such a heavy theme, this was very light on its feet. Anna Maxwell Martin is extraordinary, ably supported by the ver reliable Ben Chaplin and Adam James. Engrossing and well written. Hard to say it was "enjoyable" but beautifully done none the less. Highly recommended if you like something a bit meatier with sincere and compassionate writing and superb acting. Along with Travesties and Hamlet, the best acted play I have seen this year.
Despite an absence from the theatre for a couple of years, Nina Raine's new play "Consent" cements her as one of our great playwrights. This is brilliantly woven with twists and turns that continue to keep you on tenterhooks.
We start with an objective, intellectual and dispassionate view of the subject matter, rape, by lawyers with whom we have little sympathy. However as the play progresses and views of the protagonists become subjective, based on unfolding events, the whole balance changes. The bunch of arrogant shits we first meet and have little empathy with, start to engage us with their frailty and emotional responses. Some of the dialogue is worthy of a Wimbledon final, so fast, furious and varied are the verbal gymnastics. There is a lot of absurdist humour to break tension and the play is masterfully anddelicately directed by the gentle hand of Roger Michell. The cast is predictably outstanding, with not a cigarette paper between their performances. This is a must-see and I think will be seen as a play of great significance and longevity. It's not just about the subject matter, it's about human relationships and how we all deal with their reality. Go see!