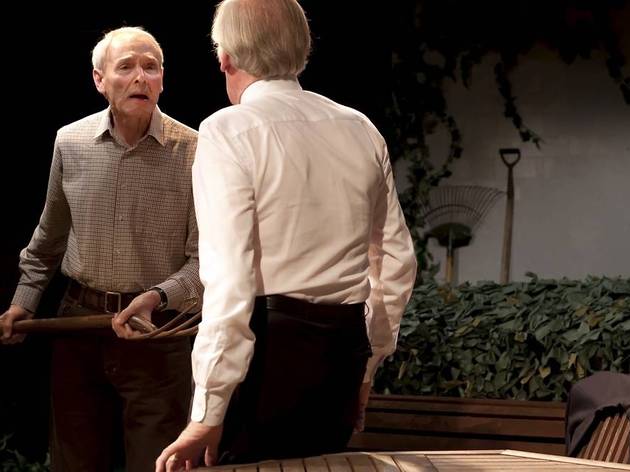 All is not what it seems underneath the twee hedgerows and wisteria in Peter Briffa's 'Country Life'. On the surface, this could be any Sunday afternoon BBC comedy; OAPs argue like testosterone fuelled teenagers and for comic effect discuss death as though it was a day trip to Bogner. But it's not all 'Last Of The Summer Wine' fun. Extortion, murder, robbery, there is a dark edge to Briffa's Middle England heist.
Oily parasite and wannabe lothario Jim (Chris Bearne) returns to Devon for the funeral of Judith, his most recent 'companion'. To the disgust of neighbour, and hopeful boyfriend, Kenneth (an officious David Forest) he quickly inveigles his way into the garden and heart of Barbara (soap actress Marji Campi).
Hijinks ensue with enough crossings and double crossings to make any of the shows that Campi's starred in proud. As this includes the holy trinity of 'EastEnders', 'Corrie' and 'Brookside', that's no mean feat.
Briffa's script raises a grin and the gentle comedy clearly pleases this middle aged audience. But by the fiftieth twist and turn it's all a bit much. Interesting questions about how this 'forgotten generation' feels about being sidelined and whether humans have the ability to change are drowned out by all the melodrama. 'Country Life' has vitality and gumption but is really little more than an inoffensive romp.
Rating Breakdown
5 star:

0

4 star:

1

3 star:

0

2 star:

0

1 star:

0
An experienced, distinguished three-strong cast …twists, turns and complexities … bribery, corruption, sibling rivalry and even murder …who is duping who? David Forest's neurotic, nosy former policeman, Kenneth… Chris Bearne's charismatic silver fox, Jim .. Marji Campi creates an interesting contrast with the two men, her character (Barbara) beautifully understated. Country Life starts to do what it says on the tin, then turns it upside down and shakes it up. Quietly entertaining, brilliantly original (quoting Helen Macdonald, Whatsonstage).