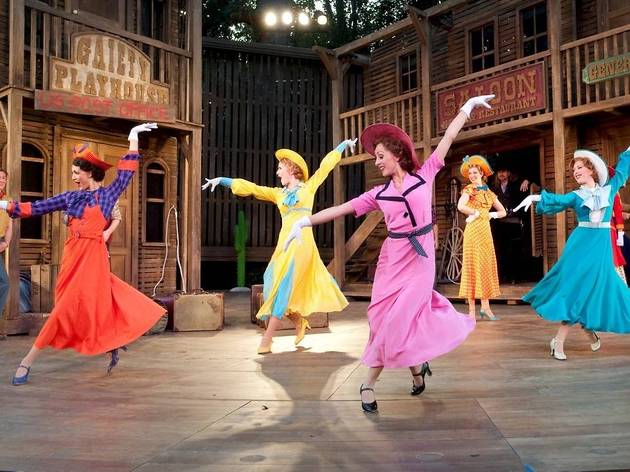 I wouldn't say that Timothy Sheader's revival of Ken Ludwig's award-festooned Gershwin remake actually took my mind off the fact that press night coincided with my local Camberwell high street being demolished by a bunch of trainer-hungry looters. But I did have a pretty damn good time, considering I was reasonably certain the apocalypse was happening outside.
The plot, adapted by Ludwig from George and Ira Gershwin's 1930 Ginger Rodgers vehicle 'Girl Crazy', concerns city slicker Bobby Childs's arrival in the fading Nevada town of Deadrock. But whereas in the original Bobby is a caddish playboy banished to a remote college town, Ludwig's Bobby is a pie-eyed dreamer desperately in love with the stage, sent to Deadrock on business by his snarling capitalist mother.
Bobby's plaintive yearning to perform reflects Ludwig's yearning for the simpler, brighter joys of the Gershwin era, and in Broadway vet Sean Palmer, Sheader has found a nigh-on perfect Bobby. With his dopey smile, rumpled suits, misfiring tap moves and shining, childlike eyes, he's an entirely lovable presence. And Clare Baker's brash, warm, ultra-expressive postal worker Polly is the perfect romantic foil for him.
But the real joy of Sheader's production lies in some truly transcendent set pieces, as hicks and Noo Yorkers band together to resurrect Deadrock's long-closed Gaiety Theatre. Choreographer Stephen Mear deserves some sort of medal for the ecstatic sequences of soft-shoe-tastic cowboy on showgirl action (thoroughly wholesome, you understand) that accompany dizzily celebratory ensemble numbers 'Slap That Bass' and 'I Got Rhythm'. And 'What Causes That?' the whiskey-fuelled duet between Bobby, disguised as theatre impresario Bela Zangler, and a very confused Zangler himself (David Burt), is just a glowingly perfect comedy moment.
Big credit, too, to designer Peter McKintosh and his revolve set, a cosy, homely, wooden affair that blazes into twinkling life to turn into Broadway, and blooms into dramatic life when the vividly shoed showgirls burst into 'Deadwood' like excitable desert blooms.