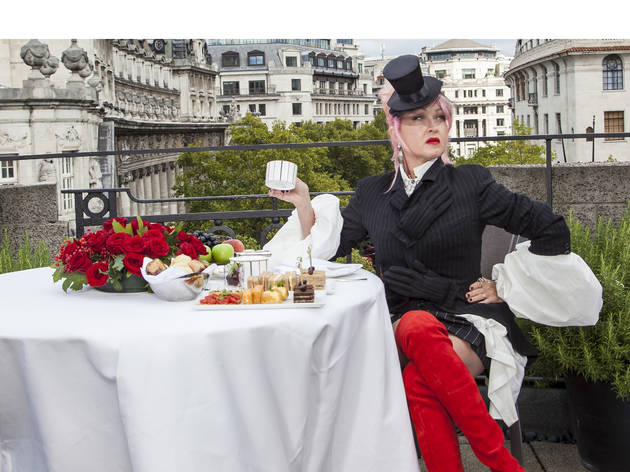 Cyndi Lauper on 'Kinky Boots' and winning a Tony
Cyndi Lauper is enjoying a big second act as co-author of hit musical 'Kinky Boots'. But does the girl still want to have fun?
In a swish central London hotel, I am having afternoon tea with Cyndi Lauper. Or at least, that was the plan.
'Come on, reeeeeaaaally?' she complains in her glue-thick Queens accent. 'That's not fukken' tea!'
It is tea, but for some reason there's only fruit tea.
'Fuck.' She sighs.
'Well that blows.' A pause.
'I don't want that, I want fukken' tea.'
She sighs again, walks to the door, realises with some mortification that her PR was listening outside, then very politely asks the PR to get us some black tea. She sits down again.
'All right kid, let's hit it, what do you want to know?'
'It's about shoes, I like shoes'
Released in 1983 to spectacular, multi-platinum global success, Lauper's debut album was called 'She's So Unusual', and nobody will argue with that. Now a pink-haired 62-year-old, Lauper is certainly one the most different people I've ever interviewed, talking in long, rambling often hilariously honest sentences.
But we wouldn't be talking if she was just playing the pop game. The timeless appeal of early hits 'Girls Just Wanna Have Fun', 'True Colors', 'I Drove All Night' etcetera have certainly secured her place in pop history, but she's not bothered the charts in two decades. In her own words: 'You can't limit yourself, you have to diversify, you can't just get stuck on one thing.' The last few years have seen her turn in a well-received roots album ('Memphis Blues') and a best-selling autobiography ('A Memoir'), but that all pales into comparison next to the juggernaut success of 'Kinky Boots', the juggernaut Broadway musical she wrote with playwright Harvey Fierstein.
'I realised they accepted me and that was really moving for me.'
'You know I didn't know what I was doing,' she drawls. 'I love Harvey, I wanted to work with him and Jerry [Mitchell, director], so whatever they wanted I tried to do. One day Jerry said, 'At the end of act one, I want a song where everybody says "YEAH." So I wrote a song with the chorus "Everybody say yeah," and they were like: "No!" I kept re-writing until they said okay.' Lauper's modesty is endearing, and unwarranted.
Not only did her stylistically diverse, deliciously tongue-in-cheek score to 'Kinky Boots' do a fine job of animating this adaptation of the 2005 Britflick about an ailing Northampton shoe factory saved by the unlikely assistance of a black drag queen, but it netted her a Tony Award for Best Original Score – the only time a solo woman has won that award in the Tonys' 69-year-history. When I ask her how significant the achievement felt, given she's not exactly from that world, she promptly busts into tears. 'I realised they accepted me and that was really moving for me.'
'I guess I am a bit of drag queen myself'
She seems bemused when I suggest that on paper the pairing of her and a show set in the East Midlands is a bit odd. She even shrugs off the suggestion that it's drag queen character Lola – who saves factory owner Charlie's floundering shoe plant by helping it corner the market in male high heels – that appealed to her, a longtime champion of LGBT rights.
'It's about shoes, I like shoes,' she says, po-faced. 'Lola's a fun character and I guess I am a bit of drag queen myself. But actually it was the story, about two people who are totally opposite from each other and came together for the greater good, went on to heal themselves and when on to be better for it. You can't go wrong with that one, and it's something you could work on a long time on without going, "Oh my god, I'm going to kill myself."'
So no nerves at all as her show set in Britain finally opens in London? 'Listen,' she says, taking a last slug of her tea, 'I speak the Queen's English, but just on the wrong side of the pond, is all.'
Support Time Out
We see you're using an ad-blocker. Ad revenue is Time Out's main source of income. The content you're reading is made by independent, expert local journalists.
Support Time Out directly today and help us champion the people and places which make the city tick. Cheers!
Donate now