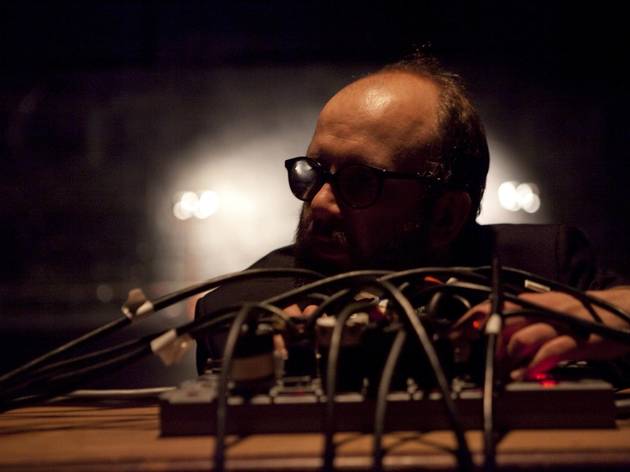 Following cult comic Daniel Kitson's parallel career as a storyteller has been like watching the evolution of the operating system in the film 'Her': what began as a whimsical diversion has evolved into something altogether stranger.

Last year's 'As of 1.52pm GMT on Friday April 27th 2012, This Show Has No Title' saw Kitson starting to mangle his regular tropes – loneliness, old people, silly names, temporally jumbled plotlines, humour as quaintly English as an argument over the pronunciation of the word 'scone' – with a post-modern archness that suggested he'd become bored of spinning bittersweet yarns for adoring audiences.

'Analog.Ue' hints at the same, but where its predecessor felt like Kitson was a man without a plan, this has a singular vision. Clearly somewhat indebted to Beckett's 'Krapp's Last Tape', the words in 'Analog.Ue' are entirely pre-recorded, split over 46 tapes played on 46 vintage machines, operated by a resolutely silent Kitson.

It is a series of 'forgotten clues to a made-up mystery', with no written script and the intention that the tapes will be sold and scattered when Kitson is done with the show. It is a work about performance: questioning what it is, why people do it, what an audience want. It is also a work about loneliness, with the silent Kitson's evasion of audience rapport serving to heighten the melancholy. And mixed in there is a bloody good yarn, laden with classic Kitson tropes, but pushed into chillier, more abstract territory by the form.

It's easy to have certain reservations about Kitson's work: he's essentially using well-worn avant-garde devices to pep up a formula he was getting tired of. But then, Beckett never had Kitson's sweetly observational eye, and the combination of the techniques makes for a unique flavour.

Given the point of the show is that our memory of it will degrade, it seems counter-productive to record details of the plot. But 'Analog.Ue' is, in its own way, unforgettable.