Doctor Who: Time Fracture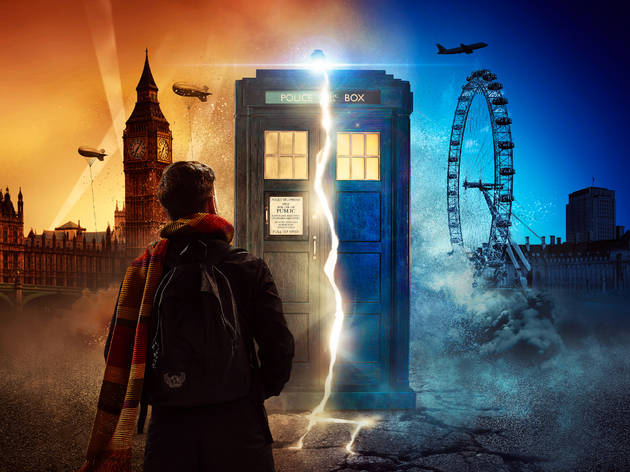 Time Out says
Travel from Blitz-torn London to the depths of time and space in this immersive 'Doctor Who' adventure
This immersive adventure in the company of everyone's favourite Time Lord was first announced in a simpler era. But as you'd imagine with The Doctor, Tom Maller's fully BBC licensed production has been made future proof, ie it'll open in socially distanced form, though fingers crossed that can be dropped as of June 21.
In any case, 'Time Fracture' is an adventure written by Daniel Dingsdale, that starts in London at the heart of the Blitz, when a weapon of unknown origin creates a rift in space-time – and it would appear that it's your job to step in and investigate. Cue a mild peril-filled journey to alien worlds and distant timezones – the trailer strongly suggests that Cybermen and Daleks will be involved.
As you'd expect, there are numerous pre-recorded cameos: Jodie Whittaker's current Doctor, of course, but also Tom Baker, Peter Davison, Colin Baker, Sylvester McCoy and Jo Martin reprising their incarnations, plus Patrick Troughton's son Michael as the Second Doctor, David Bradley as the First Doctor, and unnamed voice actors as the Ninth, Tenth, Eleventh and Twelfth Doctors (suggesting that only the Third, Eighth Doctor and – if you want to be a dick about it – War Doctors are absent). There's also Jemma Redgrave as Kate Lethbridge-Stewart and Jon Culshaw as the Brigadier. Following recent attention drawn to his on set behaviour when filming the show, John Barrowman's Captain Jack has been axed.
Runs Tue-Sun at 6pm, 6.45pm and 7.30pm with matinees Wed, Sat and Sun noon, 12.45pm and 1.30pm.
Details
Venue name:
Unit HQ
Address:
1-8 Davies Mews
London
W1K 5AB

Transport:
tube: Bond Street
Price:
£57-£77, £47-£67 concs
Dates And Times
Unit HQ

£57-£77, £47-£67 concs

Multiple entry times throughout the day

Unit HQ

£57-£77, £47-£67 concs

Multiple entry times throughout the day

Unit HQ

£57-£77, £47-£67 concs

Multiple entry times throughout the day

Unit HQ

£57-£77, £47-£67 concs

Multiple entry times throughout the day

Unit HQ

£57-£77, £47-£67 concs

Multiple entry times throughout the day

Unit HQ

£57-£77, £47-£67 concs

Multiple entry times throughout the day

Unit HQ

£57-£77, £47-£67 concs

Multiple entry times throughout the day

Unit HQ

£57-£77, £47-£67 concs

Multiple entry times throughout the day

Unit HQ

£57-£77, £47-£67 concs

Multiple entry times throughout the day

Unit HQ

£57-£77, £47-£67 concs

Multiple entry times throughout the day

Show more