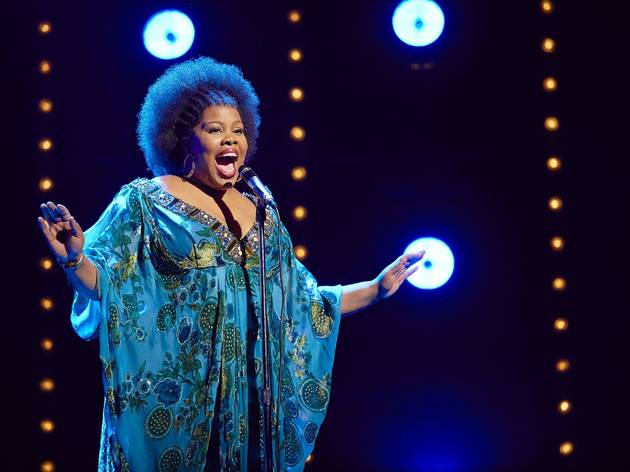 1/12
© Brinkhoff-Moegenburg
AMBER RILEY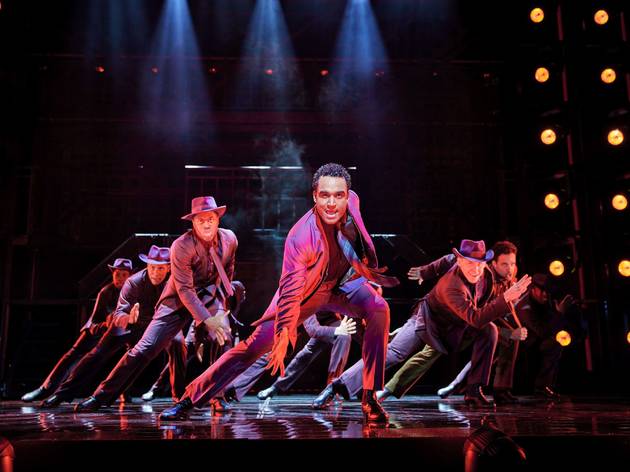 2/12
© Brinkhoff-Moegenburg
JOE AARON REID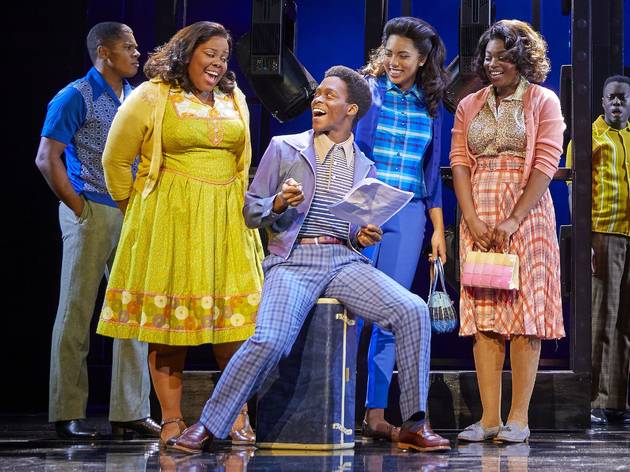 3/12
© Brinkhoff-Moegenburg
AMBER RILEY, TYRONE HUNTLEY, LIISI LAFONTAINE, IBINABO JACK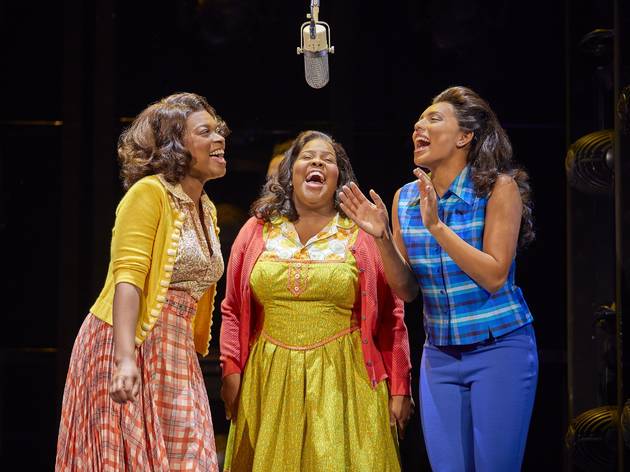 4/12
© Brinkhoff-Moegenburg
IBINABO JACK, AMBER RILEY AND LIISI LAFONTAINE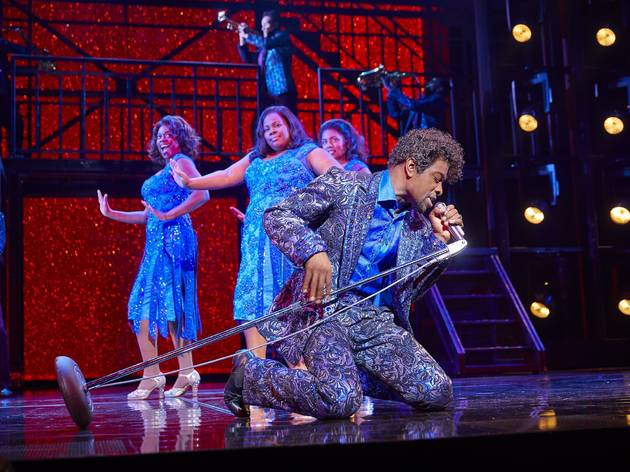 5/12
© Brinkhoff-Moegenburg
ADAM J. BERNARD AND (L-R) IBINABO JACK, AMBER RILEY AND LIISI LAFONTAINE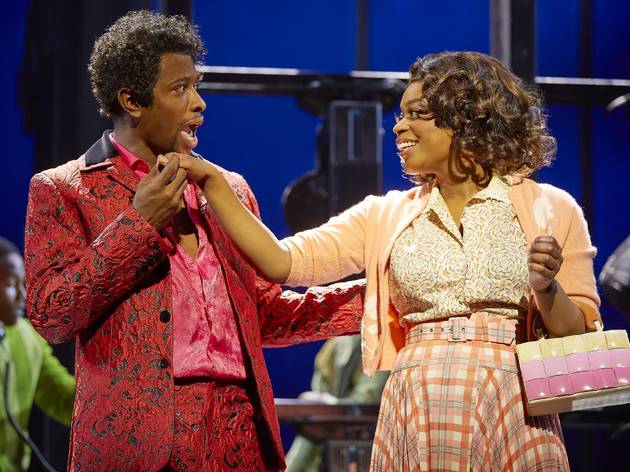 6/12
© Brinkhoff-Moegenburg
ADAM J. BERNARD AND IBINABO JACK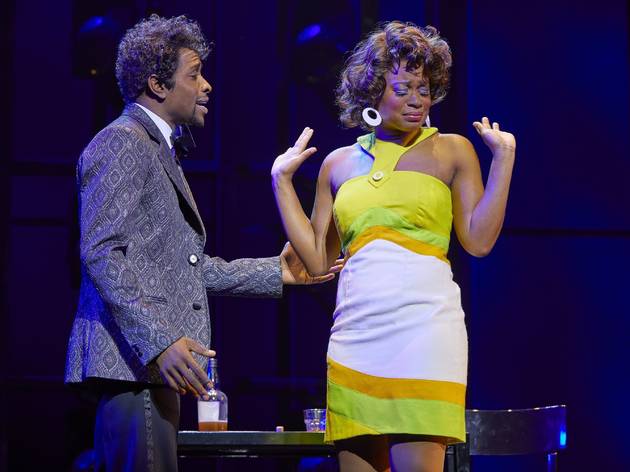 7/12
© Brinkhoff-Moegenburg
ADAM J. BERNARD AND IBINABO JACK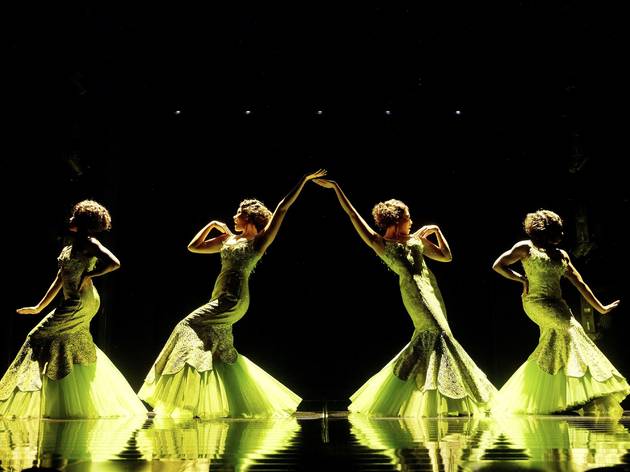 8/12
© Brinkhoff-Moegenburg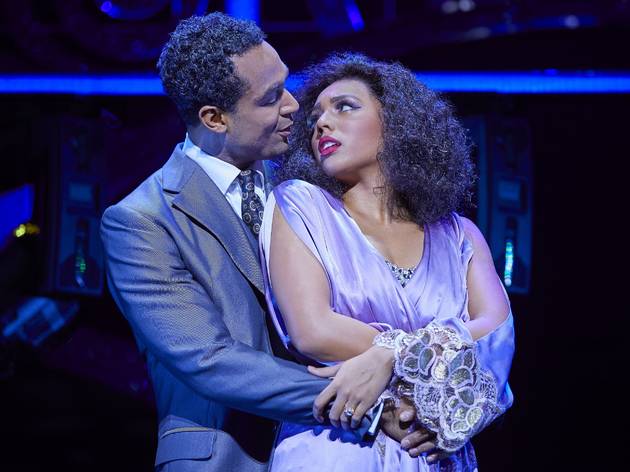 9/12
© Brinkhoff-Moegenburg
JOE AARON REID AND LIISI LAFONTAINE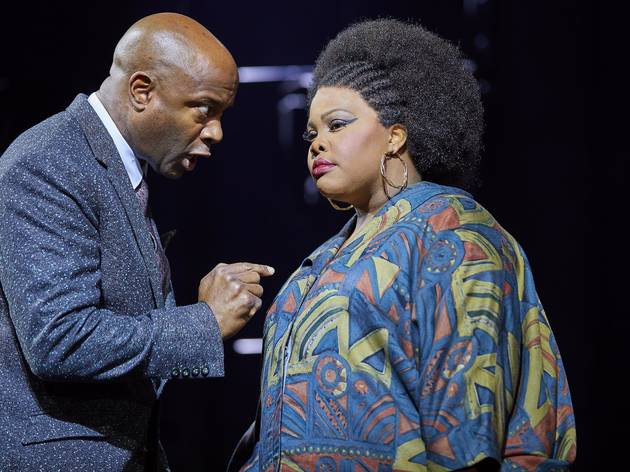 10/12
© Brinkhoff-Moegenburg
NICHOLAS BAILEY AND AMBER RILEY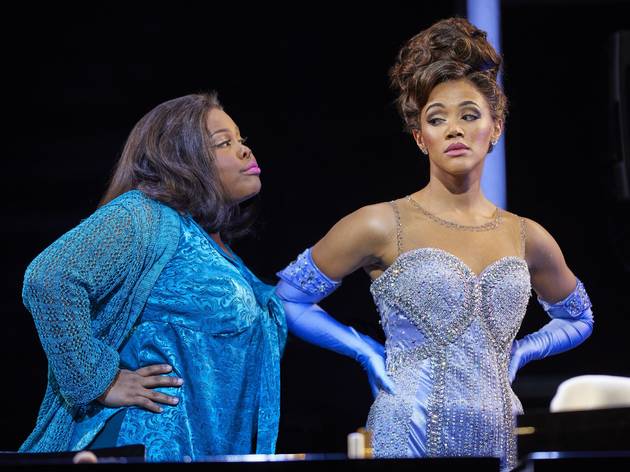 11/12
© Brinkhoff-Moegenburg
AMBER RILEY AND LILY FRAZER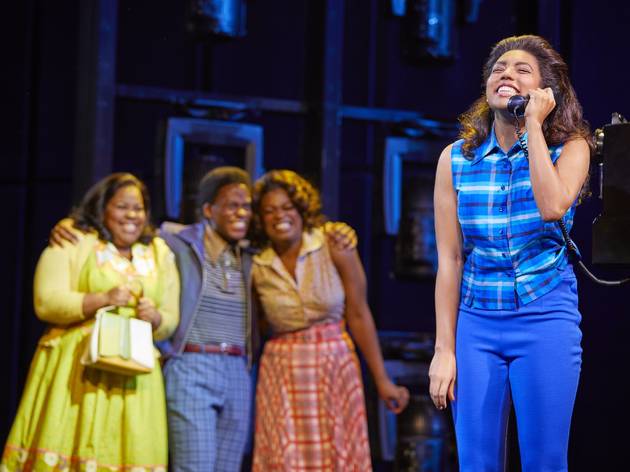 12/12
© Brinkhoff-Moegenburg
AMBER RILEY, TYRONE HUNTLEY, IBINABO JACK AND LIISI LAFONTAINE
Time Out says
Award-winning '60s girl group musical
Motown's girl groups sang about needing love, love. But behind all the sappy stuff there was cold hard cash. Henry Krieger and Tom Eyen's 1981 musical is built on sharp insights into pop's economic realities. And this slick belated UK première, fronted by 'Glee' star Amber Riley and dripping in more Swarovski than a banker's chandelier, doesn't let you forget it.
The plot's not-so-loosely inspired by the story of The Supremes. The Dreams are three African-American teenage girls who sing gorgeous close harmonies in talent contests, until a gig singing back-up for sex symbol Jimmy Early (a cartoonishly hip-rolling Adam J Bernard) brings them closer to the big time. But they're not quite there. Their music is ghettoised on separate charts, and their hits are stolen by milk-white matinee idols.
Director Casey Nicholaw's fast-paced production plunges us right into these backstage frustrations. The Dreams' machiavellian manager Curtis Taylor Jr (Joe Aaron Reid) is waiting in the wings with a plan to get the dough rolling in. It's none-too-subtly implied that leader Effie, played by an astonishingly good Amber Riley, doesn't have the face for stardom – she's relegated to the background, in favour of picture-perfect Deena (Liisi LaFontaine).
In 'And I'm Telling You I'm Not Going', Riley proves what a mistake that is with a stupefying solo – her huge, wracked voice seems to swallow up the room (and blows away all memories of Jennifer Hudson's version in the 2006 movie).
But ironically for a musical that's all about the struggle between authenticity and commercial success, the rest of the original songs tend towards the generic: forget soul, they don't even have the kitschy, jingly magic of '60s hits, or the slick sensuality of '70s disco. And these identikit showtunes aren't helped by an uneven supporting cast and a dazzling tacky production: endless glittery backdrops and crystal curtains, and bright polyester costumes that unleash a little rainshower of sweat when the dancers spin.
Riley's 'No!' is strong enough to stop a freight train. But she doesn't have enough stage time to keep the story of The Dreams' runaway success on track. When she eventually joins them in a diamante-encrusted gown, it's much-needed relief. She's the star here, and she doesn't need the Swarovski to prove it.
This review is from 2016. The current cast of 'Dreamgirls' is Marisha Wallace, Moya Angela, Karen Mav (as Effie White), Brynnyn Lark (as Deena Jones), Asmeret Ghebremichael (as Lorrell Robinson), Joe Aaron Reid (as Curtis Taylor Jr.), and Tosh Wanogho-Maud (as Jimmy Early).
Check offical website for full cast details.
Details
Average User Rating
3.9 / 5
Rating Breakdown
5 star:

9

4 star:

14

3 star:

6

2 star:

3

1 star:

0
Amazing singers as expected but the musical didn't explore the plot in depth. The plot isn't difficult to follow - very cliche and expected even if you don't know the story. The plot is very loosely shown delivered with more focus on the singing. In parts they sang as they acted and I found it difficult to understand.
Dreamgirls = What a treat of an evening.
My mum and I absolutely adore this film so we decided to treat ourselves to a girly night out and Dreamgirls was the perfect thing to do for a feel good, cocktail filled night. The three main girls were all very strong and massively impressive and actually for me over shadowed the male performances on stage, which was quite refreshing. The duet of 'Listen' was the show highlight for me, the harmonies and chemistry between the two girls gave me goosebumps. The dresses made us both 'oooh' and 'awww' during nearly every scene and was a pure feast for the eyes. Jimmys rebellious performance was also a shockingly hilarious scene.
Ideally I would have liked to sit closer, we were in the circle but underneath the celling which I felt took us out of the show a little bit but overall if you're looking for a good fun night out in London, nothing too serious or that takes a lot of work or planning, Dreamgirls is your thing!
Dream girls is such an amazing show! It's all about the voices, the music, the sparkly costumes, being the centre stage and the exciting storyline of love, subtle revenge, fame and friendship. These talented actors each perform fantastically and shine in their limelight. However try get a ticket closer to the stage - the seats in the highest balcony don't have the best views and you can't appreciate the show for all its glory. This musical is a must see and makes you feel great afterwards. The cherry on top is one of Jimmy's rebellious performances..but you'll just have to see it for yourself :)
I went into Dreamgirls with low expectations as it's not the usual type of musical I go for but I was absolutely blown away by Amber Riley's vocals. The sheer power of her voice was amazing. As I hadn't watched the film beforehand, I wasn't familiar with the plot but got quickly lost in the storyline thanks to the superb ensemble. There were plenty of well-deserved standing ovations throughout, I would definitely visit again!
I was the biggest Glee fan, so when the girls suggested we take our friend to see Dreamgirls for her birthday, I was all over it and desperate to see Amber Riley! I loved the film and the show did not disappoint, from the set design, costumes, dance numbers and vocal range, it was all so magical and I enjoyed every single second from start to finish. We were dancing along in our seats and our hearts were singing along, the temptation to belt out the numbers with the cast was overwhelming. I wholehearted recommend seeing this production!!!
If you are looking for a big belter of a West end musical then this is it! I loved the film and was a little hesitant about seeing it live but I needn't have been - it was amazing. Full of drama and music. I loved it. The cast are superb.
"They're your dream girls boys, they'll make you happy"
I have wanted to see this since its inception - I adored Amber Riley in Glee and couldn't wait to see her smash it as Effie White. Luckily, I have a beautiful friend who surprised me with a trip to the Savoy Theatre last night!
The casting director of this show needs a pat on the back and a hearty congratulations, every part was well cast, Riley was incredible, but each and every actor played their part wonderfully and really stood out! Asmeret Ghebremicheal was a real stand out for me, playing Lorrell perfectly.
The staging was simple, yet clever and if you are an ex-drama student like me, you will appreciate the director's use of the small space and lighting to create a fabulous setting, that complimented the script well.
THE SONGS. A lot of them recognisable (even if you haven't seen the film!) and I barely dared to breathe during the belter of a song that is"And I'm telling you..." and also "Listen". Both made me cry like a baby (happy tears? Sad tears? The fact that my lungs were screaming at me to BREATHE? I couldn't decide.)
We went on a very hot day and the theatre was absolutely sweltering, with not much air to breathe in the bar area upstairs either. However, we were also sat in the grand circle and heat does rise - so this probably didn't help. It didn't seem so high up as a lot of other theatres though and I saw the staff helping a lot of people up the stairs etc. The view wasn't too hindered either - except when someone in front of you decided to lean forward!
I would definitely love to see this again and would highly recommend it to anyone who loves a bit of glitz, power ballads and SOUL.
Excellent production. Great flexible set. Fab costumes. Music and singing wonderful. Girl that payed Effie (5th Jan 17) fantastic. She played the character really well. The chap that played Jimmy Early out shone the one in the film version. Looking forward to going again! Would highly recommend.
This was amazing. Amber Riley sings her heart out and wins your soul in the process. The duo with Liisi LaFontaine had us all gasping, it was difficult to believe that was happening right in front of us. The theme is powerful, the narrative is done in an old school style which I found the right approach considering the time-frame in which all this happens. Choreography is tight, I mean seriously tight, it doesn't get more slick. Solid singers, performances that had spontaneous standing ovations mid-show (I counted 3), this is the best thing on the West End right now, and possibly at any end.
Amazing - this is the best musical I have seen since Book of Mormon. Electric performances - the whole theatre gave the cast a rapturous standing ovation at the end. Want to see it again!

WOW!! What a show, you know you are watching something special when there are 2 standing ovations during each half of the show as well as a 3rd at the curtain call. Amber Riley is spectacular and the rest of the cast are fantastic. Could be one of the best shows I have ever seen. Very lucky to have seen this in preview as I am sure when this opens fully it will be very hard to get a ticket! Great staging and a wonderful night out. Still getting goosepimples as I think about it! AMAZING!