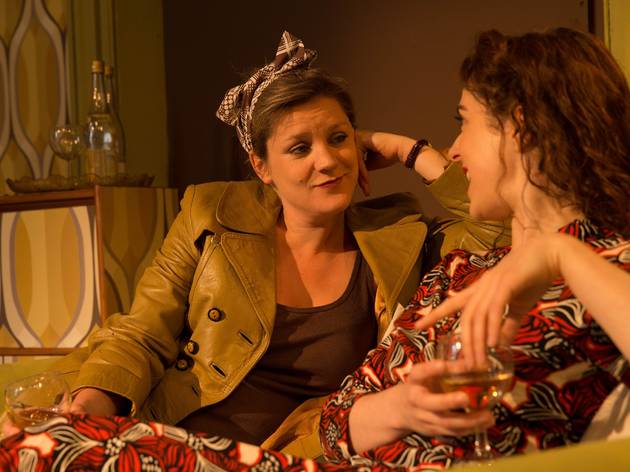 1/5
© John Watts
2/5
© John Watts
3/5
© John Watts
4/5
© John Watts
5/5
© John Watts
A little wormhole in time has been opened at the Finborough, so we can drop in on messy gender relations in the mid '70s. The mode of transport is Pam Gems's breakout play of 1975, which is a snapshot of four women sharing a London flat – decorated in wavy orange and brown geometrical wallpaper like a bad acid flashback.
Dusa is getting divorced but is left distraught when her husband runs off with the kids. Fish the rad-fem landlady is still madly in love with the fellow activist who dumped her. And Stas is busy saving to study marine biology in Hawaii by working at an escort agency, while Vi is a vulnerable runaway suffering from anorexia.
They are a tight coven of women who would be considered unremarkable today, but at the time were assuredly defiant – 'shacking up in dyke alley' as Fish says. Most striking is how Gems's fluid, even rambling play shows more heart than head, more feeling than structure. It's a commemoration rather than a call to arms, a work that speaks not so much as trailblazing bra-burning, but as an elegy for lost idealism of a period when women campaigned for paid maternity leave.
Much of the action is quite mundane – waiting for the phone to ring and shake things up. But it's tremendously subtle too, leaving a great deal unspoken. Helen Eastman's direction, heavily accessorised with period detail, seeks out the intensity of the women's experience but sometimes misses the intensity between them.
As Fish the mother hen, Olivia Poulet dwells more on her character's pathos than her political charisma, but is as emotionally candid as Sophie Scott agonising over the fate of her children. Emily Dobbs is a deliciously poker-faced call girl and Helena Johnson is a snarling but vulnerable stray.
Four women who dared step out of line: they are a moving challenge from history to the botox conformism of today.
By Patrick Marmion