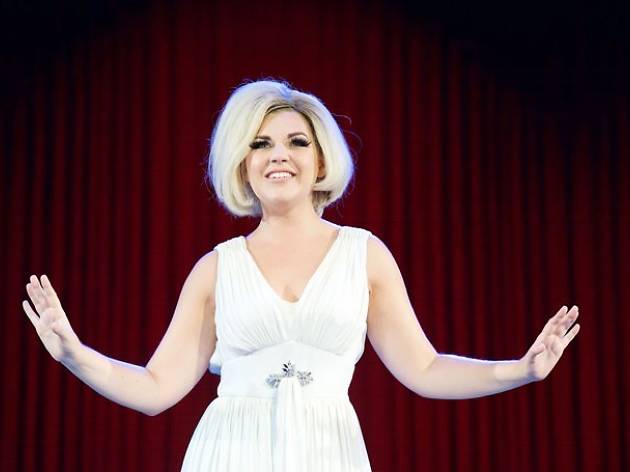 Despite the longest preview period in London theatre history, this Dusty Springfield musical is almost supernaturally awful
This tech-heavy musical about beehived British soul singer Dusty Springfield – which draws mainly on her catalogue of '60s hits – has had almost as troubled a life as its subject. Since previews began at Charing Cross Theatre 14 weeks ago, it has lost nine performers (including its original lead) and is on to its third director. But has it been worth it? Sadly, in a word, no.
To be honest, everything feels so misconceived, it's doubtful that all the time in the world could have saved this show from being the car-crash that it is. For example, pity Alison Arnopp, who finds herself in the unique position of fighting for stage time with the dead woman she's supposed to be playing. Whether it's archive footage or a freaky, 3D hologram Dusty – swaying jerkily centre-stage, as if resurrected into some digital purgatory – we're frequently left to clap a video screen.
But leave aside the bizarre way that Arnopp is shunted off stage seemingly every time she changes costume and draws breath to sing; and look past the flimsy choreography, cheap-looking multimedia set and audio production that makes the live band sound pre-recorded. What really sinks this show is that it gives us no insight into the talented and complex woman it's about. Framed by an interview with a fictional friend, this is biography-by-numbers.
We move perfunctorily from Dusty's west London childhood to New York and, ultimately, her success with 'Dusty in Memphis' (which featured 'Son of a Preacher Man') like a weary, box-ticking exercise. And the effect of her closeted gay love life is squandered on emotionally meaningless duets with characters introduced just moments before. And these aren't even staged well, with the glorious, overblown excess of 'I Close My Eyes and Count to Ten' thoroughly wasted here.
So much of the interesting stuff – like her late-stage resurgence with the Pet Shop Boys – is left out by this tepid tribute, which adds nothing. Before I went into the show, I was pondering lyric-based puns I could use in this review. Afterwards, I decided to leave them out. Dusty Springfield had suffered enough.
BY: TOM WICKER