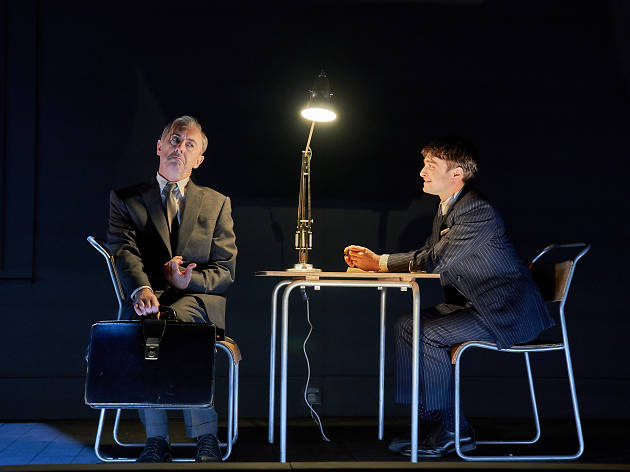 1/7
Photograph: Manuel Harlan
Alan Cumming (B) and Daniel Radcliffe (A)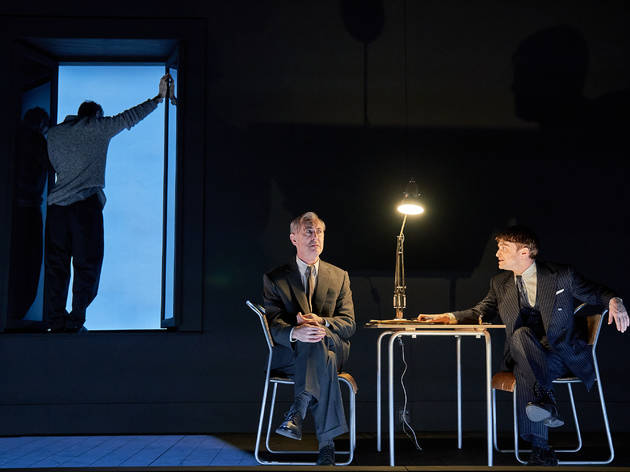 2/7
Photograph: Manuel Harlan
Alan Cumming (B) and Daniel Radcliffe (A)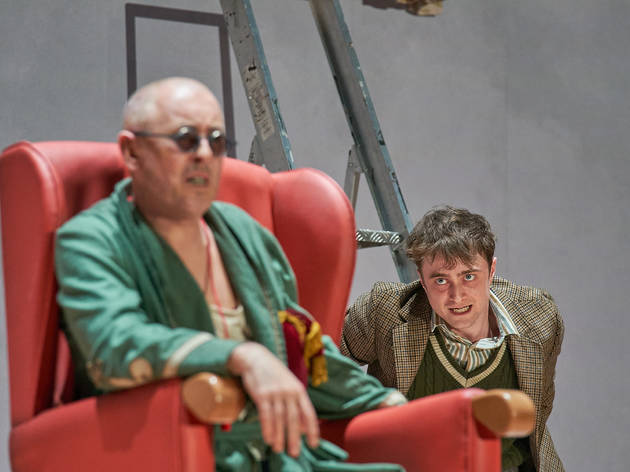 3/7
Photograph: Manuel Harlan
Alan Cumming (Hamm) and Daniel Radcliffe (Clov)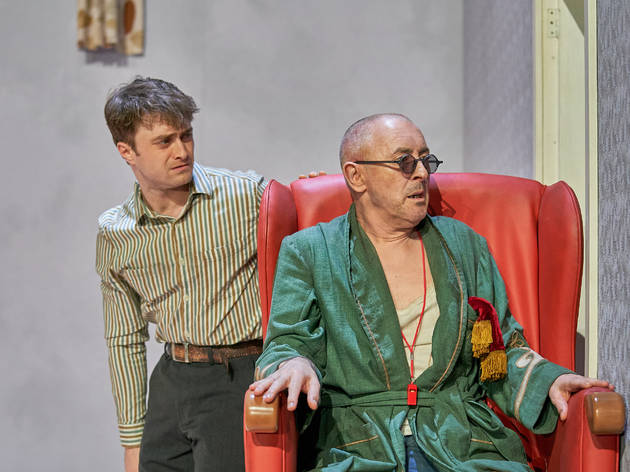 4/7
Photograph: Manuel Harlan
Alan Cumming (Hamm) and Daniel Radcliffe (Clov)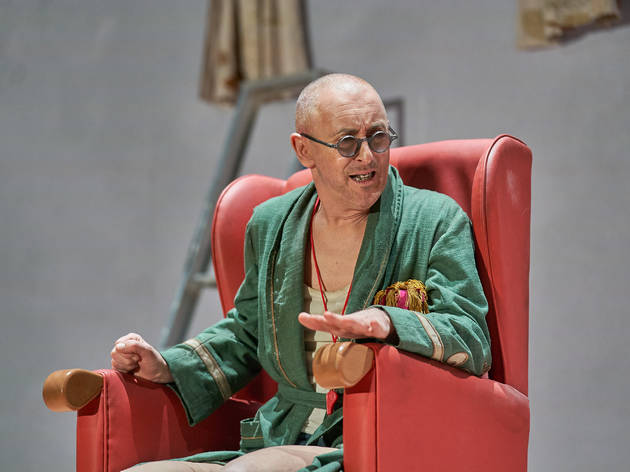 5/7
Photograph: Manuel Harlan
Alan Cumming (Hamm)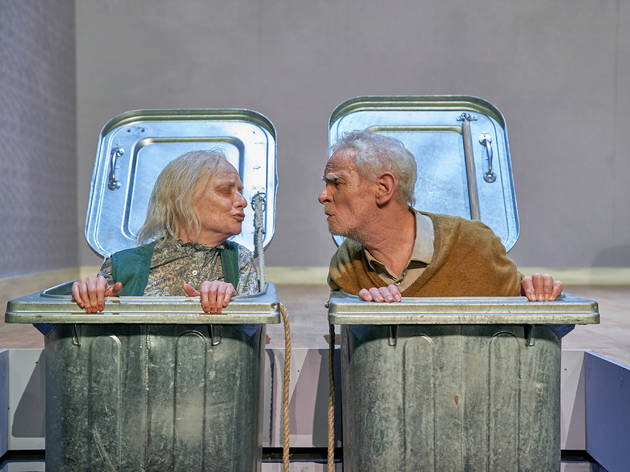 6/7
Photograph: Manuel Harlan
Jane Horrocks (Nell) and Karl Johnson (Nagg)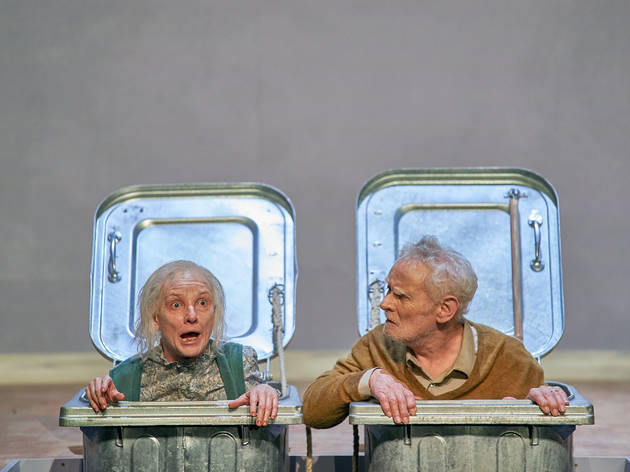 7/7
Photograph: Manuel Harlan
Jane Horrocks (Nell) and Karl Johnson (Nagg)
Time Out says
Paired with a brilliant Alan Cumming, Daniel Radcliffe shows off his gifts for physical comedy in this uncharacteristically fun night of Beckett
The last two weeks of 'Endgame's run have been cancelled due to the coronavirus outbreak
For somebody who'll forever be known as a wizard, Daniel Radcliffe is a pretty formidable clown. And if his entire stage career tends to feel like a reaction to his 'Harry Potter'-bestowed fame, then he's found his perfect match in Samuel Beckett, whose weird, technically precise works give him something meaty to commit to, while allowing him to continue to duck anything that looks even slightly like a conventional star vehicle. And he's found his perfect foil in the marvellous Alan Cumming, who is more than happy to turn in the sort of flamboyantly scenery-chewing audience-pleaser of a performance that Radcliffe is clearly wary of.
In this double bill of Richard Jones-directed Beckett, Radcliffe's physical prowess is most plainly manifested in 'headline' show 'Endgame', a grotesque study in mutual need in which Radcliffe plays the resentfully servile Clov, who exasperatedly answers the whims of Cumming's blind, atrophied Hamm. He's a physical marvel, vaguely recalling a particularly existential spin on a Monty Python Gumby, as he clumps and clonks about the stage, sliding bizarrely down a stepladder as if he has no idea what a stepladder is or what it's supposed to do.
In the night's shorter, opening piece, the lesser-known 'Rough for Theatre ll', he plays it straighter – again opposite a more ostentatious Cumming turn – as A, the perkier, more professional member of what would appear to be a pair of ghostly bureaucrats, conducting a report on the silent C (Jackson Milner) while he prepares to jump to his death. As they officiously run through a mountain of admin, neither of them exhibit a jot of compassion, instead distracted by their own daft psychodrama, as Cumming's B mopes and moans and fusses over his desk lamp. But Radcliffe does one remarkable physical thing: a full-on standing jump that propels him right up into the window ledge C is standing on, twisting himself along the way so that he's staring up at the man's frozen face – it's a startling and funny moment that needs terrific physical chops.
Radcliffe's clowning and Cumming's verbal showboating make for a funnier-than-usual airing for these plays. 'Endgame', in particular, can be far more ominous and chilly; here it almost has the air of a surrealist sitcom about a dysfunctional family (rounded out by Karl Johnson and Jane Horrocks as Hamm's wheelie-bin-dwelling parents Nagg and Nell).
But the work is robust enough to handle the laughs. Here, Jones makes difficult theatre entertaining, and also relevant – never a guarantee with Beckett, whose posthumous insistence on precise revivals can easily drift towards the museum piecey. Morbid and strange as they are, both plays are very clearly about lives that have fallen apart through the cracks of society. C is alone, adrift, abandoned; Hamm and family are so cut off from the real world that they've descended into bizarre co-dependent rituals to distract themselves from the awfulness of it all. I don't think Beckett was trying to pass any great social comment. But certainly in these endless years of austerity, it's easier to appreciate the underlying humanity here, and sense a genuine concern for those cut adrift that goes beyond merely using their sad lives for a spot of abstract grotesquery.
Radcliffe is clearly not interested in the sort of Big Acting roles that hoover up awards. But he's parlayed his 'Potter' fame into the sort of work he loves – and he's damn good at it.
Details
Best selling Time Out Offers