'Everybody's Talking About Jamie' review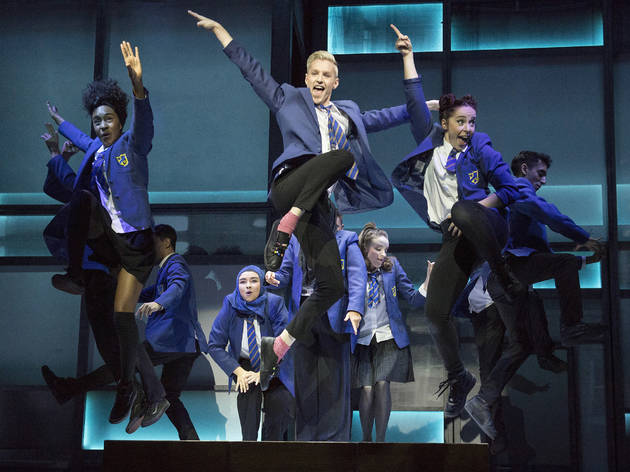 1/6
© Alastair Muir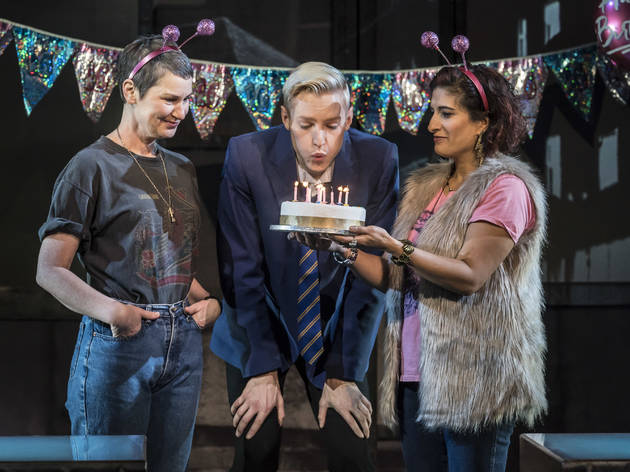 2/6
© Johan Persson
Josie Walker (Margaret New), John McCrea (Jamie New) and Mina Anwar (Ray)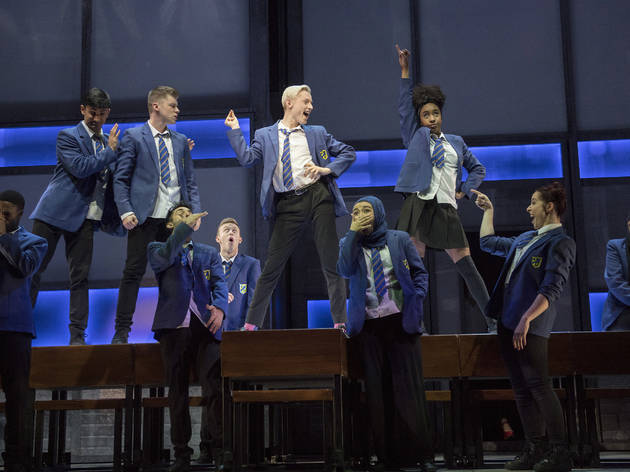 3/6
© Alastair Muir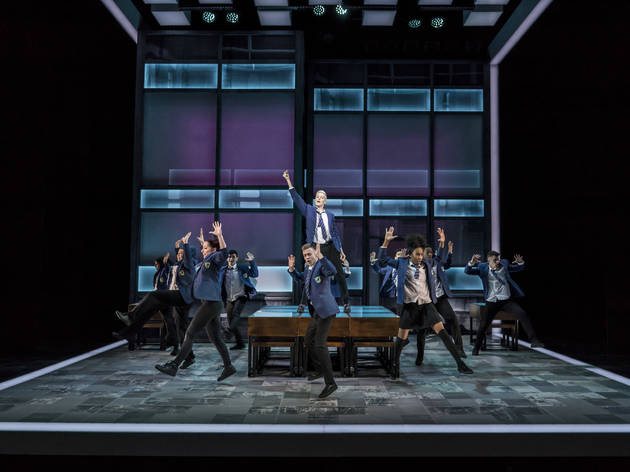 4/6
© Johan Persson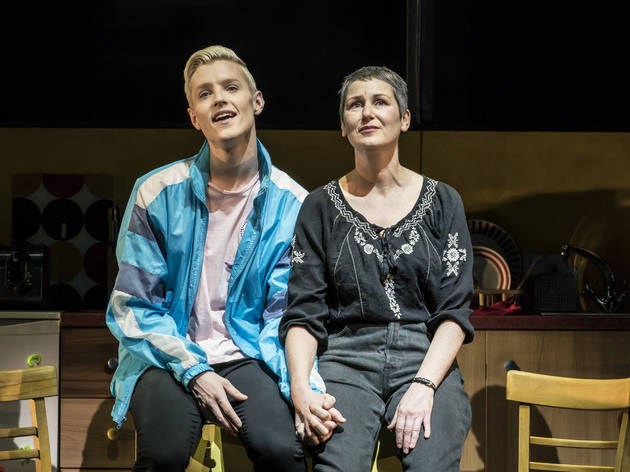 5/6
© Johan Persson
John McCrea (Jamie New) and Josie Walker (Margaret New)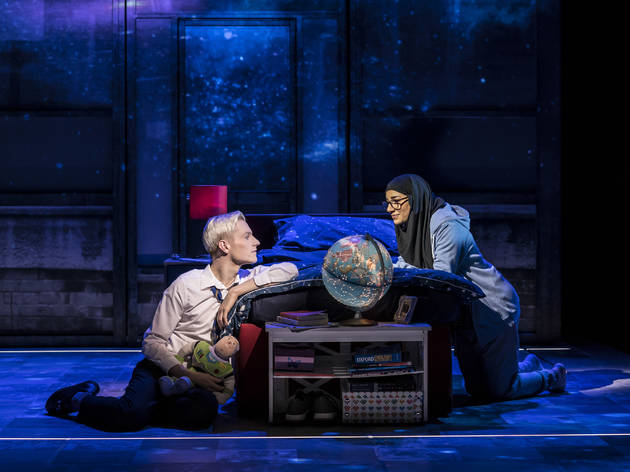 6/6
© Johan Persson
John McCrea (Jamie New) and Lucie Shorthouse (Pritti Pasha) 
This staggeringly enjoyable musical about a teen drag queen transfers triumphantly to London
'Everybody's Talking About Jamie' is a burst of joy in the heart of the West End. This new British musical, transferring from the Sheffield Crucible, is the real deal. Watch out, tired revivals: there's a new kid in town.
Inspired by a 2011 BBC documentary about a teenager who wanted to be a drag queen, the show follows 16-year-old Jamie on his journey to be himself – out of a classroom in a working-class part of Sheffield, away from the bigotry of a deadbeat dad, and into high heels.
Director Jonathan Butterell's production is a high-impact blaze of colour, combining video projections with seamless scene changes and a live band above the stage. It captures the frenetic energy of being a teenager.
Every element of this show works beautifully together. The music, by The Feeling frontman Dan Gillespie Sells, is a deft mix of irresistibly catchy, pop-honed foot-tappers – try not to hum 'And You Don't Even Know It', I dare you – and truthful, heart-wrenching numbers.
This is Sells's first foray into writing for musicals, but he's always excelled at telling stories in song.
He is matched by the show's writer and lyricist Tom MacRae. Apart from notable exceptions like Punchdrunk's 'Doctor Who'-themed kids' show 'The Crash of Elysium', he's largely written for TV, but this works well here. His dialogue is punchy, funny and often lands with a sting.
While most of the characters exist to orbit Jamie, they still have their own stories and these are crisply told. As Pritti, Jamie's best friend who wants to be a doctor, Lucie Shorthouse is funny and affecting.
Josie Walker is superb as Margaret, Jamie's mum, who's raised him alone. She pours her heart into the spine-tingling 'If I Met Myself Again'. Mina Anwar, meanwhile, lights up the stage as her no-shit-taking bezzie, Ray. Family means a lot of different things here.
And at the show's heart is a star-making turn by John McCrea as Jamie, the queen-in-waiting. Charismatically sharp and sassy during the showstoppers, pulse-racingly choreographed by Kate Prince, he deftly reveals the ache of vulnerability behind his character's catwalk strut.
Sells and MacRae craft a world that bubbles with hope but doesn't ignore its hardships. Jamie and his classmates face a society beaten down by broken relationships and poverty, that tells them there's no point trying.
But 'Everybody's Talking About Jamie' is too fabulous to be a pity party. It's a joyous punch in the air about following your dreams and being yourself. 'Life-affirming' is generally an over-used term, but not here. This production owns the stage.
This review is from 2017. The current cast features Rebecca McKinnis (as Margaret New) and Shobna Gulati (as Ray). 'RuPaul's Drag Race' judge Michelle Visage will join the cast as Miss Hedge from October 18 to January 26. Layton Williams takes over the lead role of Jamie from January 28 2019. Check the official website for full cast details.
Venue name:
Apollo Shaftesbury
Contact:
Address:
31
Shaftesbury Avenue
London
W1D 7EZ

Transport:
Tube: Piccadilly Circus
Price:
£10-£65. Runs 2hr 40min
Average User Rating
4.6 / 5
Rating Breakdown
5 star:

36

4 star:

10

3 star:

3

2 star:

1

1 star:

0
I saw this show on 5 March and really enjoyed it. It's an original musical with some really good songs and story. John McCrea is terrific as Jamie and Josie Walker has a beautiful singing voice and can give meaning to a song. There are a lot of important social issues covered in the show in a subtle and well done manner; not just about Jamie wanting to be a drag queen, but the choices that people make that effect their lives when they get older. This show is worth seeing.

Such a feel good show! Especially for young people. It gives you the confidence to be who you are and that being "different" is actually empowering. John McCrea is absolutely phenomenal, it's as if he was born to play the role of Jamie, and his best friend Pritti played by Lucie Shorthouse made me feel like I want to go out and be the most powerful women I can be! There were so many other great performances by some very talented people but I don't want to go on! Everyone must see it, definitely if you need cheering up or want to boost your self confidence!
We liked the general story of the musical and the very positive messages it's conveying, but you've got to be kidding me if you think the show merits 5 stars. It was a severe disappointment given all the positive reviews from both Time Out and other users. Did we see the same musical?? It had some nice bits, and we loved the diverse characters. But there was really nothing memorable when it comes to the music. Not a single song stuck in our mind as we left the theater. For example, we we felt "He's My Boy" which is intended to be an emotional high point, was major lyrical miss.
As far as the plot / story is concerned, it was pretty underwhelming. Maybe it was true to life, but it comes across as very light in terms of depth of real drama. Perhaps the real-life Jamie had it this easy with peer acceptance (save one student character), but I'd say that's far from the reality the vast majority of transgenders experience.
Don't bother. As reviewer Josie says, there are far better shows to see.
Utterly joyous! John McCrea is mesmerising as our eponymous hero/ine. He was born to do this role & it's really hard to imagine another actor as his character. Fabulous characters bought to life by an amazing cast, witty script & toe tapping tunes. This is contemporary musical perfection. I laughed, I cried & I want to see it again. One of this years must see productions
Snap up exclusive discounts in London
Time Out's handpicked deals — hurry, they won't be around for long...