Heads up! We're working hard to be accurate – but these are unusual times, so please always check before heading out.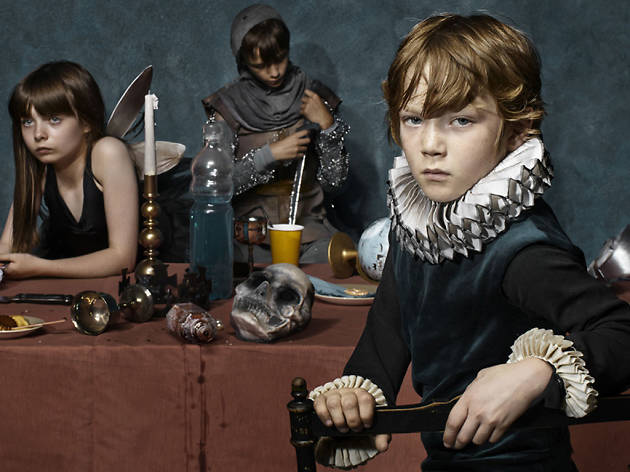 Everything you wanted to know about 'Hamlet' (but were too worried about looking like a pleb to ask)
Furiously excited about Benedict Cumberbatch's 'Hamlet' at the Barbican but no idea why there's such a big fuss about William Shakespeare's play? Here's a cheat sheet
What is the big deal with 'Hamlet' at the Barbican?
It's the single greatest piece of literature in the English language, is what.

But is it, though?
It's got as good a claim as anything else.
Why?
Shakespeare's longest play is widely regarded as his masterpiece, and after four centuries it's become so entwined in our culture and language that it's almost impossible to imagine a world without it. There are many reasons why 'Hamlet' is great, but perhaps the most irrefutable one is that aeons of belief in its greatness have made its greatness an indelible cornerstone of a society that has been shaped by its words and morality. It is as important a story as the Bible, or 'A Christmas Carol', or the origin of Batman.
RECOMMENDED: 'Hamlet' at the Barbican guide

What the cock are you talking about? What's the plot?
Danish prince Hamlet meets his father's ghost, who reveals he was murdered by Claudius, now installed as Hamlet's stepdad. Hamlet resolves to have violent revenge, but he takes his sweet time about it, and as a result basically ruins the life of everyone else in Denmark.

And what's good about that? Are there explosions?
It's a sprawling philosophical revenge thriller that manages to interrogate the nature of life, death, sanity, madness, love and what it is to be human, while packing in probably Shakespeare's most gripping and memorable plot and characters. It is by any measure one of the greatest works of poetry ever written in any language. It is endlessly adaptable. And the colossal title role is regarded as pretty much the summit of stage parts: once you've done this, you're made.

Oh right, any big names doing it anytime soon?
Yes, Benedict Cumberbatch at the Barbican, August 5-October 31.

The same Benedict Cumberbatch who plays Sherlock??? I love that guy! I'm going to go out and buy me a ticket.
Ha ha… no. Cumberbatch is probably the most famous British actor in the world right now, and 'Hamlet' sold out instantly when the tickets went on sale last August.

Surely there is some way in?
Actually yes: 30 £10 tickets for each performance will go on sale from the Barbican box office (in person only) at 10am each day. But be warned: they'll probably be quite popular. There were apparently people queuing 48 hours for to get day-seats for 'Jerusalem' and you can only imagine this will be worse.

Neato. So will it be any good?
Almost certainly: Cumberbatch was a hugely accomplished stage actor long before he ever achieved screen fame. The director, Lyndsey Turner, is the hottest rising star in the country. And the rest of the cast is pretty exemplary, with Anastasia Hille as Hamlet's mum Gertrude and Ciaran Hinds as Claudius, plus loads of other marvellous thesps.

When you say it's Shakespeare's longest play…
The rarely performed full and unexpurgated version is over four hours. Apparently this will be more like three (including one interval), which is pretty light as 'Hamlet' goes – slightly shorter than 'Les Mis' , to put it into some perspective.

Let's say I can't be bothered to queue up for tickets in the morning – is there any other chance of seeing it?
Yes! 'Hamlet' will be screened live to cinemas globally on Thursday October 15 as part of NT Live. Even then, you're advised to book well in advance, though if 'Frankenstein', Cumberbatch's last NT Live excursion is anything to go by, you'll probably be able to watch repeat screenings of 'Hamlet' for years (if not decades).
Sounds great: good niiiiight sweet prince!
'Hamlet' theatre and cinema screenings
There are 30 £10 day-tickets available for each performance of 'Hamlet', which can only be bought in person from the Barbican box office on the morning of the performance (two per person max). The box office opens at 10.30am, though you'll have to get down much earlier.
From the comfort of your local cinema, you can watch 'Hamlet' screened live from the Barbican Theatre. It's almost as good as watching the real thing. Don't miss also the Encore (not live) screening late in the month. The show itself is directed by Lyndsey Turner with Cumberbatch being joined on stage by Ciaran Hinds as Claudius, Sian Brooke as Ophelia and Anastasia Hille as Gertrude.