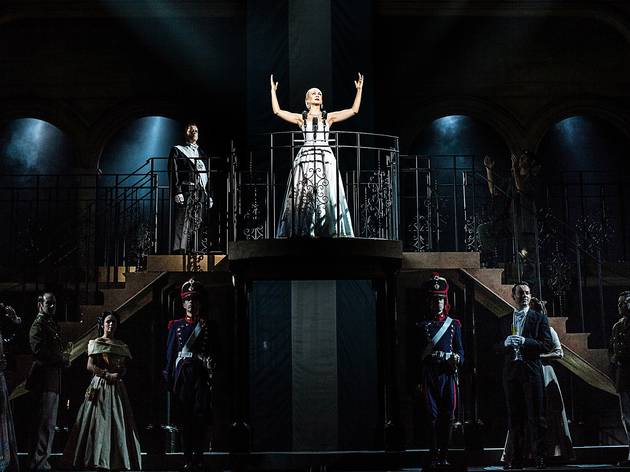 1/3
© Darren Bell
Madalena Alberto (Eva)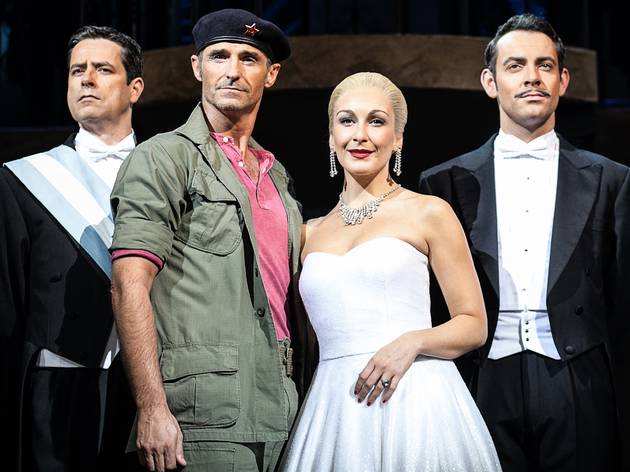 2/3
© Darren Bell
Matthew Cammelle (Peron), Marti Pellow (Che), Madalena Alberto (Eva) and Ben Forster (Agustin Magaldi)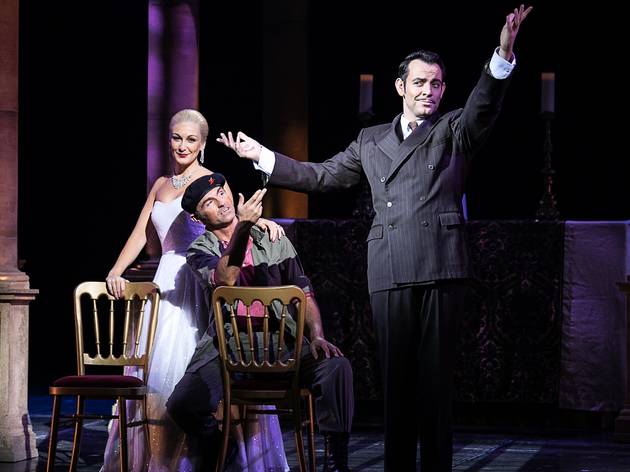 3/3
© Darren Bell
Madalena Alberto (Eva), Marti Pellow (Che) and Ben Forster (Agustin Magaldi)
The touring production of Andrew Lloyd Webber and Tim Rice's hit musical arrives in the West End with Marti Pellow as Che and Madalena Alberto as Eva Peron.
Don't cry for me, Time Out readers. For my money, 'Evita' is Tim Rice and Andrew Lloyd Webber's best work. Musically and lyrically dextrous, with a bagful of classics like 'Another Suitcase in Another Hall', its cynical edge still cuts through the feel-good white noise of most other big-number West End blockbusters.

But for all of its spectacle, this slickly choreographed revival – which launches a spruced-up Dominion Theatre back into the world – often feels empty. There's a machine-like efficiency to Bob Tomson and Bill Kenwright's direction as the show rewinds to tell the remarkable story of Eva 'Evita' Perón, starting from her state funeral and working backwards.

And it is remarkable. Rice and Lloyd Webber set the tale of Perón's determined – sometimes ruthless – rise from small-town actress to beloved First Lady of Argentina against a backdrop of overwhelming contempt and hostility from a chattering middle-class and aggressively misogynistic military.

What's missing from much of the first half is real passion. As scripted, narrator Che is there to point out the murky reality beneath the stage-managed sheen of 'saint' Eva's ascent. But in the role, Marti Pellow (whose accent wanders all over the place) is just wet, wet, wet. He fades when he needs to blaze.

It's a shame, because a talented Madalena Alberto deserves a better sparring partner. She really comes into her own after the interval – superb as a fiery but vulnerable Eva, powering through songs like 'You Must Love Me' with raw desperation as her health falters. She, at least, is every inch the star this show needs.