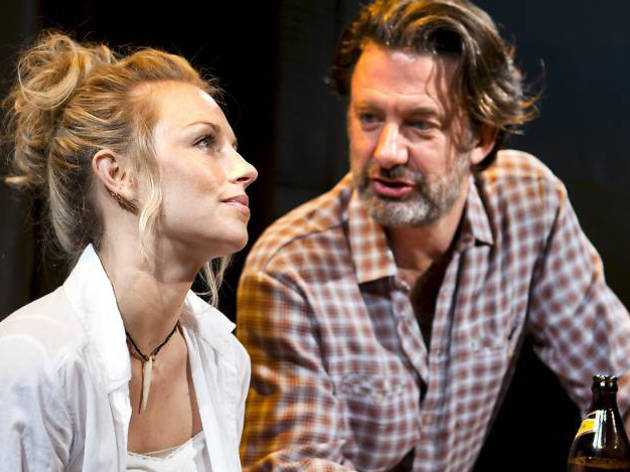 Time Out says
Friendly warning! We're working hard to be accurate. But these are unusual times, so please check that events are still happening.
There's some spendidly provocative stuff in this slightly loopy post-colonial satire debut from Kenyan writer Sally Woodcock.
In a bar somewhere in Kenya, middle-aged, dishevelled white farmer Roger (Jay Villiers) cracks on to gorgeous, posh English PhD student Ronnie (Jessica Ellerbsy), who has been studying the dirt-eating practises of certain isolated tribes.
Amazingly, Roger's shambolic seduction technique is so effective that within a few days a pregnant Ronnie has moved on to his farm. Only problem is, Roger has also knocked up his black, HIV-positive house girl, Regina (Kehinde Fadipe), though he cravenly lets Ronnie think the father is one of the British squaddies who raped Regina some time ago.
Soon, though, we're left feeling sorry for the well-meaning Roger, as an increasingly loony tunes Ronnie pours her trust-fund wealth into turning his family home into a dairy farm, while dropping increasingly strong hints that her African adventure may be entirely motivated by guilt at aborting the child of a former black lover.
Charming, ridiculous and awful, Villiers and Ellersby are superb, while Woodcock's writing is daring, assured and often stingingly funny in this tale of a guilt-stricken Western do-gooder who wreaks as much havoc as many a colonial adventurer.
The weak link in Gareth Machin's engrossing production is Fadipe's Regina: her common sense, stoicism and victim status leave her with a saintly dullness but little in the way of a personality – she didn't need to be this worthy to be more sympathetic than the white folks.
Details