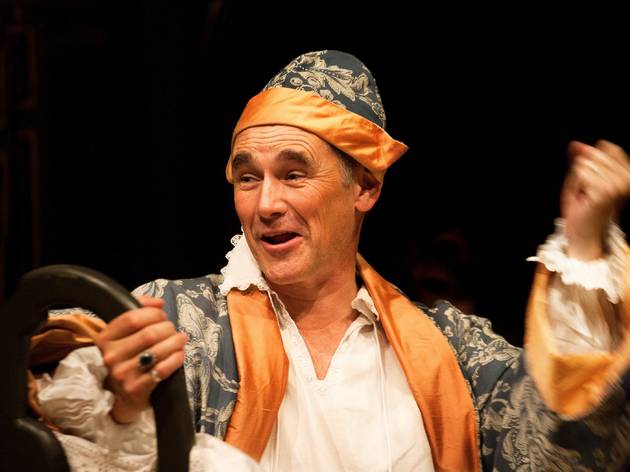 1/12
© Simon Annand
Mark Rylance (Philippe V)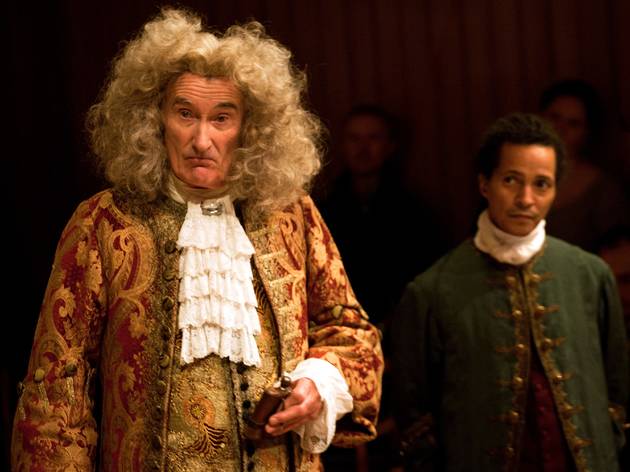 2/12
© Simon Annand
Edward Peel (De La Cuarda) and Huss Garbiya (Doctor Jose Cervi)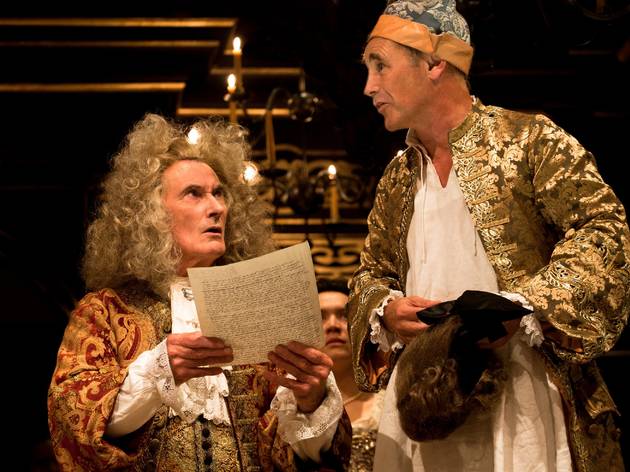 3/12
© Simon Annand
Edward Peel (De La Cuarda) and Mark Rylance (Philippe V)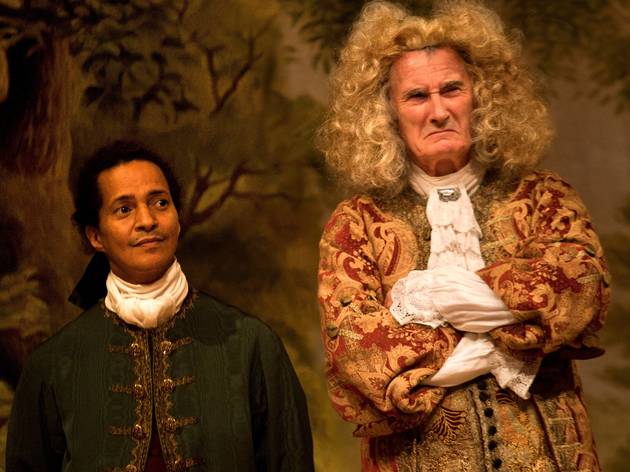 4/12
© Simon Annand
Huss Garbiya (Doctor Jose Cervi) and Edward Peel (De La Cuarda)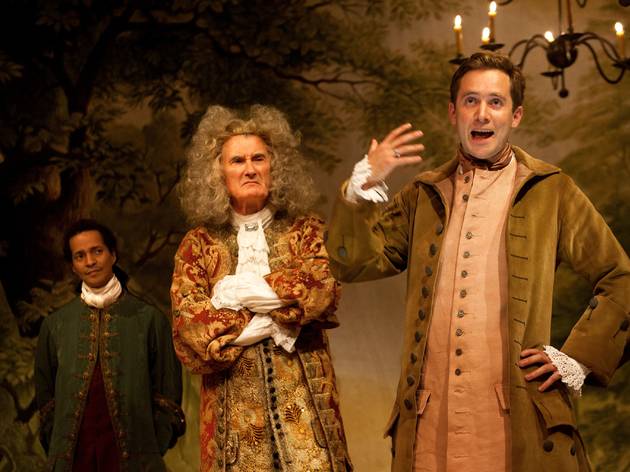 5/12
© Simon Annand
Huss Garbiya (Doctor Jose Cervi), Edward Peel (De La Cuarda) and Sam Crane (Farinelli)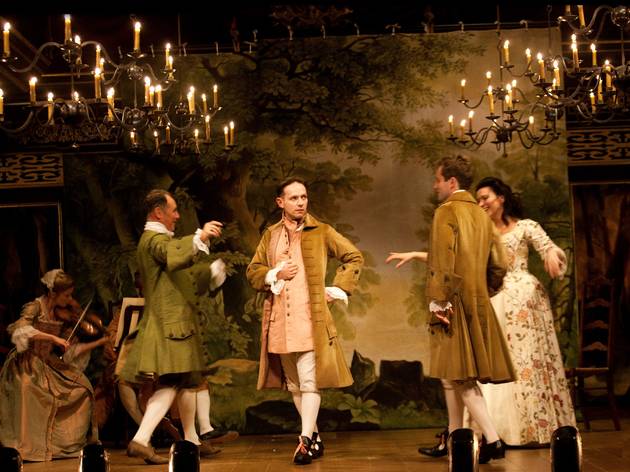 6/12
© Simon Annand
Mark Rylance (Philippe V) Iestyn Davies (Farinelli - singer), Sam Crance (Farinelli) and Melody Grove (Isabella)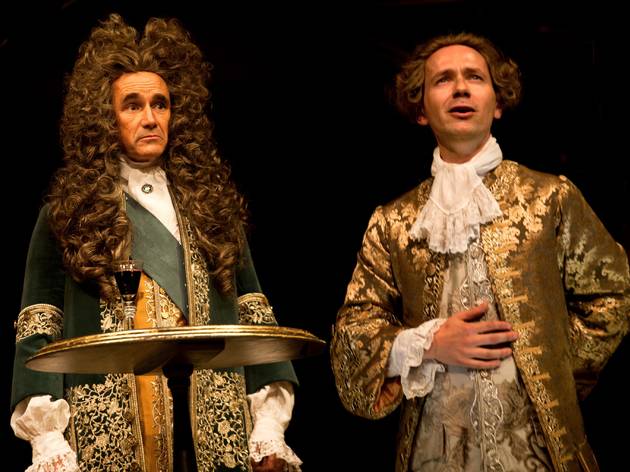 7/12
© Simon Annand
Mark Rylance (Philippe V) and Iestyn Davies (Farinelli - singer)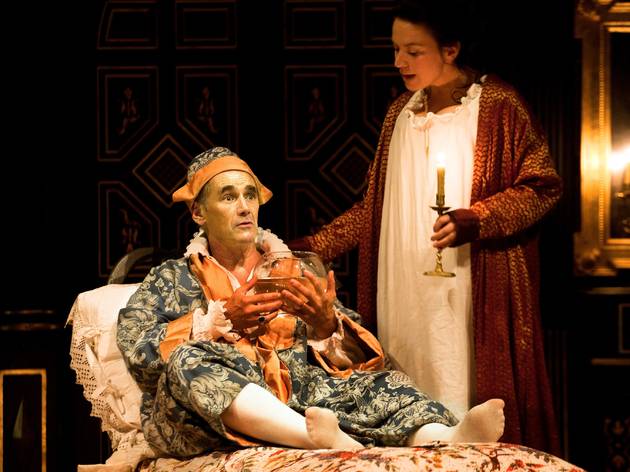 8/12
© Simon Annand
Mark Rylance (Philippe V) and Melody Grove (Isabella)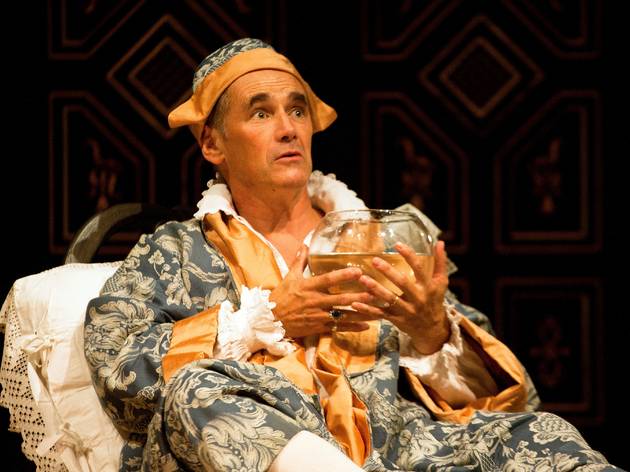 9/12
© Simon Annand
Mark Rylance (Philippe V)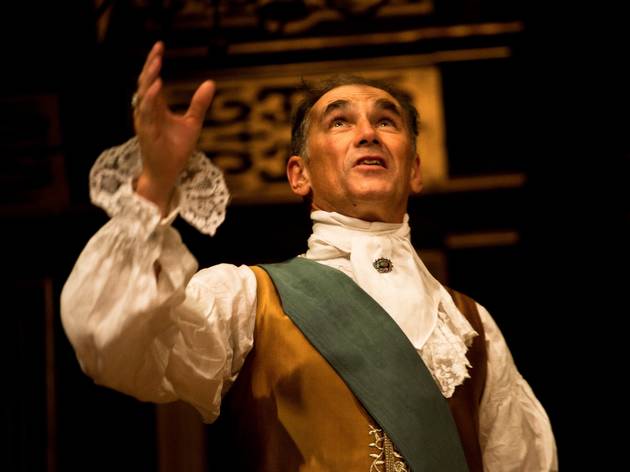 10/12
© Simon Annand
Mark Rylance (Philippe V)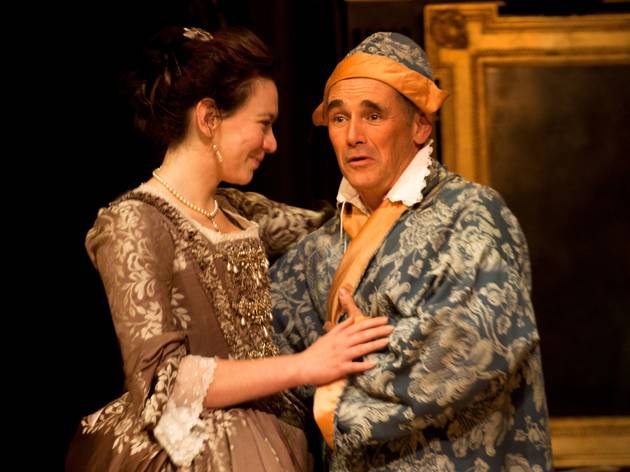 11/12
© Simon Annand
Melody Grove (Isabella) and Mark Rylance (Philippe V)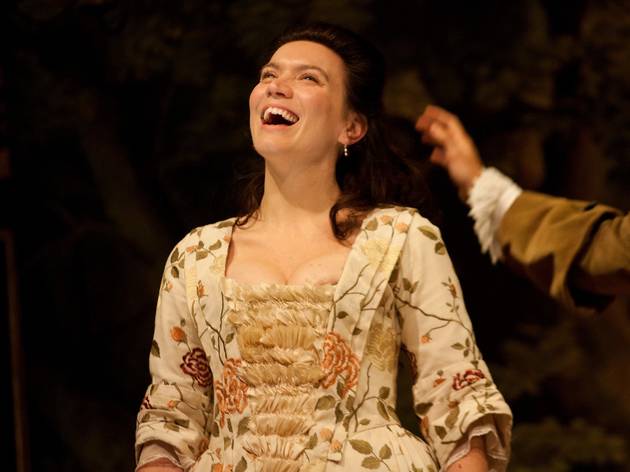 12/12
© Simon Annand
Melody Grove (Isabella)
Mark Rylance returns to star in new play with music 'Farinelli and the King'
If music be the food of love then 'Farinelli and the King' is a delicatessen of exquisite delights, in which the prime cut is the sensual richness of countertenor Iestyn Davies's voice. Claire van Kampen's play chronicles the extraordinary story of how the castrato Farinelli was invited to live at the court of Philip V of Spain, in order to cure his depression and instruct him in the music of the spheres.

The production, which features Van Kampen's husband Mark Rylance as the depressive king, played to enthusiastic reviews in the Sam Wanamaker Playhouse at the Globe earlier this year. There it is possible to imagine its intimate, eccentric tone working delightfully – but here, in the less forgiving space of a West End theatre, it initially feels like a somewhat creaky enterprise.

The play opens with Rylance's Philip V lying in bed while attempting to fish from a goldfish bowl. As Johnny 'Rooster' Byron – the barrel-chested modern-day Falstaff of Jez Butterworth's 'Jerusalem' – Rylance wowed the West End with his subversive machismo. Here he proves again that he is one of the great chameleons - as well as one of the great actors – of our age, in a performance which emphasises the childlike whimsicality of Philip's disorder. Yet for a while the performance feels too skittish to engage us in the tensions his depression is clearly wreaking both in his marriage and in the kingdom of Spain as a whole.

Van Kampen's play really sparks into life at the point when Philip's queen Isabella (empathetically acted by Melody Grove) produces Sam Crane's Farinelli as a possible 'cure' for his disorder. John Dove's production has set up a device that means whenever Farinelli sings, Crane himself remains silent, while enacting the emotions of the music. A counter-tenor (on press night Iestyn Davies), dressed in the same costume as he, performs the song, gradually taking up the foreground of the stage as Crane recedes into the background. Davies' beguiling performance makes it completely understandable why Philip V felt his music to be balm for the soul – the more the music is featured, the more hypnotic the production becomes.

As for the play itself, it suffers a little from over-jocularity and a tendency to wear its research too lightly - I for one would have been fascinated if Van Kampen had gone much deeper into this wonderful subject. Ultimately this feels like a patchy evening, though its rewards get much better the further it progresses.
Average User Rating
3.3 / 5
Rating Breakdown
5 star:

1

4 star:

5

3 star:

1

2 star:

0

1 star:

2
We left at half time. I really don't understand why the need for gratuitous swearing. It probably would have been lovely without it - certainly had the makings of it. Rylance is a bit samey in his roles these days which is disappointing.
Absolutely outstanding!!! Loved every minute of it. Yet another brilliant performance from Mark Rylance. What's next, I ask?
I paid a mere £10 for my ticket (thanks, TimeOut!) At first I was not sold on the performance - I thought the humour was verging on slapstick and the use of bad language a bit unsubtle (yes, I do understand why it was being used and all that). However, I loved the candlelit stage and as soon as Farinelli started to sing, I got into it more. I have seen the 1994 Farinelli film, listen to the Farinelli soundtrack regularly and have read a very insightful book on the Castrati, so I too would have appreciated a slightly weightier play. Despite the shortcomings and the inevitable restricted view that comes with a £10 ticket!), I enjoyed the play. I think I would not have enjoyed it quite so much had I paid £190 for it!
I felt compelled to see this with all the hype etc, forked out £190 for the last tickets on the planet, only to be confronted with a very lightweight panto, thin, repetitive storyline, bad language etc, after a while I honestly expected to see widow Twanky appear (and was quite disappointed not to). Yes the theatre was beautiful, and as a big fan of Rylance (Institut Benjamenta...a masterpiece) obviously I am the only naysayer with regard to this offering, but hey it's true.
I thoroughly enjoyed this play and the music was an absolute boon. I found myself surrendering to the blissfull singing of Lestyn Davies and the candle lit set all made for a magical atmosphere. Mark Rylance was a joy to watch and injected more humour into his role than expected.
I do agree with another reviewer that it would have added more weight to the play if van Kampen had delved more deeply into the psychological plight of the unfortunate castrato. But that may well have put off too many main stream theatre goers of today which is a shame. What we did get was an excellent production of sometimes intense dramatic pathos eased with humour and beguiled by music.
Excellent performance. We had £10 bench tickets with restricted view but it didn't stop us enjoying the play enormously.