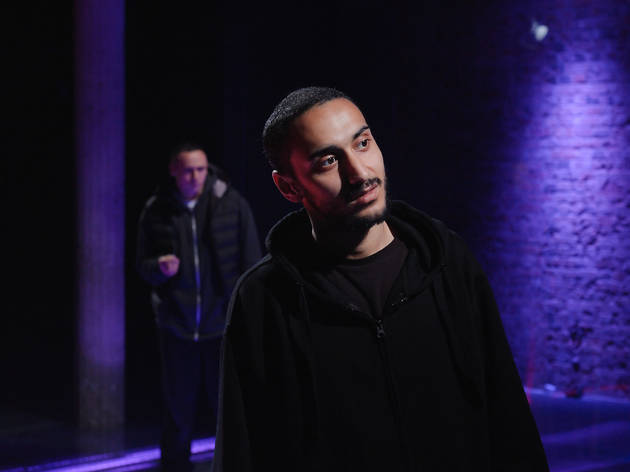 Madani Younis's choppy maiden season as Bush boss continues with this stylishly-made but clunkily-written stage debut from filmmaker Dominic Savage.
How much credit director and writer Savage deserves for 'Fear's success is unclear, as it's largely a technical triumph: designer Takis has audaciously ripped up the Bush's floor and replaced it with sheets of Perspex that rear up into the room, opaquely glowing with the ebb and flow of James Whiteside's colour-changing lights, which pulse beneath the floor.
The room's aspect shifts with eerie abstraction to conjure both the neon-streaked backstreets of London inhabited by thugs Kieran and Jason (Aymen Hamdouchi and Jason Maza) and the sterile luxury pad of wealthy couple Gerald (Rupert Evans) and Amanda (Louise Delamere).
So it's a shame about the script, which feels like a clumsy castoff from the days of the Royal Court's infatuation with knife-crime drama. Savage attempts to set up parallels between suave broker, Gerald, and sweary hoodlum, Kieran, suggesting that both of them are opportunists who view the world in purely monetary terms. Unfortunately, any sort of moral ambiguity or nuanced interrogation of nature vs nurture fly out of the window when Gerald turns out to be a good egg after all and Kieran unveils his true colours as, um, a stab-happy psychopath.
Only 80 minutes long, decently acted and technically impressive, 'Fear' is reasonably gripping up until its ludicrous last 20 minutes. But ultimately it's a pretty witless – even unhelpful – interjection into the current debate about the abysmal divide between rich and poor.