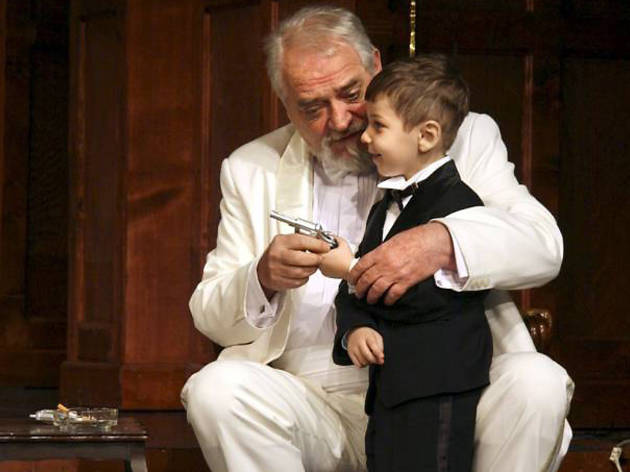 Family gatherings are always tricky but when Christian toasts his father with the words, 'The health of a murderer!', festivities turn exceptionally sour. There's a touch of 'Macbeth' to Nottara Theatre's 'Festen', which sees an unwelcome guest – the ghost of a suicidal daughter – destroy her father's celebratory feast.
Thomas Vinterberg's 'Festen' began as a film, back in 1998, and a triumphant example of Lars von Trier's 'Dogme 95' movement, which aimed to strip back special effects and prioritise storytelling. This philosophy of pared-down but pent-up drama has proved attractive to theatre makers: David Eldridge penned a well-received adaptation in 2004 and now we have a Romanian version, with English surtitles.
Director Vlad Massaci has remained faithful to the Dogme doctrine and his show contains few lighting or sound effects and a low-key, quietly engaging atmosphere emerges. The first half tingles with foreboding, as half-hearted gestures of love – limp hugs and kisses that never quite connect – suggest a family on the edge of collapse. Yet once the revelations are released, the performances suffer – as do the poorly synchronised surtitles.
Mother Else (Catrinel Dumitrescu) is revealed as the play's real villain but her character never quite emerges from a Valium-like haze. Alexandru Repan is initially compelling as the perverse patriarch, Helge, dressed in gleaming white. Yet when he is finally exposed as a monster in angel's clothing, his stumbling exit feels Shakespearean in stature and a little over the top.