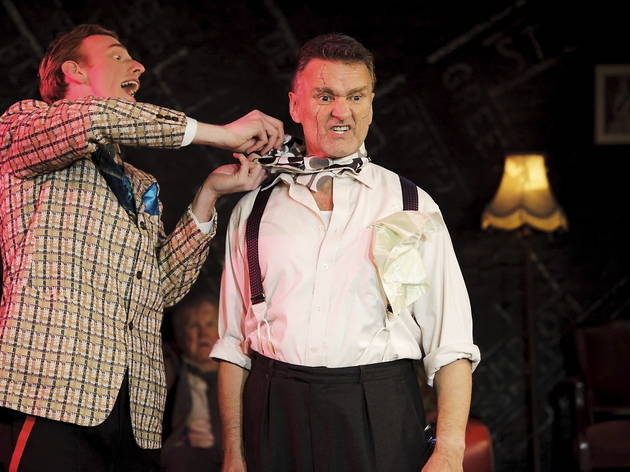 A tap dance is exciting enough. But tap dancing and playing the spoons? That's so intoxicating, I'm surprised it's not banned.
Phil Willmott's revival of Lionel Bart's 1959 musical refuses to shrink to fit the Union's small dimensions. It's got big numbers, big performances – Richard Foster-King as an outré interior designer, I'm talking about you – and a pretty big heart. What it doesn't have is a credible, eventful
or very involving story.
The show is set in Soho, where small-time crim Fred Cochran runs his gambling and whoring den, or 'spieler'. But London is changing: now even speakeasies have to look 'contempery', and coppers can't be relied upon to stay bent. The show is neatly poised between sentimentalising and sending up this workless-class world, where prostitutes dream of being housewives and blade-toting gangsters fear the coming of 'Teds wiv drainpipe trousers/and Debs in coffee houses.'
Neil McCall is perfectly grizzled and taciturn as the out-of-time antihero, and Hannah-Jane Fox nails the brittle-but-resilient spirit of his doormat, Lil. The stakes are low; the characters face their fates with undramatic stoicism. And the songs lead us up a few narrative culs-de-sac. But they're frequently hummable, with likeably coarse lyrics and dopey rhymes ('what a curse it is' with 'universities'). Even ardent neophobes would have to admit, fings aren't always as entertaining as this.
Rating Breakdown
5 star:

1

4 star:

0

3 star:

0

2 star:

0

1 star:

0
Gotta love a cockney knees up! Saw this in previews and thought that the cast stormed it...21 of them tapping, playing spoons, clad in overbrimming corsets and smooth smothers...stand out performances from Hannah-Jane Fox, Suzie Chard and the fantastically funny Richard Foster-King. Go see it!