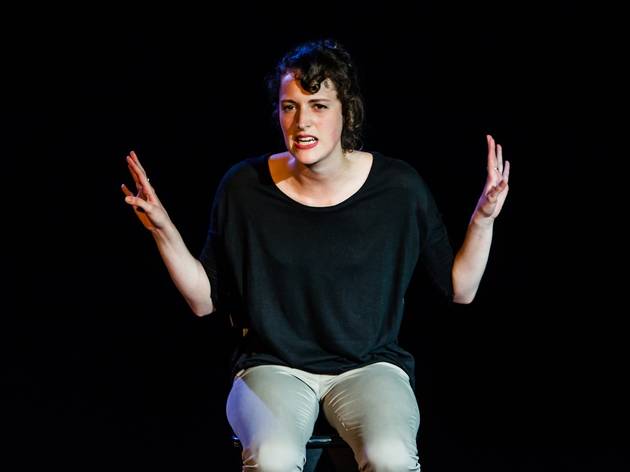 Time Out says
Phoebe Waller-Bridge is bringing the monologue that spawned the TV show back for one last run
This review is from 'Fleabag's original run at the Edinburgh Fringe, August 2013. Phoebe Waller-Bridge will bring it back for one last run in summer 2019.
Phoebe Waller-Bridge's one-woman show 'Fleabag' is unbelievably rude, astoundingly filthy and she's almost certainly going to go to hell for it. It is also extremely funny and confirms Waller-Bridge – the best thing in the recent West End revival of Noël Coward's 'Hay Fever'and star of Jack Thorne's bathtub-set hit 'Mydidae' – as a serious talent to watch.
In an hour-long monologue that is never less than outrageous, Waller-Bridge plays the porn-obsessed, hard-drinking, sexually voracious owner of a guinea-pig-themed café. As 'Fleabag' kicks off, she's half-heartedly mourning the accidental suicide of her best friend, has just been dumped by her boyfriend for having 'a horrible wank' in bed while he was trying to sleep, and is on the verge of losing the café.
Talking at a rate of knots with well-spoken, casually withering assurance, Waller-Bridge has created a monster of sorts. Her eponymous 'heroine' is a creature of pure id who doesn't give a shit about anyone else, leaving a trail of blithe devastation in her path as she fucks or fucks over everyone she encounters.
In the first half, the funniness of the lines and narcissistic chutzpah of Fleabag's behaviour make for an exhilarating ride – she's obviously a terrible person, but her total disregard for any sort of social convention is winning. Later on, her chickens come home to roost, which I found a touch problematic: I don't really get the impression that Waller-Bridge is warning about the dangers of unladylike behaviour, but it's at risk of looking that way.
Nonetheless, the élan of the performance is easily enough to bring 'Fleabag' romping home, and if the tone shifts in the second half, it's all still gloriously inappropriate – certainly it'll put you off guinea pigs for life.
Details
Dates And Times
Rating Breakdown
5 star:

2

4 star:

0

3 star:

0

2 star:

0

1 star:

0
This is one of the performances you don't want to mis. Phoebe Waller-Bridge succeeds in you getting to love the maladaptive person which is hidden in everyone, especially in the British.
If you've seen and enjoyed the sort of plays Phoebe Waller-Bridge has performed in before, you shouldn't expect more of the same here. This is a far cry from 'Rope', which she appeared in at the Almeida in 2009, and a million miles away from 'Hay Fever', her 2011 West End debut. And it's absolutely bloody brilliant. It's possible that whether or not you find 'Fleabag' shocking will depend on your age. As a 19-year old student with friends who talk about sex frankly, openly and occasionally explicitly, it felt as though there was more to connect with than to be outraged by in this hour-long monologue, in which Waller-Bridge's nameless young woman weaves together the story of the death of her best friend with that of her own multifarious sexual exploits. On an ideological level, Waller-Bridge's play serves as an exploration of modern feminism, and of the line between 'sexual liberation' and 'sluttiness' that so occupies contemporary debate. Crucially, none of this discussion is so foregrounded as to make the work too explicitly 'about' anything in particular, and you'll struggle to weigh up all of the ideas going on at the time anyway, because you'll be laughing too hard. Because it's really, really funny. That's down not only to Waller-Bridge's script, but to her remarkable performance, which veers between sarcasm, smut and sass with consummate style whilst rarely letting up a breakneck pace. She's sort of awkward, and sort of awful, and the wonder of Waller-Bridge's portrayal is that it leaves the audience unable not to like her, however dark the twists and turns of her story become. Director Vicky Jones' intelligent use of sound design ensures that we are constantly reminded that this is a story of London today, and that oughtn't to be underestimated. This is a piece of theatre which - as well as being almost dangerously enjoyable - is fundamentally about the people and attitudes of now; and to do that subtly and authentically is a harder job than most can manage.
Snap up exclusive discounts in London
Time Out's handpicked deals — hurry, they won't be around for long...