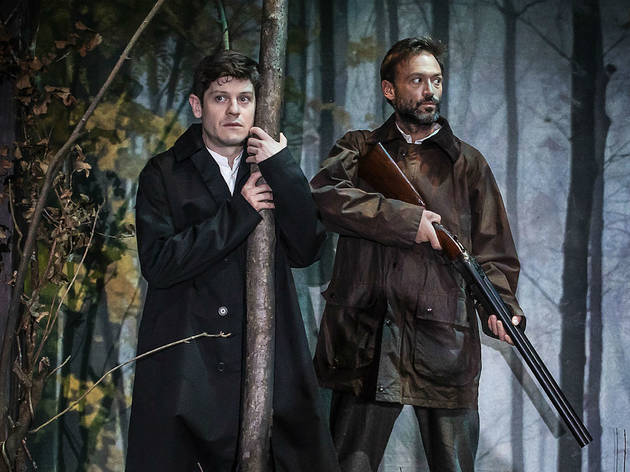 1/4
© Pamela Raith
Iwan Rheon and Paul Nicholls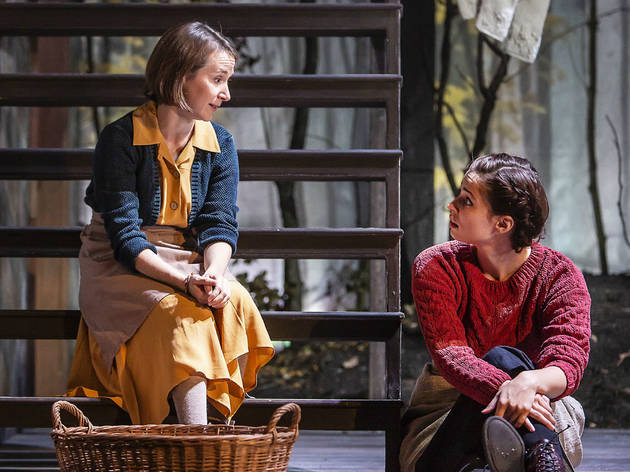 2/4
© Pamela Raith
Bryony Hannah and Heida Reed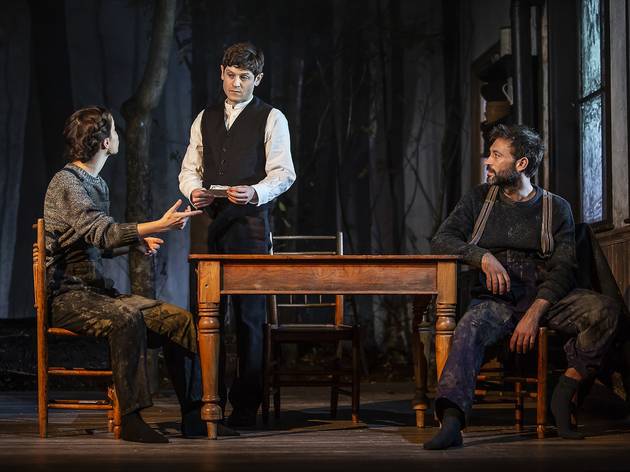 3/4
© Pamela Raith
Heida Reed, Iwan Rheon and Paul Nicholls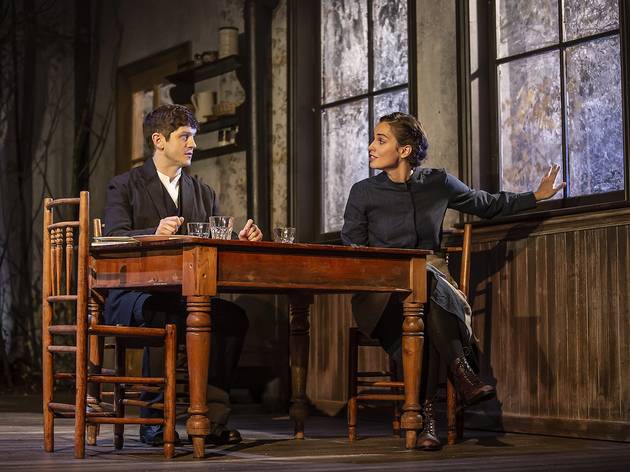 4/4
© Pamela Raith
Iwan Rheon and Heida Reed
Dawn King's intriguing, Iwan Rheon-starring dystopia loses some of its mystique in the West End
Depending on your perspective, this is either a revival for Dawn King's 'Foxfinder' or an extremely belated West End transfer, after its acclaimed, sell-out debut at tiny fringe theatre the Finborough with a different cast and director back in 2011. But Rachel O'Riordan's new production is also an object lesson in how achieving a winning alchemy of play and production can be as elusive as finding a fox.

Farmers Judith and Samuel Covey (Heida Reed and Paul Nicholls) anxiously await the arrival of William Bloor (Iwan Rheon). After suffering months of worsening crops, they've attracted the government's attention. Their livelihoods depend on William's investigation. But what will this 'foxfinder' conclude?

King's eco-parable is strongly redolent of '70s TV dystopias, with its portrait of a doom-laden English landscape retreating to an unforgiving working of the land to survive. Her elegantly simple premise also has the robust flexibility of the best allegories, accommodating climate change, religious fanaticism and, these days, nationalist politics (cough, Brexit, cough). The stupidly exaggerated fox of William's 'training' is a mind-controlling demon that comes over here, blights our land and steals our hens.

But the show is let down by an uncertainty (of tone, of characterisation) that hovers, sometimes distractingly, over everything. While the Ambassadors Theatre has one of the smaller stages in central London, a lot of tension evaporates into its height. The poised, painterly feel of O'Riordon's production (and Gary McCann's set design) sits uneasily with the play, which pivots on the claustrophobia of William's invasion of Judith and Samuel's lives.

This production also never gets a consistent grip on the terseness of the script. There are moments of dark wit, but also an overwroughtness that drags. This wavering carries into the performances. Rheon – best known as the sadistic Ramsay Bolton in HBO's 'Game of Thrones' – could probably do creepily unnerving in his sleep. But here, as the puritanical William, he's a hesitant presence, never fully bringing his character into focus.

Reed (of 'Poldark' fame) and Nicholls do nice enough work as Judith and Samuel, grieving the death of a child while trying to deal with their unwanted houseguest (even if Nicholls largely spends the second half stomping angrily around the cramped set). But it's Bryony Hannah as the couple's neighbour, Sarah, who really shines in a relatively few scenes. In a confrontation with William, she brings a much-needed spark of raw desperation to this production.
Rating Breakdown
5 star:

2

4 star:

2

3 star:

4

2 star:

6

1 star:

0
It's not an easy play, sometimes slow, sometimes difficult but overall interesting and with good performances.
Foxfinder
Samuel and Judith Covey's farm is one of many failing to meet its annual production quota. Bad weather seems to be playing a part, but the country seems convinced that the beastly foxes are the real cause, contaminating the farms and straining the country's food supplies. The government raises and trains an army of 'foxfinders' with monk-like dedication to judge whether or not a farm is indeed contaminated. William Bloor, a relatively inexperienced foxfinder, arrives at the farm on a dark, rainy evening and from thence the drama does unfold.
Foxfinder is a gripping spectacle. The plot twists and turns at an exhilarating rate as we navigate our way through a sequence of deceit, betrayal, blackmail and madness. From the beginning to the end, every effort has been made to ensure that the audience do not feel at ease. Rather than being quaint, the setting, a wooden cottage in the middle of unspecified but quintessentially English countryside, feels cold, barren, disturbing. A toy train lays abandoned at the front of the stage with no child in sight. The trees which line the back wall seem to be encroaching upon the indoor space, presenting a sense of twisted, distorted reality, of nature taking over. They loom over the characters like the bars of a cage.
The furniture is minimalist and bare, reflecting the bleak dystopian world in which the audience are immersed. It could easily be the distant future or the distant past. The audio during scene changes, lacking any consistent or recognisable motif, consist of scratching violin sounds. Pinter pauses are present from the off, leaving long and uncomfortable moments of silence.
In spite of all of this, it's a funny script. William Bloor (Iwan Rheon), the government dispatched foxfinder, draws the biggest laughs. With shades of Priestley's Inspector Goole, he charges his way into Judith and Samuel's home and immediately demands some form of identification from his hosts. Flaunting social etiquette, he explains, is but a necessary sacrifice when one has been assigned such a noble and important duty. This clearly brainwashed government stooge generates further laughs as his earnest, highly official lines of enquiry become increasingly absurd. And it's this absurdity which firmly places the play in the genre of dystopian satire. But what exactly is being satirised? Many reviews describe Foxfinder as a parable, but a parable of what?
Perhaps it's just me but I find it difficult not to project Brexit onto everything I see these days: government officials whipping up hysteria around Britain's rural areas, nationalist rhetoric around the importance of a self-sufficient economy, fear of being at the mercy of foreign regimes. Foxfinder was first staged well before the referendum (2011), but it certainly could be seen as a critique of government and the lengths politicians can go through to convey a sense of control in the midst of a chaotic situation. William Bloor, following his bureaucratic series of Kafka-esque procedures, insists he must know whether they see more ducks in the sky or on the ground, must inspect the land in accordance with his precise system of grids, and ironically finds himself contaminating the lives of the farmers a whole lot more than any fictitious foxes. Government interference here is nothing but a hindrance.
Other clear parallels can be drawn with Arthur Miller's The Crucible and more recently Sarah Perry's The Essex Serpent, where hysterical fear spreads like wildfire among a community. Pretty much all of the characters in Foxfinder demonstrate fallibility, whether that's betraying their friends, losing their grip on reality, abusing their power, or compromising their values. It's a pretty bleak outlook on the fragility of civilisation and how close we are to self-destruction.
Foxfinder treads on well-trodden literary ground but it's nonetheless refreshing to see something so probing on the West End. The cast is solid (Heida Reed is excellent as Judith Covey, a strong female trying her best to hold the ship as others around her flounder), the production is slick, and there are very few dull moments. If you're still mulling something over a few days later, whether it's a film, play or book, it's usually a sign that it's made an impression on you. Foxfinder certainly falls into that category – love it or hate it, it will certainly leave an impression and is therefore well worth your time.