Girl from the North Country review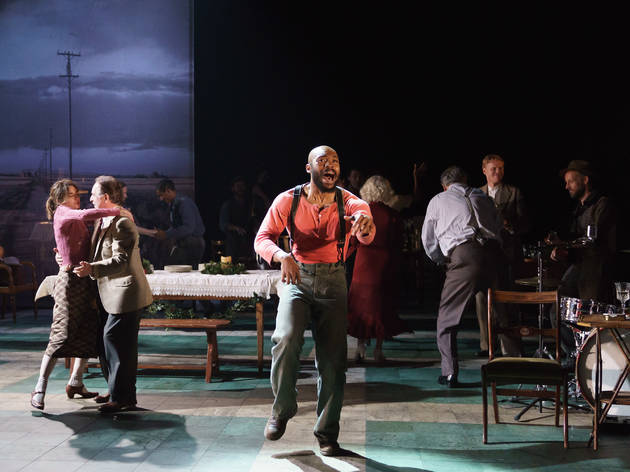 1/5
© Manuel Harlan
Arinze Kene (Joe Scott)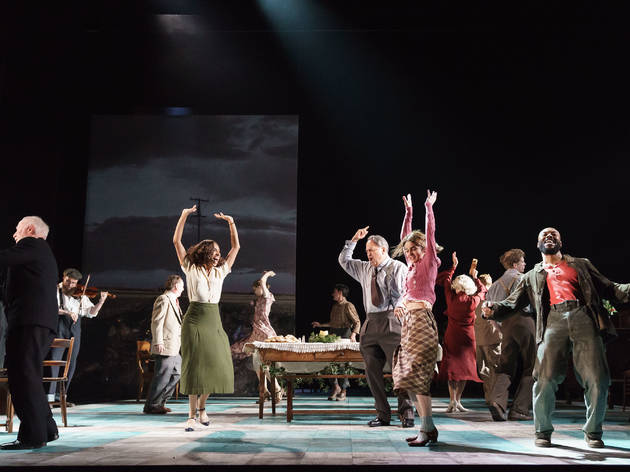 2/5
© Manuel Harlan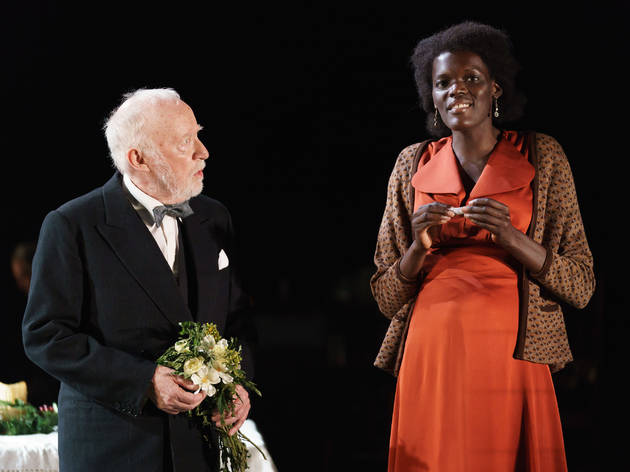 3/5
© Manuel Harlan
Jim Norton (Mr Perry) and Sheila Atim (Marianne Laine)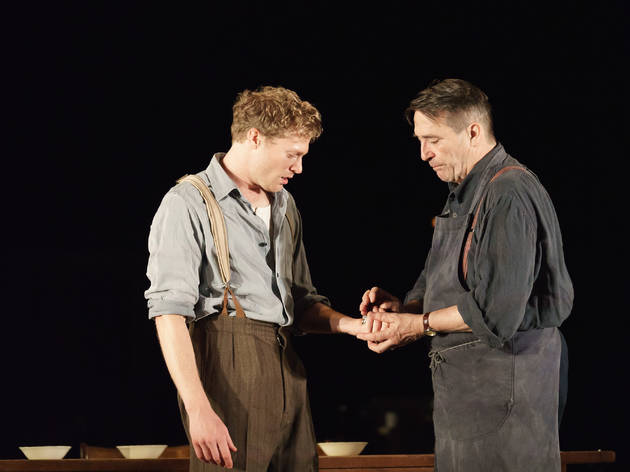 4/5
© Manuel Harlan
Sam Reid (Gene Laine) and Ciaran Hinds (Nick Laine)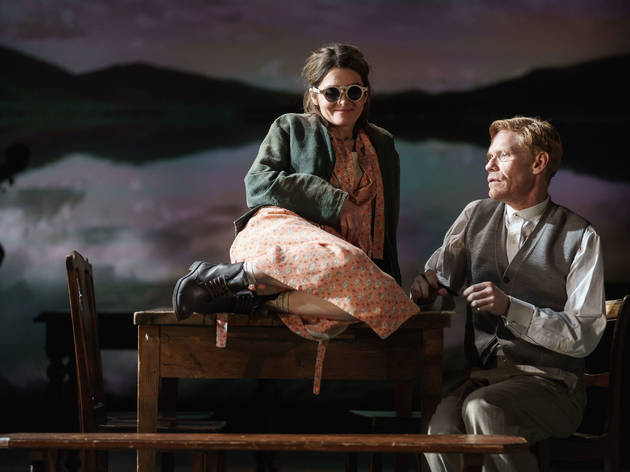 5/5
© Manuel Harlan
Shirley Henderson (Elizabeth Laine) and Michael Shaeffer (Reverend Marlowe)
Conor McPherson's dark drama built around the songs of Bob Dylan transfers to the West End
Will Bob Dylan ever stop rolling? Last year he accepted the Nobel Prize for Literature. Now he's written a West End musical. Well, kind of. He's co-credited on this new play by Conor McPherson, which weaves excerpts of Dylan's music together to tell a fictional story from Duluth, Minnesota, 1934 – the place of Dylan's birth, seven years before its occurrence.
It's an interesting concept. But what's truly thrilling about the execution of this poignant but rambling show are Dylan's songs – and the way they sound and feel when sung in a totally different context by some of the most nerve-tingling singers I've ever seen on stage.
The action takes place in a boarding house. Times are tough; work is very hard to come by and lynchings happen from time to time. Nick, the guy who runs it (Ciaran Hinds, wonderful) is breaking under the burden of his mortgage, his demented wife, his boozy writer son (shades of Tennessee Williams) and his adopted black daughter (Sheila Atim), who has fallen mysteriously pregnant and absolutely does not want to be married off to her father's elderly shopkeeper pal.
Passing through are a widow, a boxer on the run, a dodgy bible salesman and a couple with a learning-disabled son who doesn't know his own strength (shades of John Steinbeck). A hard rain is gonna fall on all of them.
That's a lot of stories to tell and a lot of American literature to reference and – especially in the second half – it all feels a bit sketchy and unfocused. But the relationship between the characters and Dylan's music is anything but. It's poignant and stirring and totally fresh to see 'Like a Rolling Stone' voiced by a middle-aged woman – the electrifying Shirley Henderson as Nick's wife Elizabeth – who's losing her inhibitions and her mind. Or the – IMO hokey and forgettable minor ballad – 'I Want You', slowed down and revealed as a sexy, aching, unrequited duet for Nick's son Gene and yet another character, the girl who's leaving him for a guy with a real job.
Props to Simon Hale for gorgeous orchestration, and to every single member of the cast. It's a shame that the play and the music don't quite come together into something absolutely wonderful – part of the problem is that this wandering, intimate show doesn't sit comfortably in the conventional set-up of a West End theatre; but mostly the play and the music start a conversation that they just can't finish. Still, there are moments that are so fierce or beautiful that they'll make the hairs on the back of your neck stand up – and send you out into the night googling Dylan's back catalogue.
Rating Breakdown
5 star:

12

4 star:

7

3 star:

5

2 star:

2

1 star:

1
I can see why this show is so lauded & has been a successful transfer from the Old Vic to the West End. This is as far from a jukebox musical as you can get. All the songs feel very organic & are sung beautifully by a diverse & talented cast. Special mention for the incredible acapella harmonies too. This almost feels like a musical Coen brothers film with quirky characters in rural USA. Snippets of iconic songs (Feel my Love, Like a rolling stone...) remind you what a masterful song writer Bob Dylan is. A real classy production.
Fabulous show,fantastic reworking of Dylan songs,cast and band were superb. Special mention for Shirley Henderson's achingly moving performance.
Do think twice... it's alright. If you're someone who enjoys a plot, don't watch this play. If you're someone who really loves Dylan's music (like myself), you will likely to be disappointed. Very few of his best songs are featured, and those that are are performed in far weaker arrangements that the originals. The actors were all fantastic, but there were no musically exciting moments, too many characters, and a story that never comes together. It ain't for me, babe.
If they'd done this as a concert, it would have been enjoyable: great singers, excellent arrangements. But the story is dull, the intermittent narration from the doctor is twee and the characters aren't very interesting. I loved most of the actors. They gave so much energy, but in the end, the script felt underwritten. The songs were squeezed into the story, but had the effect of halting, rather than advancing, the action.
Well done Conor McPherson (The Weir) for trying something new: a great cast, delivering a rich story, boldly interspersed with Bob Dylan songs. But sadly, for me, it didn't really work.
The songs (well-sung, with great live music accompaniment) regularly break the poignancy of the (otherwise very good) acting and (breaking a sentence gets quite annoying doesn't it) 30s-depression storyline. While on the other hand, the sanitised West-End musical versions of croaky Dylan originals turned them rather happy-clappy for my taste. And all this at the Old Vic?!
Most telling was the audience - who having booked months in advance to see 'the new Conor McPherson play' - mostly sat motionless with jaws aghast, at the razzmatazz and line-dancing unfolding in front of them.
I suspect 'Girl from the North Country' will do OK for its run however, as the seats will get filled with clap-along mid-Western tourists, replacing traditional Old Vic theatregoers. The plot is safely unchallenging, with no attempt to address US nor modern poverty issues today, and there's lots of opportunity to happily clap along to the music, or applaud every time someone finishes a song. But the Old Vic better be ready with something meaty and thought-provoking to win back its traditional customer base. Unless of course this is Matthew Warchus' attempt to bring the Old Vic more into the West End. Which it certainly does.